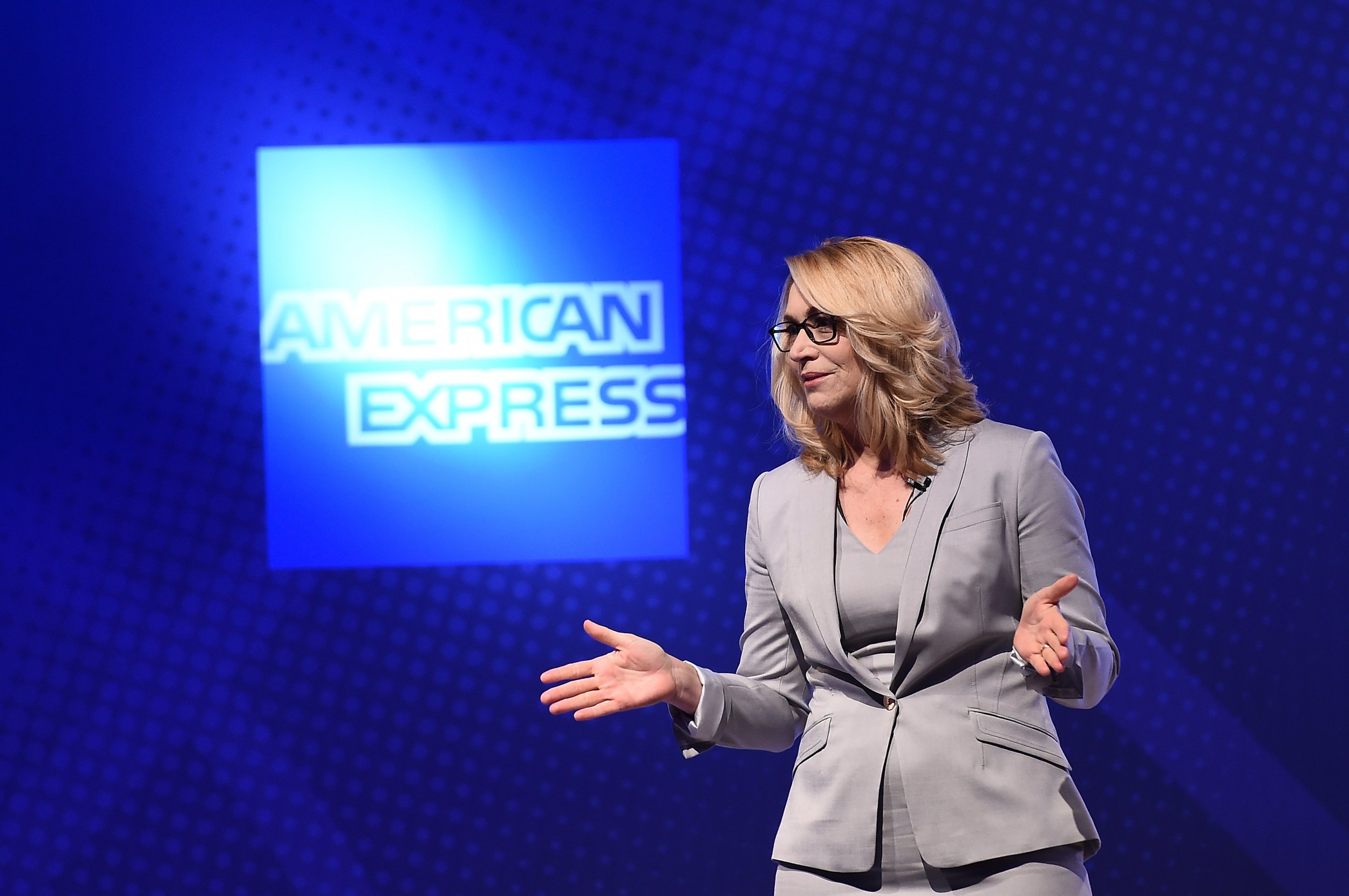 Doris Burke prefers not to be called a trailblazer. People have asked if she thinks the label fits, since this summer she became the first woman to land a full-time analyst position in a national NBA broadcast booth.
"Absolutely not," Burke told Newsweek. "And the reason I say this is, I am aware of the women who came before me. I have heard some of the stories of the challenges thrown into their path as they tried to navigate through the field."
Regardless of labels, Burke will break new ground for women in basketball media when the NBA season tips off next month. She'll step in for Doug Collins—who left ESPN to join the Chicago Bulls organization—and be the analyst for a rull rotation of regular season and playoff games. Burke will still do some sideline reporting in the late rounds of the playoffs but will give up her college coverage with the analyst gig.
Burke spoke with Newsweek about her more than two decades in the business, her new role, the NBA's growth, having a close-up view of LeBron James' career and, of course, interviewing the infamous curmudgeon Gregg Popovich, coach of the San Antonio Spurs.
Here's the conversation, edited and condensed for clarity:
What's your routine right now, ramping up for the season?
It's going to be sort of fascinating for me coming into this season. This will be the first time in probably 25 years that I will cover one sport and one sport only. So, I'm excited.
I get [an] email, every article written across the league, every day. The first several hours of my day is spent going through those articles and making sure I'm immersed in the broader context of the NBA. And then as the season approaches and I start to near certain matchups that I'm going to cover, I'll be honing in on the two teams that I'm going to have on that particular week. So Sacramento and Los Angeles will be my first preseason game on Oct. 8. I'll go back, watch a couple of games from each team, get a feel for any returning personnel.
Is it exciting to that you can focus as much as you want on the one league? Do you feel like you're going to be immersed in the NBA in a way you might not have been before?
Oh, there's no question this will make my coverage of the league a bit easier, from a personal standpoint. Please don't misunderstand, I actually enjoyed the hecticness and the opportunity to cover women's college basketball. But the reality is as a young broadcaster the vast majority of my games came in men's college basketball and my viewership as a fan came in men's college basketball because that was what was available to me. All three sports meant a ton, because I've always been a huge NBA fan.
Before the end of last season, I went to my bosses and I said, "I'm getting older, I'm 51 and trying to keep up with all three [sports] is something that I loved for a long time but it's less enjoyable to me to have be that hectic and crazed and stay up until 2 o'clock in the morning to try to keep up." They said, "No problem, we're happy to accommodate you there."
But the plan going into the season up until Doug Collins left was I would balance my schedule between the two [sports] again.
How important is it you to be the first woman to take on a national role like this?
I have never really thought about my job in that context. I'm not naïve to it. I understand there are certain things that I've done that other women hadn't yet had the chance to do. When I started women's college basketball coverage, it was exploding. I happened into a men's college basketball game because of a mistake, someone not showing up. So I've sort of been the beneficiary of good timing.
People have asked me, "Do you consider yourself a trailblazer?" Absolutely not. And the reason I say this is, I am aware of the women who came before me. I have heard some of the stories of the challenges thrown into their path as they tried to navigate through the field. Because of the time I entered the business, I haven't had that same experience.
I've said this over and over and over again: The players and the coaches, whether we're talking about men's college basketball or the NBA, have been my soft landing spot. Because any time I've walked into the gym, with those particular entities, I have never felt less accepted because of my gender. It's almost as if basketball has just sort of embraced me.
Would I say it's important? I understand I have an obligation—I've always felt the obligation to work incredibly hard and make whatever assignment my bosses have given me—[I do] the best possible job I can do at it.
When the news broke that your were going to take on this analyst role full-time, the reaction was positive. How does it feel to get that warm welcome from your peers and does that put pressure on you?
I was blown away by the number of people who reached out and how kind they were and their sentiments. There seems to be far less objection to my presence than there was even five years ago. It takes some time to get used to (a female voice). I definitely feel a shift in feeling for me sitting in the analyst's chair from outside of the game.
And any time there is acknowledgment from those who are doing the job that you're doing, that's especially significant because those are the people who are in it, they understand the challenges, the ups and downs of the profession. It meant a great deal to me to see the kind of reaction.
It feels like a particularly exciting time for the league—I think it's more popular than ever—why do you love the NBA and how do view its standing right now?
What's fascinating to me is the NBA has become a 365-day-a-year sport with near 24/7 coverage. And it has become that because the appetite of the fan dictates that. I don't know that I could put my finger on exactly why. I know our ratings for summer league games, particularly those involving the Los Angeles Lakers, were surprisingly good. When the NBA is being talked about in July and August, which used to be all NFL-driven content, then you know you're making incredible strides in terms of growing your sport and increasing your fandom. That has blown me away.
I've had great proximity to some incredible stories. LeBron James is a once in a generation type player. I've been fortunate to watch his career unfold. It doesn't get much more cool than that.
As an analyst when you're breaking down LeBron's game—someone like LeBron or Kevin Durant, whoever it might be—is it fun to watch, do you have to pull back and say, "Hey, I need to discover why this is working?" Is the process of watching different for you when you're trying to prepare game notes versus just watching the game?
So there was a game last year, Cleveland was playing at Atlanta. And to start the game, LeBron James was incredible, he just absolutely dominated. And then there was a stretch where Kyrie Irving dominated.They were so brilliant for such a significant stretch of the game that I was struggling to find descriptors for what we were watching. And I do get caught up being a fan sometimes while I'm broadcasting.
I'm curious what the viewer would be thinking. I'm hoping that they're feeling my excitement and I would assume they're feeling what I'm feeling—the same kind of awe at the level of talent that is really special to watch, whether you're a viewer or whether you're sitting courtside.
I haven't played or coached in the NBA. My perspective and how I attack the job is going to be different than say [NBA broadcast colleagues] Jeff Van Gundy or Marc Jackson or Reggie Miller. I can't replicate what they bring. What I've always considered to be my job is to try to get the viewer to feel as if they're in the same seat I am in. It's my job to get the fan as close to action as I am fortunate enough to be. Hopefully that comes across.
LeBron, a lot of people in the league, Steph, Carmelo—they're speaking out more about social issues, they've gotten involved with NFL protests. Do you see that continuing? You know these guys better than most, do you see them continuing to hold that leadership position on social issues?
I would say [the NBA] encourage[s] their players to participate in our society, to pursue the issues that are important to them. And I love that. You've got to participate in democracy. I'm guilty of, and we all are, getting caught up in the business of our lives, the demands of our job, the responsibilities of family and forget to participate. [We] forget that our voice is important. And I admire that these men are willing to speak out.
LeBron James has never forgotten where he's come from, he's engaged with the community of Akron and with the state of Ohio at a very grassroots level. And I think to me that is probably more important than just—not that I'm diminishing their willingness to speak out because I think it's important—but they're going beyond that. They're influencing their communities when nobody's watching.
Is it kind of a welcome relief that you might have fewer chances to talk with Gregg Popovich now?
You know what's funny is I would do one or two reporting gigs and then step away because my college basketball responsibilities were taking me away from the reporter role during the regular season. I'd be an occasional reporter; it didn't become heavy until the playoffs. So I was getting Gregg Popovich at the most stressful time of the year so [laughs]... I'm getting a little bit better about relaxing and trying to… I don't know… survive. I liken interviews with Gregg Popovich to the NCAA men's basketball tournament: survive and advance to the next one [laughs].
What do you hope for your career moving forward? What do you hope to get out of this job?
This career has been a happy accident for me. I did not major in journalism. I did not go to Syracuse or Ithaca or any of these great schools where they give you such great preparation. I will do what I have always down and that is lock in on the game that I'm assigned to that particular day and just keep trying to do a great job with it. Because it's a formula that's worked to this point in my career and I'm certainly not going to change anything now. I know how lucky I am to be sitting in the seats I'm sitting in. I don't ever forget that.
Uncommon Knowledge
Newsweek is committed to challenging conventional wisdom and finding connections in the search for common ground.
Newsweek is committed to challenging conventional wisdom and finding connections in the search for common ground.
About the writer
Reporter, covering a bit of everything.