ESPN's Paul Finebaum Thinks Nick Saban's Dominance In College Football Is Coming To An End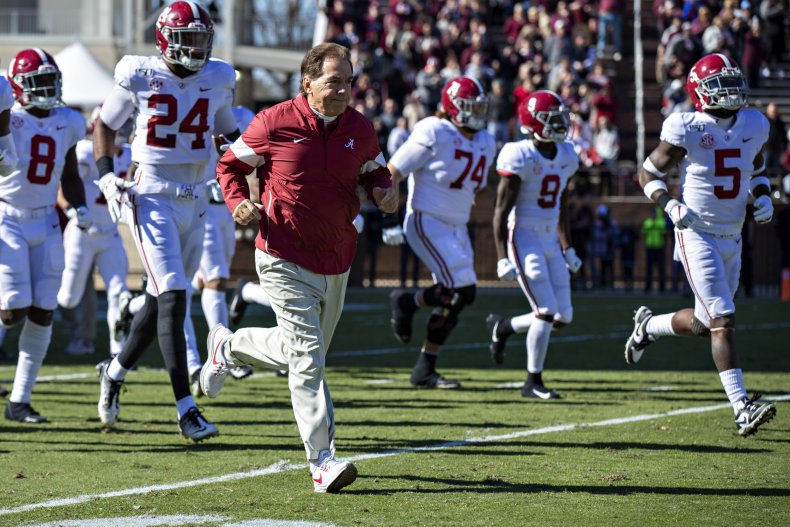 While appearing on ESPN's Get Up on Tuesday morning, Paul Finebaum said he thinks Nick Saban's domination of college football is coming to an end.
"It's been happening very slowly for a couple of years," Finebaum said of Alabama's head football coach and the Crimson Tide. "I think over the last couple of months we've seen it."
Finebaum, a college football analyst for ESPN, went on to detail his reasoning behind his opinion Saban and the Tide, starting with the team's loss to Clemson in the 2019 National Championship game.
"It started with the 28 point blowout to Clemson," Finebaum added. "Saban said 'we have to get the Alabama factor back' it didn't happen."
Finebaum stated that two of the reasons for the decline tied to staff turnover under Saban -- multiple coordinators and assistant coaches have departed the program the past three years, including former defensive coordinator Kirby Smart who left to become Georgia's head coach in 2015. The other issue, the ESPN analyst said, is the level of recruiting as the program is being "pressed hard" by Clemson and Georgia for the same athletes.
Finebaum also compared Saban and legendary Alabama head coach Bear Bryant, saying that he saw "some of the very same signs," in Bryant's decline as the leader of the program as he is currently seeing with Saban.
"[Bryant is] considered the greatest coach of all time, Saban surpassed him, it looks very similar," he said.
Finebaum's opinion did not sit well with fellow ESPN analyst Stephen A. Smith, who took expressed his views on the subject on another network show, First Take.
"If you want to knock Nick Saban, knock him for giving up 46 to LSU and 48 to Auburn," Smith said.
"Here's the deal," Smith continued. "Nick Saban -- 247-65-1-- that's a career 79 percent winning percentage. At Alabama, 156-23, that's an 87.2 percent winning percentage in 13 seasons. In that span, he's lost three games once [in a season] -- his rookie season, obviously, he went 7-6. After that, since his rookie year, he lost three games in a season once, two games in a season four times, six times he's only lost one game in a season. He has five national titles....but don't tell me we're gonna have a discussion about the Alabama Crimson Tide. I don't give a d**n about them not being number one right now, you will speak respectfully about Nick Saban."
On Twitter, Smith called Finebaum's comments "absolute blasphemy."
Despite a season-ending injury suffered by Alabama quarterback Tua Tagovailoa, Finebaum said during his Get Up appearance that the teams 10-2 record this season is another reason why Saban's dominance is coming to an end.
Despite beginning the season with an 8-0 record, the Crimson Tide lost to LSU in early November and then lost Tagovailoa during a match up with Southeastern Conference foe Mississippi State. Though Alabama defeated MSU 38-7, the team dropped out of the College Football Playoff (CFP) rankings the next week and went on to lose to in-state rival Auburn 48-45 in the Iron Bowl.
With two losses, and Alabama unable to play for an SEC conference title this week, the team has no chance of being part of the CFP this year and will miss out on playing for another national title.
This is not the first time Finebaum has spoke about an ending to Saban's era as a top head coach in college football. After Alabama's loss to Auburn, Finebaum appeared on ESPN to talk about the game, bringing Clemson's Dabo Swinney and Auburn's Gus Malzahn.
"You also think about Nick Saban. He's lost two out of three to Guz Malzahn. He's lost two out of three to Dabo Swinney. The dynasty isn't dead, but the window is closing," Finebaum said.
This year's CFP National Championship will be the first time in its six-year history that Alabama will not be featuered in any of the games.