ESPN Radio Host Compares Houston Astros Cheating Scandal to Steroid Use in MLB, 'Cheaters Will Always Be Ahead'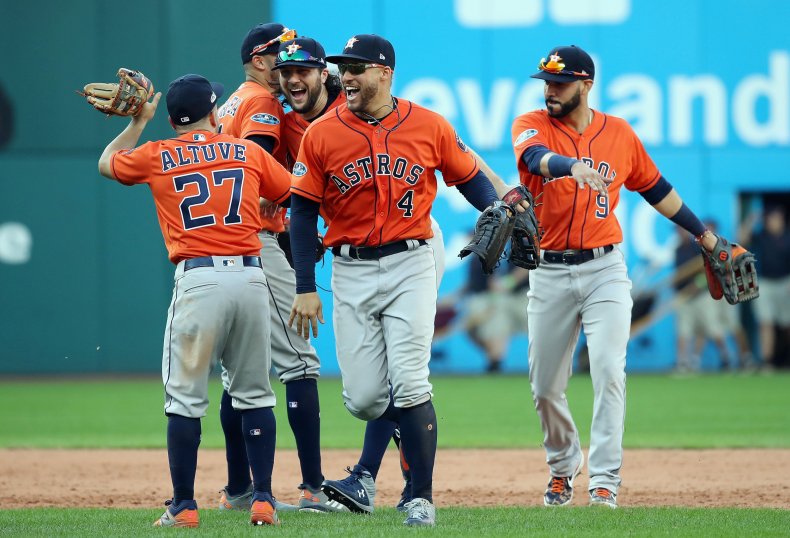 On Monday morning former NFL player and co-host of ESPN's radio show Golic and Wingo, Mike Golic Jr. spoke on the Houston Astros' cheating allegations stating that "the juice is always going to be worth the squeeze."
Golic Jr. was comparing the outcome for MLB players who were caught using steroids to the possible consequences the Astros could face.
"This is just like the steroids in my mind," Golic Jr. said. "Because the cheaters will always be ahead, but more importantly there's always going to be some level of benefit."
"We can talk about all these guys that got popped for steroids and your gonna keep them out of the Hall [of Fame], that matters to an extent. But for a lot of these guys, you still hit that big contract in large part because of the steroids you were doing," Golic Jr. said. "So, there's the win just like you don't give back a championship as an organization, you don't give back all that money."
The Astros' cheating scandal was first reported by Evan Drellich and Ken Rosenthal of The Athletic. According to the report, four Astros admitted that the team was electronically stealing signs during the 2017 season. Only current Oakland Athletics pitcher Mike Fiers told spoke to The Athletic on the record.
Following the report, Twitter user Jomboy has received a lot of publicity for his video posts detailing how the Astros were relaying the signs they stole, by using a banging sound for specific pitches.
"[Alex] Bregman down 0-2. Gets two off-speed pitches that come with a bang. Spits on the first. Homers on the second," Jomboy tweeted.
Since the report was released, MLB commissioner Rob Manfred held a meeting with team owners on Tuesday to discuss possible punishments if the cheating allegations are found to be true.
According to ESPN, during the meeting, Manfred told the owners "any allegations that relate to a rule violation that could affect the outcome of a game or games is the most serious matter."
During the radio show, Golic Jr. used former San Francisco Giants outfielder Barry Bonds as an example of someone who has been caught using steroids but was able to recover and continue to play in the MLB. Bonds was caught using steroids during the 2006 season but went on to play the next season and surpass Hank Aaron as the all-time home run leader with 762.
Golic Jr. also spoke about how the MLB should be able to learn how to better monitor possible cheating situations.
"It's going to be on the Major League Baseball to make sure they have a better way to monitor this going forward, and just force them to keep evolving because they're gonna keep cheating," Golic Jr. said.
The cheating allegations against the Astros' are currently being investigated by the MLB.
ESPN Radio Host Compares Houston Astros Cheating Scandal to Steroid Use in MLB, 'Cheaters Will Always Be Ahead' | Sports