It's hard to imagine no football in America this fall. But in 2020, the unimaginable has become the new norm, especially in the sports world. As the spread of coronavirus has brought sports to a screeching halt, ESPN college football analyst Kirk Herbstreit said this week he does not see football happening in 2020, either.
That's a harsh prediction from someone whose livelihood depends on college football.
Herbstreit is not only the lead analyst in the booth for the ESPN/ABC college football game of the week on Saturday nights during the fall, he's a mainstay host for ESPN's wildly-popular College GameDay road show.
Herbstreit, who is a former Ohio State quarterback, said he doesn't see the coronavirus situation any better by August—when teams begin fall practice.
"I'll be shocked if we have NFL football this fall, if we have college football. I'll be so surprised if that happens," Herbstreit told TMZ.com.
His rationale was that he said a vaccine will not be in circulation for at least another year, and that coaches and officials would not want a locker room full of sick players, much less stadiums that hold up to 100,000 people spreading the virus.
"Just because from what I understand, people that I listen to, you're 12 to 18 months from a [coronavirus] vaccine. I don't know how you let these guys go into locker rooms and let stadiums be filled up and how you can play ball. I just don't know how you can do it with the optics of it."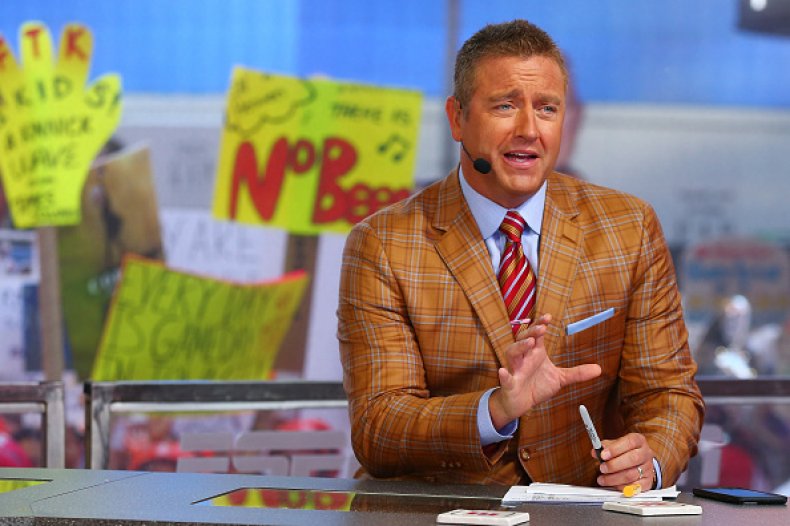 COVID-19 is the official name of coronavirus, which was first detected in Wuhan, China in late 2019. Since then, there have been more than 715,000 people worldwide who tested positive and more than 33,000 deaths. There have been 167,000 recoveries.
The United States leads all countries with nearly 140,000 positive cases, and the U.S. has nearly 2,500 deaths related to coronavirus.
The NBA on March 11 decided to postpone its season indefinitely after a player from the Utah Jazz contracted the virus. The next day, Major League Baseball canceled the last two weeks of its spring training and postponed the opening of its season until further notice. Other sports around the country, and the world, followed.
Football has somewhat been out of season since the Super Bowl on February 2 this year, but here are football-related activities that were canceled:
College spring football has been canceled
NFL owner meetings in Florida scheduled for earlier in March were canceled
The NFL Draft (Scheduled for April 23-25 in Las Vegas) was moved to a place with no audience, but the dates remained the same
As for the rest of the sports world, here's what has been affected:
The NCAA basketball tournaments were canceled in their entirety
NCAA sports and championships have been canceled through June
Major League Baseball is suspended until further notice
The NBA regular season and playoffs are suspended until further notice
The NHL regular season and playoffs are suspended until further notice
The Kentucky Derby has been moved from May to September
The Boston Marathon was postponed
The French Open tennis tournament was moved to late September
The 2020 Tokyo Olympics have been postponed until 2021
NASCAR has postponed its races until further notice
The NFL typically allows off-season training activities (OTAs) for its teams, and those will likely be put on hold.
College football players usually spend summers working out together to be ready for fall practice, which begins in August. NFL camps begin in late July, which is just four months away. However, the virus in the United States continues to rapidly spread, and right now New York City is the epicenter. New Orleans, Detroit, Chicago and Los Angeles are expected to be the next hot spots.
Most NFL stadiums hold about 70,000 fans, with some having capacity up to 94,000-100,000.
Many college football stadiums have capacity for 100,000 fans or more.
That said, Herbstreit said he would be hard pressed to believe football would be played in America this fall.
"Next thing you know you got a locker room full of guys that are sick. And that's on your watch? I wouldn't want to have that," Herbstreit said. "As much as I hate to say it, I think we're scratching the surface of where this thing's gonna go.
"You don't all of the sudden come up with something in July or August and say, 'Okay we're good to go' and turn 'em loose."
Uncommon Knowledge
Newsweek is committed to challenging conventional wisdom and finding connections in the search for common ground.
Newsweek is committed to challenging conventional wisdom and finding connections in the search for common ground.
About the writer
Scott McDonald is a Newsweek deputy night editor based in Cape Coral, Florida. His focus is assigning and writing stories across all topics, from news to politics, business, weather, sports and international news. Scott joined Newsweek in 2018 after a lengthy career of print journalism in Texas, including The Dallas Morning News, where he was a sportswriter, and he's a voter for the Heisman Trophy. He has been a newspaper editor-in-chief and also a newspaper publisher. He is a graduate of The University of Texas at Austin. You can get in touch with Scott by emailing s.mcdonald@newsweek.com. Languages: English