Esports College Scholarships Create A League Of Their Own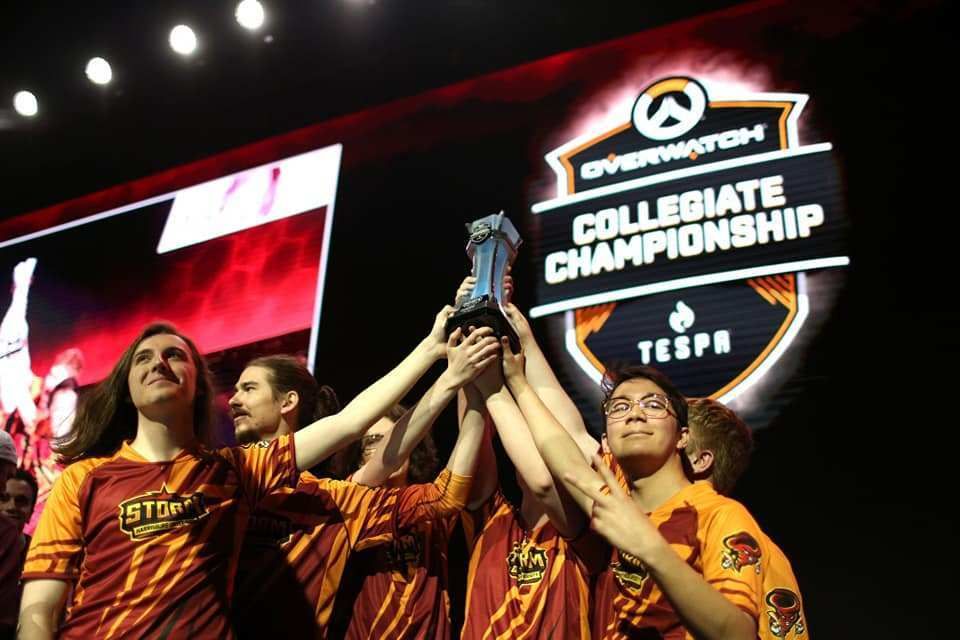 In 2019, being good at video games can get you a college scholarship.
The world of esports, or professional video gaming, is exploding in popularity and expected to reach a market value of $1 billion according to stats collector NewZoo. Young players with dreams of gaming grandeur grind for years, practicing in front of their computers for hours a day to reach the top skill tiers in their chosen games. A few years ago those elite gamers would have to choose between going to college or going pro. Now they can do both.
Dozens of colleges have started to invest in esports programs, with some offering highly coveted scholarships. Harrisburg University, who has top tier teams in games like League of Legends, Overwatch and Hearthstone, offers full-ride scholarships to the 20 players enrolled in their program. The small STEM-focused (science, technology, engineering, math) college in Pennsylvania has made a name for itself in esports, building a roster of Overwatch players who are in the top 500 in North America and who went undefeated in their 2019 season.
Harrisburg University truly believes that esports will be a crucial part of the college's identity and put money behind it to show they're serious. They partnered with the Philadelphia Fusion, one of the founding teams of Blizzard's Overwatch League, and hired their former support player Joe "Joemeister" Granamo as head coach of their Overwatch team. Newly adapted facilities, like The Whitaker Center for Science and the Arts, have been outfitted with the best computers and hardware with sponsorship deals helping to cover costs.
"Esports, being a relatively newer industry, fits perfectly into what it means to be a STEM institution," Granamo told Newsweek. "Esports is the University's only Varsity program. It has put a newer, small school and city on the map in a very special and unique way… (Esports) is very quickly becoming one of the biggest global sports that people can relate to - innovative, competitive, and entertaining."
In order to be admitted into Harrisburg's esports programs, applicants must send in a written application, try out for the team and then have a one-on-one meeting with the coaches. "The student needs to have a willingness to pursue an education on top of being committed to the sport," Granamo said. "Being talented in the game is not enough and will not get you far in our program without the willingness to fulfill academic obligations."
To these players, gaming isn't just sitting in front of a computer every day hanging out with friends; it's a full-time job. Members of the scholarship program need to practice for multiple hours a day while making sure they maintain a high GPA. Esports players in these programs are treated just like any other tiered professional athlete in a collegiate tiered-sport even though the NCAA currently does not sanction esports scholarships.
Arcadia University, located in Glenside, Pennsylvania, launched an esports program in its 2019 Fall semester. Students that apply and reach a certain set of criteria (which Arcadia did not provide) can earn upwards of $25,000 a year. This pays for a little over half of the $43,740 a year tuition that students pay to attend the school. The program is still starting out and currently consists of local students, many from Arcadia's gaming club, but the college hopes to grow by adding 5 to 10 athletes each fall until it gets a roster of around 30, a representative said.
"In addition to the life skills you cultivate being part of an esports team, gaming develops eye-hand coordination and enhances decision making and the speed at which we process information."
Harrisburg is a member and Arcadia is applying to be a part of the National Association of Collegiate Esports, an association that helps develop the structure of esports collegiate play for 130 different schools. Formed in 2016 with just seven colleges, the program quickly grew as more schools started to add programs, awarding more than $15 million in esports scholarships. TESPA, a collegiate program owned by Blizzard Entertainment, sponsor "gaming clubs" at 270 college chapters across North America.
Though collegiate esports programs are still in their infancy, some have garnered national attention. ESPN has published League of Legends power rankings, hosted the inaugural College Esports Championship tournament in May (Harrisburg's Storm squad won the Overwatch event) and created the first episodic docuseries dedicated to following a collegiate esports team.
Good Game: UC Irvine follows the college's League of Legends team on it's way to the 2019 College LoL Championship. ESPN's Bonnie Bernstein, who spent time as a gymnast at the University of Maryland, sees these players as athletes who require "teamwork, dedication, time management, communication, discipline, the ability to work through adversity and be poised under pressure."
"In addition to the life skills you cultivate being part of an esports team, gaming develops eye-hand coordination and enhances decision making and the speed at which we process information," Bernstein said. "It can also help improve your memory. So while there will always be concerns about screen time and the sedentary nature of gaming, there's also a lot of upside."
While following UC Irvine's team, she learned the struggles that a collegiate esports player has to endure. "College players practice as much as the pros, but they also have minimum GPAs to maintain," she said. "And most of them are STEM majors, so the coursework can be brutal."
As the world of collegiate esports continues to grow, so will the opportunities for these players. Playing in collegiate tournaments can earn you scholarship money, but it can also give you the skills you'll need in the real world. Though very few of these players move onto the pro scene for their games, they still learn crucial life skills and develop friendships. Gaming is a cultural movement that isn't slowing down.