'Fortnite' and 'Dota 2' Prize Money Leads Esports Boom As Winnings Cross $100m Mark
If someone told you 20 years ago that companies would pay millions of dollars to people just for playing video games, you likely wouldn't have believed them.
By May 2018 however, esports has become one of the most watched and consequently highest paid pursuits. Earlier this week, smash hit battle royale game Fortnite announced it would offer up $100 million in prize money for players this season.
"We're getting behind competitive play in a big way, but our approach will be different," a post said on the Fortnite website. "We plan to be more inclusive, and focused on the joy of playing and watching the game."
According to data released by Statista on Tuesday, the number one video game for total prize money awarded (as of May 2018) was Dota 2. It has given out more than $140 million.
Second place was some way off—Counter-Strike: Global Offensive has handed out $53 million—but that's still a lot of money for video games.
League of Legends ($52 million), StarCraft II ($27 million) and Heroes of the Storm ($13 million) rounded out the top five. Once the Fortnite 2018/19 season commences, it will likely shoot up to number two on the list.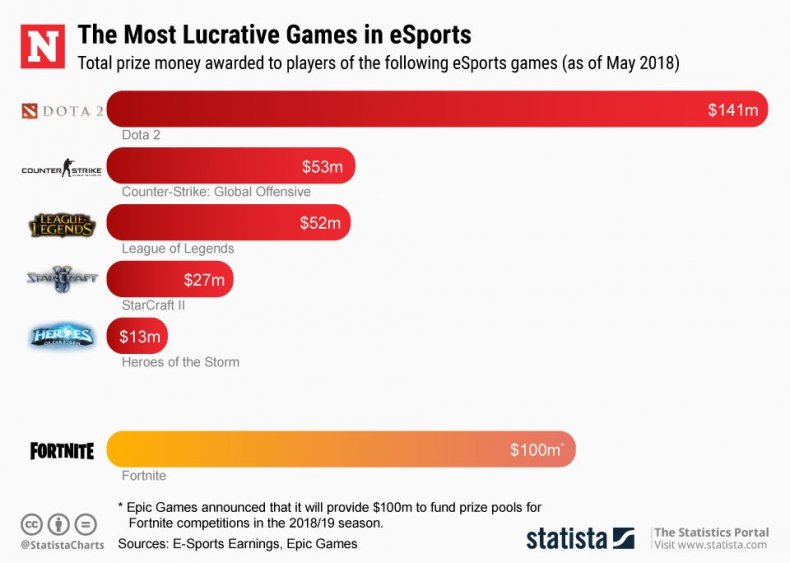 The prize money year-on-year has also seen an exponential rise. Just eight years ago in 2010, $3 million was awarded to esport gamers in total. By 2013, that figure had risen to $17 million. In 2017, a total of $121 million was awarded to gamers in esports competitions.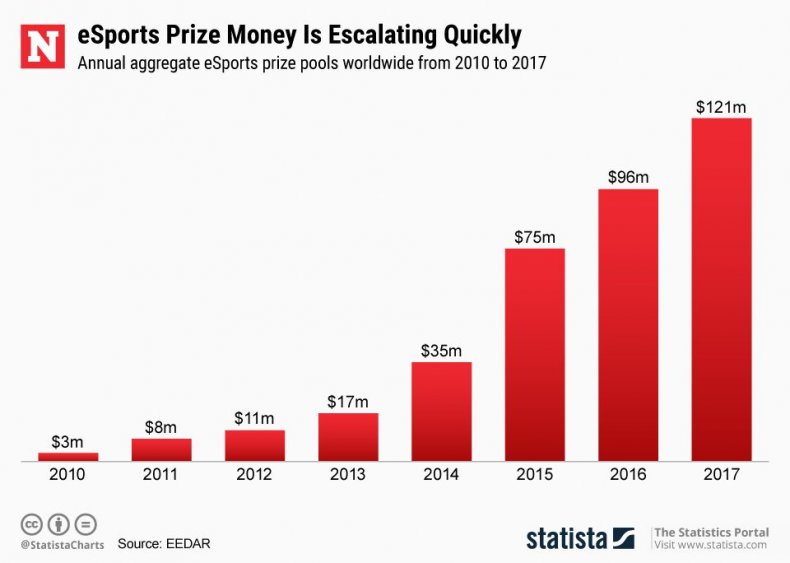 If you are wondering how so much money has suddenly become available, the answer is simple: Advertising revenue. In 2017, the Intel Extreme Masters in Katowice, Poland, attracted 46 million viewers. In 2016, the League of Legends world championship in China drew 43 million viewers.
To put that in perspective, just over 20 million people tuned in to watch the NBA Finals in 2017 (average TV viewership of each game).