Espy vs. Hyde-Smith Mississippi Senate Runoff Race Results: Who's Winning, Live Election Updates
11:00 p.m.
And that's a wrap! See you in 2020.
Just kidding, see you tomorrow.
10:58 p.m.
The National Association for the Advancement of Colored People (NAACP) issued the following statement on Hyde-Smith's win:
While we are hopeful that the Senator-elect will prove herself worthy of her new office, this election demonstrates the need to continue broadening the tent of civic and democratic participation in our nation. We must continue to organize, empower Americans to make their voices heard, and use and harness this power to produce real change in Mississippi and nationwide.
10:55 p.m.
Cindy Hyde-Smith delivered a victory speech where she thanked the president who she said she just spoke to "so I know he's watching." She spoke directly to him and thanked him, then called her campaign bus the MAGA wagon. "This victory is about our conservative values, it's our faith and family," she said "I will fight for it I assure you, every single day I am your warrior."
In the short speech where she thanked her team, church and family she made an attempt to reach out to Espy voters. "No matter who you voted for today i'm always going to represent every Mississippian," she said. "I have a flight in the morning, I've got to be at the airport at 4:30am. I will be in Washington D.C. first thing tomorrow morning, working for you."
10:55 p.m.
President Donald Trump, a huge supporter of Cindy Hyde-Smith's, tweeted his congratulations to the Senator.
10:54 p.m.
Mike Espy delivered a concession speech which struck hopeful tones despite his defeat. "While this is not the result we were hoping for, I am proud of the historic campaign we ran and grateful for the support we received across Mississippi," he said. "We built the largest grassroots organization our state has seen in a generation, through a coalition of voters who shared our belief that Mississippi's future will be brighter than our past."
"Make no mistake—tonight is the beginning, not the end," he said. "When this many people show up, stand up, and speak up, it is not a loss. It is a moment. It is a movement. And we are not going to stop moving our state forward just because of one election. I look forward to finding new ways to do just that."
10:28 p.m.
It's official. Senator Cindy Hyde-Smith will remain in her Senate seat for another six years. Mike Espy ran a historic race and outperformed all expectations of a Democrat in the ruby-red state of Mississippi. But in the end a state whose voters overwhelmingly approve of President Donald Trump decided to keep his number one Senate ally in office. Stay tuned for victory and concession speeches, which will be covered here.
10:15 p.m.
With 69 percent of precincts reporting, Cindy Hyde-Smith has a commanding 12-point lead over Mike Espy. Sam Hall, the executive editor of the Clarion Ledger (Mississippi's largest newspaper) has called the election for Hyde-Smith. While no official results are in, the Espy party in the Mississippi Civil Rights Museum has taken on a more somber mood.
Eye of the Tiger, meanwhile, is playing at the Hyde-Camp party and supporters are gather by the door, perhaps an announcement is coming.
9:30 p.m.
Nate Silver of FiveThirtyEight reports that despite an early lead, Espy is now only beating his midterm results by 6.6 percent. A significant improvement over November 6, but not enough to win the election with. He'll need to beat his results by 9.4 points to take the seat. Still, the night is young and only 28 percent of precincts have reported.
9:15 p.m.
With 91 percent of the vote counted, Espy leads in Warren County by about 6 points. In the midterm elections he received 47.9 percent of the votes in the county, he currently has 52.9 percent.
9:00 p.m.
With about 80 percent of DeSoto County reporting, Hyde-Smith leads with an advantage of 10 points. In the midterm elections, Espy recieved just 33.7 percent of the vote in DeSoto. While Hyde-Smith is still expected to take the race, her advantage may not be as as strong as previously thought.
8:50 p.m.
Governor Phil Bryant, who nominated Senator Cindy Hyde-Smith to her current seat has arrived at her election night party. Bruce Springsteen's Born in the USA is playing, and things are heating up.
8:40 p.m.
As results trickle in (just about 1 percent have been counted at this point), the Mike Espy party is getting crowded.
8:15 p.m.
Voter turnout was reportedly low, typically a bad sign for Democrats.
A representative from the Mississippi secretary of state's office, Leah Rupp Smith, said Tuesday that voter turnout was relatively low, a bad sign for Mike Espy who needs a large turnout boost to win. Smith said observers from her office had seen "steady but slow" turnout at polls and that there were very few lines.
8:00 p.m.
Polls have officially closed in Mississippi, but those still in line to vote will be allowed to. Votes will now be tallied, and an official decision is expected within a few hours.
7:45 p.m.
Facebook has asked Senator Hyde-Smith for its $2500 contribution back. The social network now joins companies like Google, Walmart and Major League Baseball in withdrawing campaign donations after her "public hanging" comments.
"The recent public comments made by Senator Cindy Hyde-Smith do not reflect the values or mission of Facebook," a Facebook spokesman wrote. "Our PAC contribution was made before these comments were made, and we have asked the Hyde-Smith campaign to return our campaign donation."
7:35 p.m.
Mike Espy and Cindy Hyde-Smith headed to the polls in Mississippi Tuesday morning. Espy acknowledged that though he will likely receive the lion's share of the African American vote, he needs the support of white voters to win.
"If only African Americans come out to vote for me, even if they come out in record numbers, I won't win," he said.
Hyde-Smith, meanwhile focused on the rallies President Trump held for her on Monday, calling them "wonderful."
7:20 p.m.
White House Press Secretary Sarah Huckabee Sanders said Tuesday afternoon that she wouldn't comment on the Mississippi race because she didn't want to "comment on anything that could affect what's taking place in Mississippi."
President Donald Trump, however, did not feel that way. He told The Washington Post Tuesday afternoon that "Based on the enthusiasm we saw there I think we're going to do very well, but we'll see." He added that "I know one thing: If she loses, I'll be blamed, and if she wins, I'll be given no credit. That's the only thing I know."
Tuesday evening marks the last senatorial election of 2018, with Democratic contender Mike Espy and Republican incumbent Cindy Hyde-Smith duking it out for the top prize in Mississippi.
The two first faced off during the November 6 midterm elections, but neither was able to cinch the 50 percent of the vote needed to take the Senate seat and so the race went into runoffs.
Polls opened throughout Mississippi starting at 7 a.m. Tuesday and will close at 7 p.m. Results should start coming in shortly after that and a decision is expected to be reached tonight. We'll be live-blogging the election results all night long, so stick with us right here!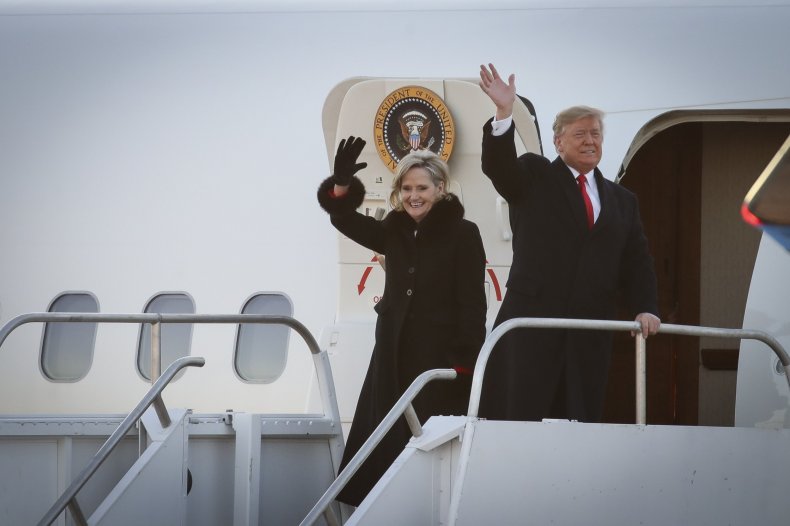 While the initial election was tight—Espy received just 0.4 points less than Hyde-Smith, the Republican is expected to win the runoff with a much wider margin. Internal polling shows that she has at least 5 points on Espy, and a recent survey gave her a 10-point lead.
Still, the senator who was nominated by Mississippi governor Phil Bryant this spring to finish ailing Senator Thad Cochran's term has been embroiled in racial controversy these past few weeks and could suffer the consequences at the polls tonight.
Hyde-Smith told a supporter earlier this month that if he invited her "to a public hanging, I'd be on the front row." Mississippi has a long, dark history of African American lynchings and hangings, including the violent murder and hanging of 14-year-old Emmett Till in 1955.
It was later revealed that Hyde-Smith attended a white segregationist school and sent her daughter to one as well. She has sponsored bills intended to celebrate Confederate Civil War officers and in 2014 posed in a Confederate Civil War hat while holding a rifle. She captioned the photo, "Mississippi history at its best!"
Google, Major League Baseball and Walmart all withdrew their financial support for the candidate after these details came to light.
Still, President Donald Trump supports the candidate wholeheartedly. He made two campaign stops in Mississippi to rally for her on Monday and tweeted about her multiple times Tuesday.
That's likely because Hyde-Smith is the biggest ally he has in Senate. She has voted with the president 100 percent of the time, more than any other Republican Senator.
In a state that Trump won by 17 points in 2016, his support can make a big difference on Election Day.
"Make no mistake—a vote for me is a vote for [Trump] and #MAGA," Hyde-Smith tweeted Tuesday. "It's why Liberal Mike Espy and the radical DNC have targeted our campaign for defeat, and it's why we need to make sure EVERY MS conservative gets to the polls on 11/27."
If Espy is elected, meanwhile, he would be the first African-American senator from Mississippi since Reconstruction. His win would also be a huge boon to Democrats as Mississippi is a ruby-red state.
Espy, a former secretary of agriculture under President Bill Clinton, has also had high-profile politicians like former President Barack Obama, former Vice President Joe Biden and Senator Cory Booker campaign on his behalf.
Espy vs. Hyde-Smith Mississippi Senate Runoff Race Results: Who's Winning, Live Election Updates | U.S.