Essential Episodes of 'The Office' to Watch Before It Leaves Netflix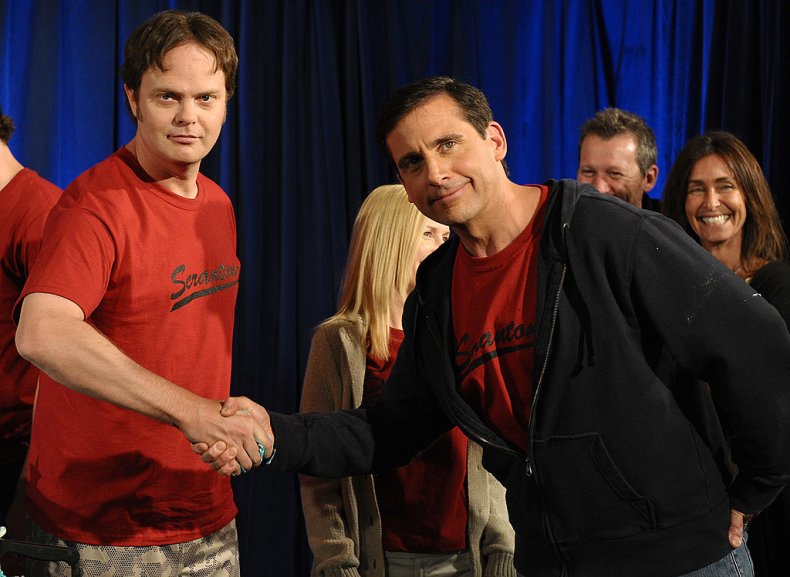 If you're a fan of the NBC sitcom The Office, then you've probably already heard the gang at Dunder-Mifflin is leaving Netflix. NBCUniversal announced on June 25 that it would not renew the streaming rights for the show, instead of keeping it for their own soon-to-be streaming platform coming in 2021. The move puts fans in a peculiar situation: is your love for Michael, Dwight, Jim and Pam worth the extra money it will cost to now stream the show?
We know, that's a heavy question. Luckily for you, you still have some time to binge the show. Here are 15 essential episodes you need to watch (or even buy, because they're that good) before it leaves Netflix. Of course, narrowing it down to 15 episodes almost doesn't do the show justice, so we really suggest you watch all the episodes (and if you already have, you get the Dundie).
However, if you've never seen the series—and honestly, we really don't know how this is possible—you should start immediately, but if you want a crash course in what makes The Office great, these episodes will tell you everything you need to know.
15. "Finale" (Season 9, Episode 23)
There are many iconic last episodes of popular sitcoms, and The Office doesn't disappoint. It's been a year since the documentary was released, and the gang gets back together for an event with fans and to attend the wedding of Dwight and Angela. The surprise guest at the end makes it all worth it.
14. "Goodbye Toby" (Season 4, Episodes 14)
There are three great love affairs over the course of the series: Jim and Pam, Dwight and Angela, and Michael and Holly; this episode ignites the torch for each of these romances. It's primarily about Michael's nemesis Toby moving to Costa Rica, but what it's really about is Jim's planned (and then botched) proposal to Pam and, of course, when Michael meets Holly.
13. "The Duel" (Season 5, Episode 11)
The path to Jim and Pam getting together often gets all the attention, but one could argue Dwight and Angela's romance is the most compelling love story in the series. In this episode, Andy, Angela's fiancé, finds out she's been having an affair with Dwight. The two then take part in a duel to win Angela over ("I will respect the results of the duel," Angela says). It's here we learn that a Toyota Prius can also double as a weapon.
12. "Moroccan Christmas" (Season 5, Episode 10)
This episode is often overlooked, but it's filled with so many gems. Mostly it's where the office learns Dwight and Angela are having an affair, but it's also where Meredith finally gets a hilarious storyline (turns out you can't just turn someone into rehab like you're making a deposit at the bank).
11. "The Delivery" (Season 6, Episodes 17 and 18)
There's a reason why Jim and Pam get all the romance attention, their storyline is filled with all the feels. It's this two-part episode that starts the new Jim and Pam, as parents. The first 5 seasons were all about them falling in love, the remaining seasons were about how they balanced that love with parenthood and their own ambitions.
10. "Broke" (Season 5, Episode 25)
You can try and argue this point, but Pam really is the heart of The Office. So often she's looked over as just the secretary, but here Michael finally recognizes how important she really is. When Michael is negotiating the deal to sell his own paper company to Dunder-Mifflin, he insists on Pam being made a saleswoman. If Jim and Pam are the ultimate romance, then Michael and Pam are the ultimate team.
9. "Goodbye Michael" (Season 7, Episode 21)
In "Goodbye Michael," we again see just how important Michael and Pam's friendship is. Michael is moving to Colorado with Holly, leaving Dunder-Mifflin. He tricks the office into thinking he's leaving on a different day to avoid saying goodbye. Unfortunately, Pam uses the day to blow off work. He leaves for the airport, unable to say goodbye to Pam. Then, as he's walking to his flight, Pam runs up to him. There's no dialogue, just silence. As you watch you realize Pam had to buy a plane ticket to get through security in order to say goodbye to Michael. Now that's friendship.
BONUS: This goodbye song for Michael. Can you even? Are you crying yet?!
8. "Stress Relief" (Season 5, Episodes 13)
This episode doesn't reveal anything grand or emotional really, it's just really, really funny. It starts with Dwight setting off a false fire alarm to teach the office a lesson, and then later he screws up a CPR training by removing the face of the demonstration dummy and wearing it like Hannibal Lector from The Silence of the Lambs. The episode ends in a brutal roast of Michael Scott. Literal perfection.
7. "The Job" (Season 3, Episode 24 and 25)
A lot happened in this episode, but the only thing that really matters is when Jim and Pam finally become a couple. Pam, in an interview, is saying how happy she is for Jim potentially moving to New York City for a new job, how she's over him, and just then he interrupts.
"Are you free for dinner tonight?" he asks.
"Yes," Pam says.
"Alright. Then it's a date," Jim replies.
Pam, lost for words, tears up and then asks, "I'm sorry, what was the question?"
BUCKETS OF HAPPY TEARS!
6. "The Dundies" (Season 2, Episode 1)
This is another episode where a lot happens, but really the only thing that matters is Jim and Pam. As Michael hosts the office awards show, The Dundies, Pam defies her boyfriend Roy and decides to get drunk at the awards show. In her drunken state, she kisses Jim. It's subtle, but by the end of the season, that little kiss will lead to something far more intense.
5. "Casino Night" (Season 2, Episode 22)
It's here where Jim and Pam's love story really heats up. Jim finally works up the courage to confess to Pam how he feels about her. At the end of the episode they kiss, even though she's engaged to Roy. Oy, the drama!
4. "Niagara" (Season 6, Episodes 4 and 5)
There are many milestones in the love story of Jim and Pam, but their wedding is really the touchstone for the two of them. The entire office travels to Niagara, New York for the festivities and nothing seems to be going right. Michael doesn't have a room, Jim accidentally reveals Pam is pregnant, Dwight sleeps with Pam's sister, Andy hurts his scrotum and then Pam ruins her dress. But it all ends well because nothing at this point can get in the way of Jim and Pam's romance (well, except for that barf fest at the beginning of the episode).
3. "Gay Witch Hunt" (Season 3, Episode 1)
This. Episode. Is. Everything. The set up is simple: Michael finds out Oscar is gay and ends up outing him to the office. Even though it's filled with stereotypes that run the line of being utterly offensive, Michael's strange way of showing his love and acceptance of Oscar is heart-warming (if not wildly inappropriate).
2. "Diversity Day" (Season 1, Episode 2)
Similar to "Gay Witch Hunt," "Diversity Day" would be offensive if it weren't done with so much care and humor. Michael uses a racial slur, which results in a sensitive trainer being brought in to train the office. Of course, Michael thinks he can do it better (spoiler alert: he can't), and well, everything goes hilariously wrong.
1. "Dinner Party" (Season 4, Episode 9)
Why is this the best episode? Because it's just absurd. The funny thing is, only a small part of the episode takes place in the actual office. Michael and his girlfriend Jan throw a dinner party for Jim, Pam, Angela, Andy, Dwight and Dwight's babysitter (it's a long story). In the process, they reveal just how dysfunctional they are, and it ends up being the end of their relationship.
BONUS: The "Finale" Table Read
This isn't an episode that aired, but an emotional two-hour YouTube video of the final table read. Michael shows up in the final episode, but it isn't part of the table read. They somehow were able to keep it a surprise so that they could capture Dwight's authentic reaction for the last episode.