Essential Quality: Everything We Know About the Controversy Surrounding Kentucky Derby Favorite
Essential Quality is the favorite to win Saturday's Kentucky Derby, but in the days leading up to the race, owner Sheikh Mohammed bin Rashid al-Maktoum of Dubai has faced a whirlwind of controversy regarding allegations that he abducted his own daughter.
Who is Sheikh Mohammed bin Rashid al-Maktoum?
Sheikh Mohammed is the prime minister of the United Arab Emirates and the ruler of the Emirate of Dubai. His horses have been raced in 11 Kentucky Derby races but failed to win in each attempt. For this year's Kentucky Derby, Sheikh Mohammed's Essential Quality is listed as a 2-1 favorite to win the race.
The purse for this year's Kentucky Derby is $3 million, and if Essential Quality, who is undefeated, is able to win the race, Sheikh Mohammed will take home $1.86 million.
The Controversy
Sheikh Mohammed has faced a backlash over accusations that he abducted his own daughter, Sheikha Latifa bint Mohammed al-Maktoum.
Sheikha Latifa fled by yacht from her father's control in 2018 but was captured by commandoes and turned over to Emirati security officers shortly afterward, according to The New York Times. While she has remained virtually unseen in public, she released a video last spring saying she was being held against her will.
According to the Times, last year a British court found that Dubai's ruler had abducted and confined his two daughters, but he did not face any consequences.
The controversy over Sheikh Mohammed's horse stemmed from a complaint filed with the Kentucky Horse Racing Commission by a group of human rights lawyers and several University of Louisville students.
The Times said the complaint called on the commission to bar Sheikh Mohammed and Essential Quality from participating in Saturday's race.
"The Horse Racing Commission must also use its authority to end his involvement in Kentucky horse racing, at least until Princess Latifa is free of captivity," the complaint said, according to the Times.
A week before the complaint, a panel of human rights experts at the United Nations asked Sheikh Mohammed to provide proof that his daughter is alive and well.
"The statement issued by the Emirates authorities merely indicating that she was being 'cared for at home' is not sufficient at this stage," the human rights experts said in a statement. "Evidence of life and assurances regarding her well-being are urgently required."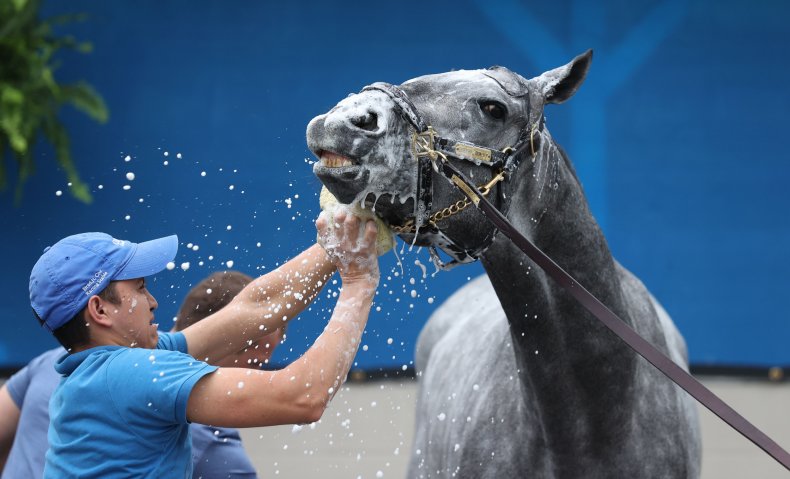 The Outcome
On Thursday, the Kentucky Horse Racing Commission rejected the filed complaint.
"The Kentucky Horse Racing Commission (KHRC) received a complaint against licensee Sheikh Mohammed bin Rashid Al-Maktoum on April 28, 2021," Executive Director Marc Guilfoil said in a statement. "In consultation with counsel, and according to Kentucky regulations, the KHRC has determined the complaint does not articulate a violation of KHRC regulations."
Newsweek reached out to the commission for comment but did not receive a response in time for publication.
Before Guilfoil's statement, Darren Rogers, spokesperson for Churchill Downs, where the Kentucky Derby takes place, suggested that he didn't believe that calls to remove Essential Quality from the race would succeed.
"Sheikh Mohammed bin Rashid currently holds a valid racing license in the state of Kentucky. There have been no horse racing violations and nor are we aware of any other U.S. regulatory or governmental investigations," Rogers said, according to the Associated Press.
"We are focused on the 3-year-old thoroughbreds who have earned their way into this year's Kentucky Derby, and our responsibility is to the integrity of the race and the safety of those horses," Rogers said.