Essential Workers Hurt by Coronavirus Could Get More Money From 'Hero Fund' Under Bipartisan Proposal
Essential workers affected by the coronavirus pandemic could receive compensation under a new bipartisan bill introduced on Thursday.
The Pandemic Heroes Compensation Act would provide financial assistance to essential workers who get sick, injured or die as a result of COVID-19. The bill is led in the House by New York Representatives Carolyn Maloney, Jerrold Nadler and Peter King, and in the Senate by Illinois Senator Tammy Duckworth. It is patterned after a similar fund created to help workers who became sick in the aftermath of the terrorist attacks on September 11, 2001.
No dollar amount has been assigned to the new bill. But the proposal would authorize the funds to be appropriated as needed for at least five years.
"Right now, workers all over this country are putting their lives on the line to help their sick neighbors, keep people fed, and keep our essential services running. Just as they are here for us, we need to be there for them if they get sick," Nadler said in a statement.
The fund would be available for workers across all industries who are required to leave their homes to perform essential services. The money could be used to cover the medical costs for recovery, for loss of employment, or for burial costs. Family members who share homes with essential workers and became sick through contact with them would also be eligible to file a claim.
"While we have to do much more to protect these men and women as they take on greater risks during this pandemic, we also need to recognize the sad reality that our nation has a responsibility to take care for the loved ones of those essential workers who perish as a result of their decision to go back to work to help others," Duckworth said in a statement.
The broad advisory list of essential employees created by the federal government consists of 14 categories. It includes health care services, pharmaceutical and food suppliers, law enforcement and first responders among other critical operations.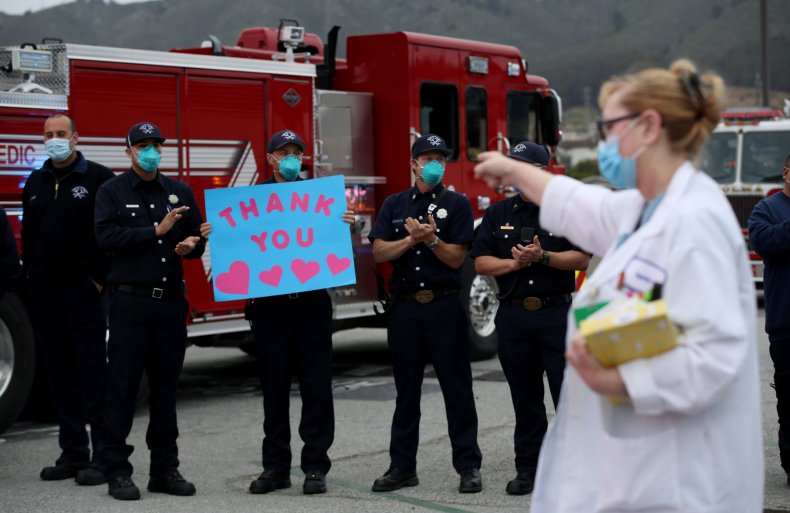 The 9/11 fund experienced difficulty in getting reauthorized last year due and was the subject of a drawn-out partisan debate. The pandemic compensation act is likely to face the same hurdles getting through Congress.
Senate Majority Leader Mitch McConnell has already pumped the brakes on the next relief package. But Representative Maloney said during a video conference on Thursday that there's not a doubt in her mind that it will be passed.
The United States has surpassed every other country both in confirmed cases of the virus and deaths. According to data from Johns Hopkins University, the nation had more than 1.4 million cases and 84,900 deaths as of Thursday afternoon.