Petition to Get Key Workers Weekly $600 Payment Passes 700,000 Signatures
A petition seeking a $600 weekly pay boost to essential workers working throughout the coronavirus pandemic has garnered more than 700,000 signatures.
The appeal, titled Essential workers weekly federal stimulus benefit, rallies for a financial boost to those fulfilling key functions, stating: "Essential workers are keeping the economy in motion, and we should be cared for by our government."
Created by Dana Jeffcoat, who is described as "one of many essential workers," the campaign on MoveOn has 735,494 signatures at time of writing.
"During the COVID19 pandemic, essential workers have had to make huge adjustments to our normal work routines. Not only are we working longer hours, we are also homeschooling our children while wearing masks to protect ourselves and everyone we come in contact with. Some of us have even had to be separated from our families while we keep America running," the petition says.
It goes on to comment that despite politicians' praise of essential workers, this was not being backed up with financial compensation.
Referring to the $600 unemployment payment boost given under the CARES Act, the campaign states a similar amount of money should be directed to essential workers.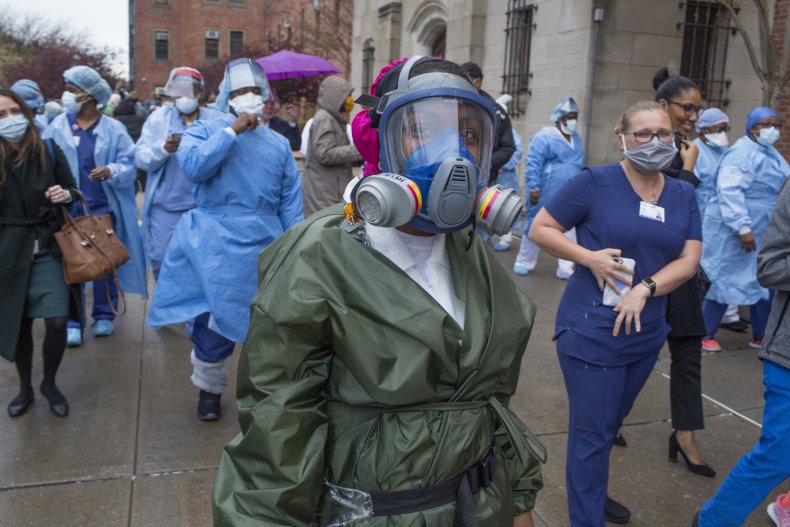 "It's past time for our lawmakers to go to bat for all of us to ensure that essential workers receive a $600 weekly federal stimulus benefit," it added.
The concept of boosted pay for certain essential workers has previously been touted in Congress, while some organizations chose to implement increases amid the outbreak.
Legislation enforcing this has not been passed as yet, though.
The HEROES Act, passed by the House, includes a provision for essential workers to receive a $13 per hour pay rise, paid back retroactively to January and through to the end of year. This would be up to $25,000 for workers earning under $200,000 and up to $5,000 for those earning more.
A bill named the Coronavirus Frontline Workers Fair Pay Act was introduced in Congress in May, similarly introducing a $13 per hour boost.
The potential of such an increase being approved is unclear, with the HEROES Act having stalled in the Senate after passing the House in May.
The GOP leadership in the Senate has said there is no chance of the bill moving through the upper chamber.
However, they have indicated further stimulus could be approved in some form.
The shape of this is unclear though, with questions over whether measures such as stimulus checks will be included again.
Newsweek has contacted the petition founder, as well as the Senate Majority Leader Mitch McConnell and House Speaker Nancy Pelosi for comment on hazard pay.