Essential Workers Plan Strike Against Amazon, Shipt, Whole Foods and Instacart
Workers from Amazon, Instacart, Whole Foods, and Shipt are joining together in a one-day strike on May 1, which is also International Workers Day. The majority of these workers will call out sick, while the remaining will partake in storefront demonstrations, Christian Smalls, a lead organizer for the strike told Newsweek.
Workers from at least 20 Amazon warehouses are expected to walk off the job in the U.S. and in 60 warehouses internationally, including buildings in Germany, Canada and Spain.
Workers from the four companies are hoping to act in conjunction with one another, Smalls said.
Smalls believes the one-day strike will be enough to garner a response from the company without jeopardizing the jobs of workers or other retaliation from Amazon.
"The reason behind incorporating all these other entities is because we're not going to stop mobilizing until we have our demands met," Smalls said. "We all have one common goal right now and that's to feel safe and protected at work."
Workers are demanding the mandatory shutdown of buildings with positive cases for a minimum of 14 days. The list of demands also includes more personal protective equipment (PPE) and cleaning supplies, paid leave for employees waiting on COVID-19 tests, hazard pay for the duration of the pandemic, company transparency on the number of cases in facilities, unlimited unpaid time to be extended to June 1, and reinstatement of employees terminated for refusal to work during the pandemic.
"This is a matter of life or death, but companies like Amazon have not been transparent or honest with workers, the media, or the public about the number of cases in their facilities," organizers said in a press release.
The release also disputes Amazon's senior vice president Jay Carney's claims that Amazon is unaware of how many workers have tested positive for the virus. The group tabulates there are over 500 positive cases in over 135 warehouses across the United States.
According to Smalls, he was fired by Amazon after organizing a March 30 protest calling for Amazon to close warehouses where workers tested positive for COVID-19. Amazon said Smalls was fired for violating company-enforced quarantine and safety measures.
Since his termination, Smalls said he has received many messages from frontline workers across America hoping to mobilize, including Faiza Osman, an Amazon-employee who staged a walkout on Sunday in Minnesota.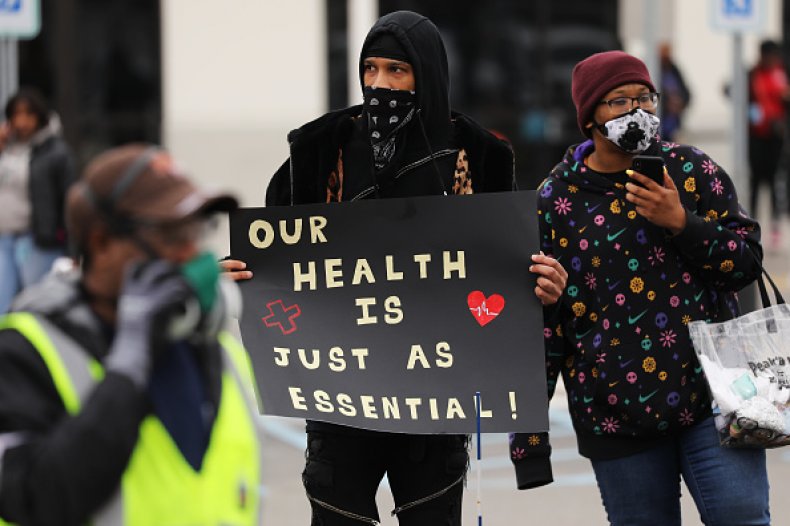 Newsweek reached out to the four companies targeted by the strike. Amazon and Whole Foods disputed the claim from the organizers that some demands, such as PPE, aren't being met.
"While we respect people's right to express themselves, we object to the irresponsible actions of labor groups in spreading misinformation and making false claims about Amazon during this unprecedented health and economic crisis," said Lisa Levandowsky, an Amazon spokesperson.
In the statement, Amazon listed masks, temperature checks, hand sanitizer, increased time off, and increased pay as among the measures being provided to their workers. But Smalls argues none of these actions would have taken place without his demonstration and subsequent firing, which drew scrutiny from New York officials and prompted New York City Mayor Bill de Blasio and New York Attorney General Letitia James to open an investigation into Smalls' dismissal.
According to a statement provided to Newsweek by Whole Foods, the company has implemented increased pay and benefits, as well as new cleaning and social distancing protocols for their workers. "Statements made by this group misrepresent the full extent of Whole Food Market's actions in response to this crisis and do not represent the collective voice of our more than 95,000 Team Members," said a Whole Foods Market spokesperson.
"Our team has been diligently working to offer new policies, guidelines, product features, resources, increased bonuses, and personal protective equipment to ensure the health and safety of shoppers during this critical time," Instacart said in a statement.
Smalls told Newsweek that the strike will last one day for fear that those who participate will see retaliation from Amazon. However, he said, it was important to bring awareness to what is happening in the warehouses of the various companies amid the novel coronavirus pandemic.
"We want the truth out there. We want the public to know the amount of cases these buildings really have," said Smalls. "The best case scenario is for them to close down the buildings that have cases in them. The worst thing they could do is not do anything. People are actually passing away and dying from this virus."
Update, 04/29/20, 1:23 p.m.: This story has been updated to remove a statement from Target.