In Tuesday's Senate Primaries, the Democratic Establishment Roars Back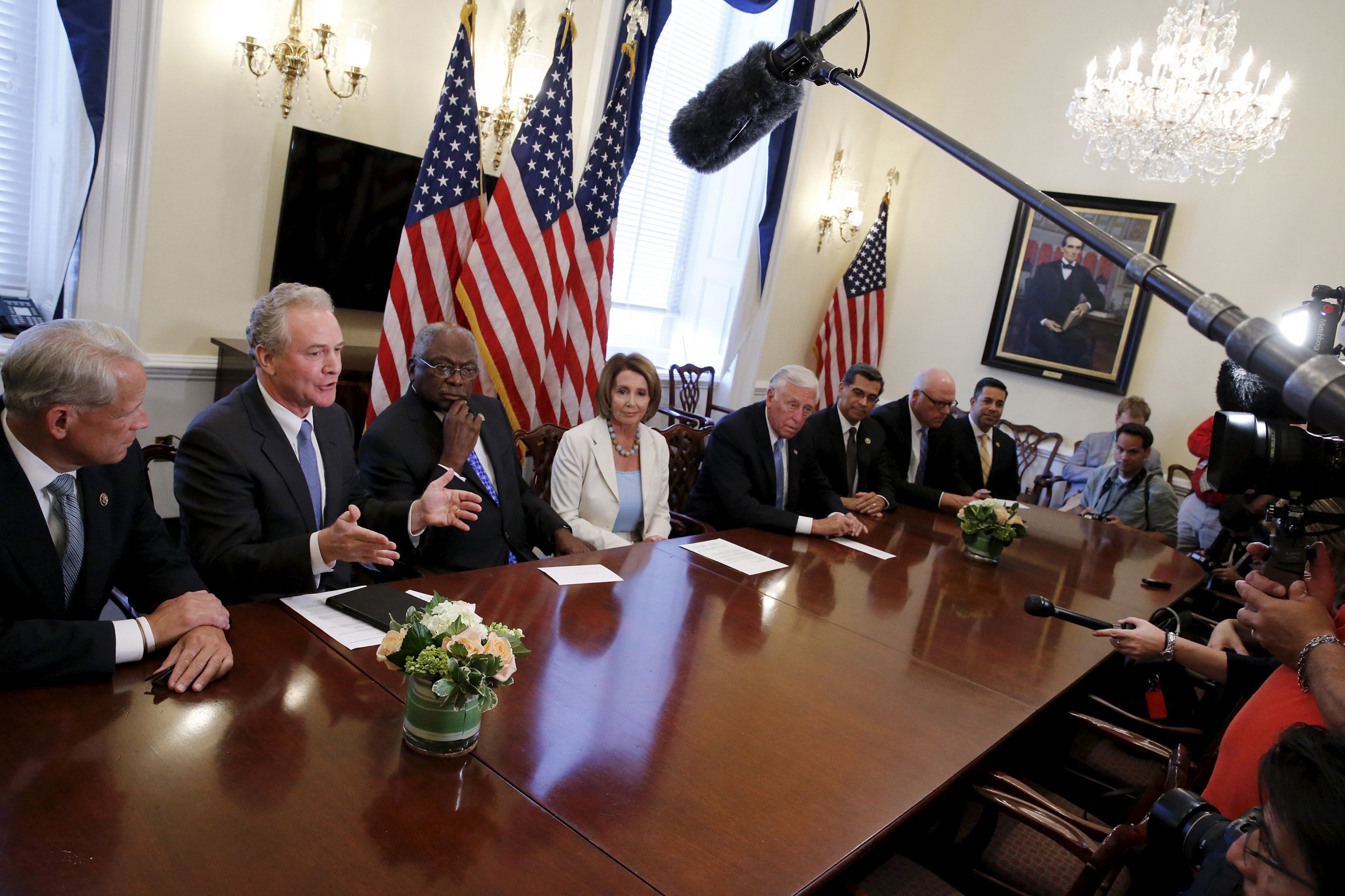 The 2016 reign of the political "outsider" may be over—at least in the Democratic Party. Tuesday night's result in five Northeastern states were redemptive for the party establishment, after taking a rhetorical beating from the party's more progressive wing for months. Not only did former first lady, Senator and Secretary of State Hillary Clinton notch emphatic wins in the Pennsylvania and Maryland—the night's two biggest prizes—but the Democratic candidates favored by party insiders won two of the campaign season's hardest fought Senate primaries.
In Pennsylvania, Katie McGinty, a former Clinton environmental aide and chief of staff to Governor Tom Wolfe, came from behind to defeat former Democratic Congressman Joe Sestak for the right to take on Republican Senator Pat Toomey in November. Further down the Atlantic seaboard, veteran Congressman Chris Van Hollen beat back a fierce challenge from House colleague Donna Edwards in the race to replace retiring Maryland Democrat Barbara Mikulski. The results couldn't have been better for party operatives, who are gunning to take back the Senate in November, and believe nominating McGinty and Van Hollen's more centrist, consensus-builder images give them the best shot.
McGinty won in Pennsylvania despite lagging in the polls up until the last week of the race. She almost certainly couldn't have pulled it off without heavy support from the party's power brokers, who have been all in for her campaign. McGinty has never held elected office and compared to Sestak, she was largely an unknown to primary voters. But both President Barack Obama and Vice President Joe Biden endorsed her at the end of March and Biden showed up to campaign for her in Philadelphia on Monday. The Democratic Senatorial Campaign Committee (DSCC), the arm of the party devoted to electing Democratic senators, also threw its weight behind McGinty in March.
Party leaders were less vocal in the Van Hollen-Edwards race, which pitted liberal, outspoken Edwards—vying to be only the second African-American woman senator—against Van Hollen, a veteran legislator and longtime ally of Democratic Minority Leader Nancy Pelosi. The DSCC decided to stay out of the contest, as did the departing Mikulski and most of Van Hollen and Edwards' House colleagues. But Senate Minority Leader Harry Reid came out early in support of Van Hollen's Senate run and much of state party's leading lights were also behind him.
The race took on clear contours of the insider-outsider fight being waged between Clinton and Vermont Senator Bernie Sanders in Democrats' presidential race. Many of the same progressive groups backing Sanders actively supported Edwards, although the focus in the final days of the campaign focused more on racial and gender divisions than ideology. Polls in recent weeks had shown Van Hollen pulling slightly ahead after a neck-and-neck contest for much of the year.
Despite the loss, Edwards backers claimed a moral victory Tuesday night. "The most noticeable thing about this race was that both candidates promised to be protectors of Social Security, tough on Wall Street, and all around progressives senators," the Progressive Change Campaign Committee, which supported Edwards in the Senate, said in a statement. They and other groups had taken issue with past positions Van Hollen had taken on Social Security, which seemed to hint at a willingness to compromise on reforms. "Maryland's Senate race reflects the national shift in the center of gravity that's taking place in the Democratic Party -- with Democratic leaders competing to be bold on economic populism issues and carry the progressive mantle."
The weightier implications come November, however, are in Pennsylvania, hence national Democrats' much heavier hand in the Keystone State primary. The party has little hope of retaking control of the Senate unless it can topple the Republican incumbent, Toomey. And they're convinced McGinty gives them a better shot at that than Sestak, who already lost to Toomey once, in 2010. Maryland is much friendlier terrain for Democrats, who dominate the state's congressional delegation and state legislature, although Republican Larry Hogan pulled off a startling upset in the governor's race in 2014. It's unlikely the GOP will put up much of a fight against Van Hollen.
However, with party favorite McGinty on the ticket, Pennsylvania is poised to be one of the most closely watched and fiercely fought Senate races of 2016. National Republicans, who have been zinging McGinty for months, signalled as much Tuesday night. "McGinty has not only embraced the Democratic establishment but also President Obama's liberal agenda despite it being rejected by a majority of Pennsylvanians," the National Republican Senatorial Committee said in a statement. "In the months leading up to November, voters across the state of Pennsylvania will be thoroughly informed of McGinty's shortcomings." Control of the Senate may well be at stake.