E.T. the Extra-Terrestrial Reunites With Elliott in New Xfinity Commercial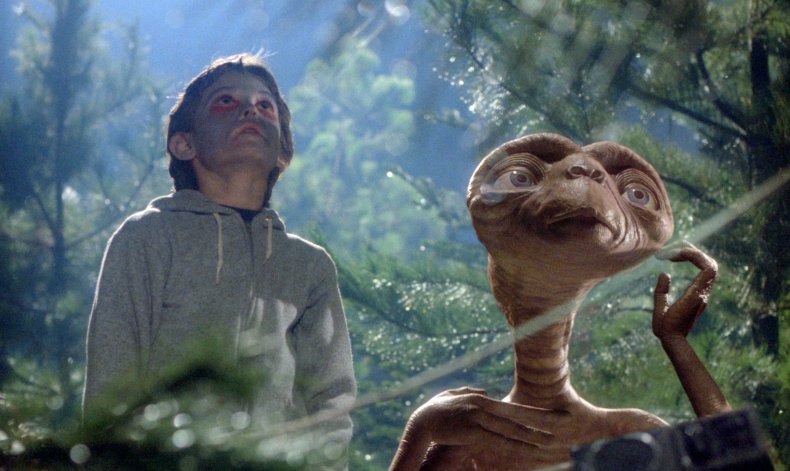 E.T. and his friend Elliott are back together again, 37 years later.
Actor Henry Thomas once again played Elliott, the boy who found an extraordinary friend in an extraterrestrial being in the 1982 science fiction film E.T. the Extra-Terrestrial—but this time for an advertisement for the cable, Internet and wireless service Xfinity.
The four-minute commercial, titled "A Holiday Reunion," was shot in a cinematic style. It takes place during the present-day holiday season. Elliott's home is strewn with Christmas lights, and his children are shown having a snowball fight. Something then causes their house's and neighborhood's lights to flicker—followed by a mysterious glowing light in their backyard.
After going to investigate, they find none other than E.T. himself hiding behind a snowman. Elliott and his wife then joins them, and he remarks that his alien friend had finally come back home for a visit. After introducing him to his family, he invites E.T. into his house.
"A lot's changed since you were here," Elliott tells his extraterrestrial friend as his son, whom E.T. had originally mistaken for Elliott, shows him the Internet on a tablet.
E.T. apparently decides to stay with Elliott's family for a few days. The ad depicte him eating a Reese's Pieces cupcake and getting frightened by a dinosaur in a virtual reality game that the family's son entices him to play. Later, as the song "White Christmas" plays in the background, he has fun in the snow with Elliott's children and then watches holiday movies with the family on their couch.
That evening, E.T. communicates to Elliott that it is time for him to return to his home, and Elliott appears to understand. The two friends embrace.
Later, Elliott's son is awakened by the sound of the someone rummaging around in the family's backyard. Donning a red hoodie similar to the one his father wore in the famous flying bicycle scene of the original film, he goes to investigate. The youngster discovers E.T. holding a bike. As the boy's sister joins him, E.T. looks at both of them and then points skyward.
Next, the children's mother is startled awake by the sound of their laughter. Getting out of bed, she looked out of the window and saw the kids on bicycles flying through the air, with E.T. sitting in the basket of the son's bike.
The scene of flying bikes, coupled with the original theme composed by John Williams, was a clear reference to the climax of the 1982 film, when the alien lifts Elliott and his friends while they rode their bikes so they could escape federal authorities who wanted to capture E.T.
The kids fly their bikes to a hilltop, where the spacecraft that arrived to deliver E.T. to his home is waiting. Soon, they are joined by Elliott and their mother. With a glowing finger, E.T. points to Elliott's son's heart and says, "I'll be right here."
As the spaceship makes its dramatic exit, Elliott, who knows all too well the pain of having to bid E.T. goodbye, put his hand on his son's shoulder. But, thankfully, the family is left with both a photograph they took together with the alien as well as a small orb that projects a three-dimensional image of him.
Directed by Steven Spielberg, the original E.T. film won four Oscars and grossed over $790 million dollars worldwide, according to IMDb.