Eta Path, Tracker as Tropical Storm Strikes Florida, Hurricane Warning Removed
Tropical Storm Eta made landfall in Lower Matecumbe Key, Florida Keys, late on Sunday night, with torrential rain and maximum sustained winds of 65 miles per hour, but potential hurricane warnings have now been removed.
The 12th named storm of the year to hit the continental U.S. is likely to cause extreme weather conditions in the state throughout Monday, before lingering in the Gulf midweek.
The National Hurricane Center (NHC) predicted "strong wind, heavy rains, and dangerous storm surge" over portions of South Florida and the Florida Keys.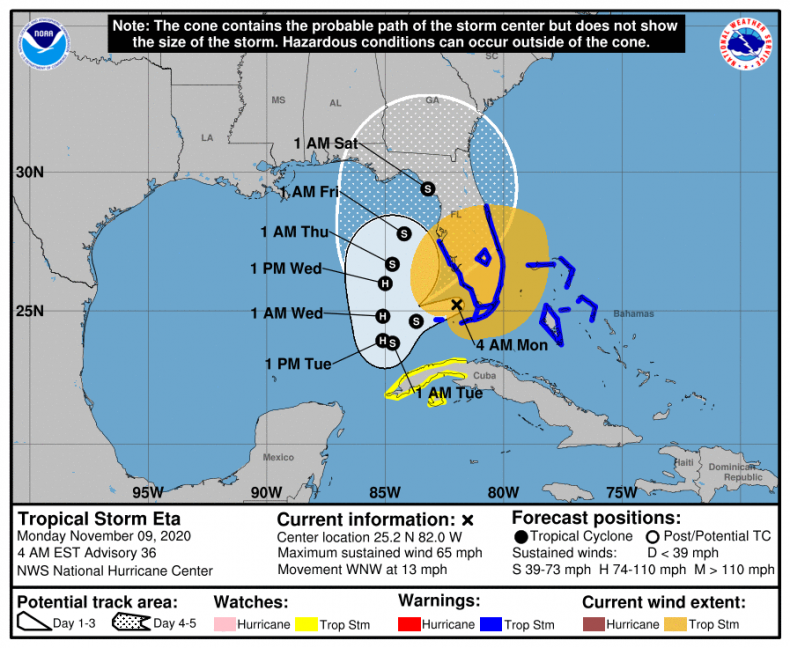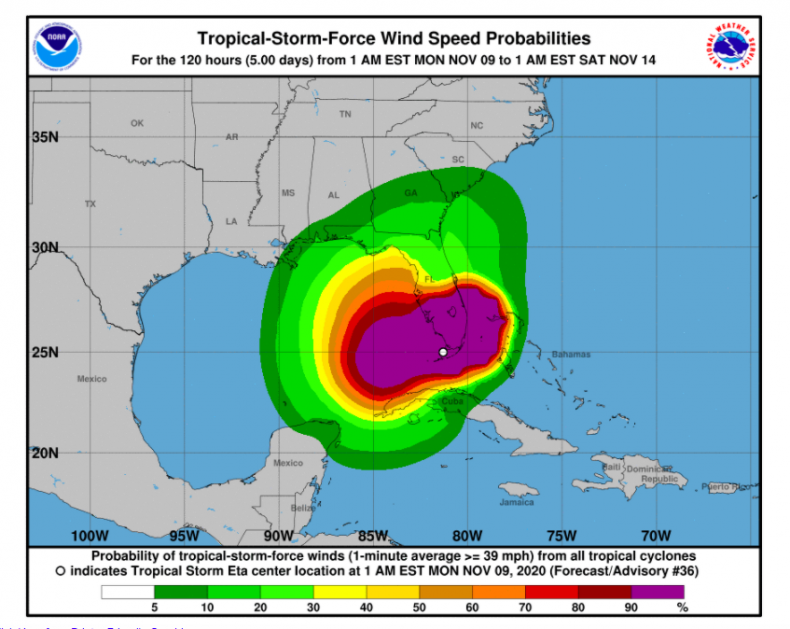 At 1 a.m. EST, NHC said residents should be aware of potentially deadly weather conditions for the next 36-hours, including flash floods, landslides and rising water up to four feet in certain areas. "There is a danger of life-threatening inundation, from rising water moving inland from the coastline, during the next 36 hours," stated NHC.
Florida Gov. Ron DeSantis declared a state of emergency for eight counties in southern Florida and has asked residents to gather a week's worth of supplies and sign up for weather updates on their phone.
Locations at risk include Florida's west coast from Englewood to Anna Maria Island. Florida coast from Brevard/Volusia County line to Anna Maria Island. Florida Keys from Ocean Reef to the Dry Tortugas, including Florida Bay, plus Lake Okeechobee.
In anticipation of the storm, state officials closed ports, beaches, coronavirus testing sites and public transportation. Several shelters are open in Miami and the Florida Keys for residents in risk areas.
The NHC predicts that Tropical Storm Eta will move over the southeastern Gulf of Mexico on late Monday and Tuesday.
There's still a Tropical Storm Warning in effect in the Northwestern Bahamas, including the Abacos, Andros Island, Berry Islands, Bimini, Eleuthera, Grand Bahama Island, and New Providence.
Tropical Storm Eta moved across Cuba on Sunday after leaving many dead or missing in Mexico and other areas Central America. Eta devastated Honduras where some streets turned into fast flowing rivers.
Florida is currency experiencing heavy rain and severe flooding as a result of Tropical Storm Eta.
One shocking video shows the speed and strength of the flooding as livestock is caught by a fast current in Colon. Another video captures a bridge being ripped away by the flooding.
Many residents were forced on to their rooftops to avoid floods.
Eta has weakened to a tropical depression in Central America, but continues to bring life-threatening conditions. Nicaragua and Honduras are calling for donations such as clothes, shoes, masks and food, and for further aid to help casualties and to rebuild communities.