'Eternals' Trailer Delights 'Game of Thrones' Fans With Stark Brothers Reunion
Kit Harington and Richard Madden have reunited in the new trailer for Marvel's Eternals, prompting delight from Game of Thrones fans.
The last time these two actors appeared on screen together was in Game of Thrones as brothers Robb Stark and Jon Snow of the ill-fated Stark family.
In Eternals, Harington plays Dane Whitman who becomes the Black Knight in the Marvel Comics while Madden stars as the all-powerful Ikaris.
Although the two actors were both major players in Game of Thrones, their characters led vastly different paths and only appeared on screen together for a short time in season one which came out in 2011.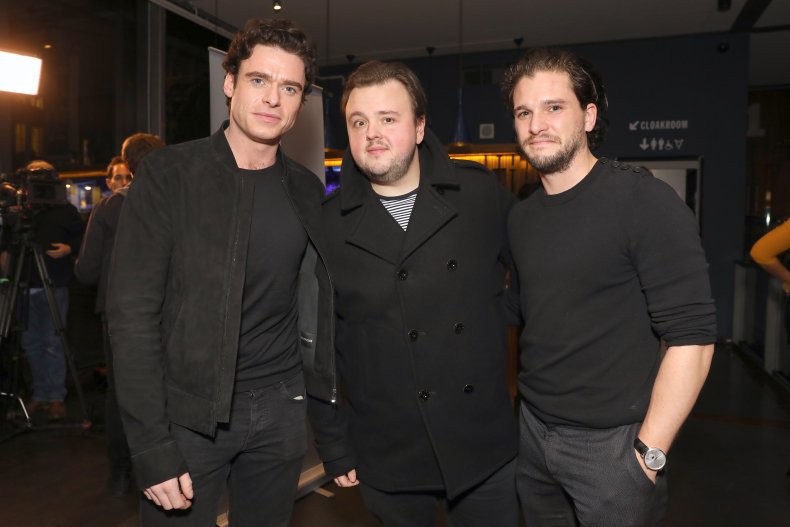 Sadly, the brothers were never reunited with Madden's character Robb killed in season three at the infamous Red Wedding.
Jon Snow ultimately becomes the show's hero and reunites with the other Stark siblings but it was always bittersweet that he never got to see his older brother again.
Hence, the pair's sort of reunion in Eternals is proving rather special for fans of the HBO fantasy series.
"Jon Snow and Robb Stark in a marvel movie together???!!! Whens the first showing?" tweeted one fan.
While another added: "robb stark and jon snow reunion omfg."
Another tweet reads: "the stark brothers are reunited jon snow and robb stark my beloved #Eternals."
Another person joked: "What's Jon Snow doing here, he's supposed to protect the Wall."
The epic film follows a group of immortal beings with fantastic powers, who have existed since the dawn of civilization and marks Oscar-winning director Chloe Zhao's first foray into the Marvel Cinematic Universe.
The stellar ensemble cast includes Richard Madden, Gemma Chan, Kumail Nanjiani, Lauren Ridloff, Brian Tyree Henry, Salma Hayek, Lia McHugh,Don Lee, Barry Keoghan, Kit Harington, and Angelina Jolie.
It's not lost on us that Gemma Chan's character is named Sersi which is similar to Lena Heady's character in the HBO drama, Cersei Lannister.
"I went from a brilliant play which sort of kickstarted my career and Game of Thrones came along and that lasted ten years. As Game of Thrones finished, Marvel came along and so what I'm really excited about is getting involved in a new world and in a new universe," Harington said of playing Dane Whitman during an ACE Comic-Con appearance in 2019, per ComicBook.com.
"Coming here, I can see just how passionate people are about this world. This is the first time I've met people on that level about Marvel and I'm just thrilled. It's a whole new chapter and a whole new character to start thinking about."
He added: "Without saying too much at all, on the surface, [Black Knight] can look like Jon Snow in the comics but there is actually a lot to be done that is different."
The official synopsis for the highly anticipated blockbuster reads: "Marvel Studios' Eternals welcomes an exciting new team of Super-Heroes to the Marvel Cinematic Universe.
"The epic story, spanning thousands of years, features a group of immortal heroes forced out of the shadows to reunite against mankind's oldest enemy, The Deviants.
"The outstanding ensemble cast includes Richard Madden as the all-powerful Ikaris, Gemma Chan as humankind-loving Sersi, Kumail Nanjiani as cosmic-powered Kingo, Lauren Ridloff as the super-fast Makkari, Brian Tyree Henry as the intelligent inventor Phastos, Salma Hayek as the wise and spiritual leader Ajak, Lia McHugh as the eternally young, old-soul Sprite, Don Lee as the powerful Gilgamesh, Barry Keoghan as aloof loner Druig, and Angelina Jolie as the fierce warrior Thena. Kit Harington plays Dane Whitman."
Marvel's Eternals is set to be released on November 5.