Lawsuits and charges filed in the aftermath of the November 30 Oxford High School shooting could change the legal responsibility of schools and parents regarding gun safety on campuses.
Earlier this month, in an unprecedented move, Oakland County prosecutors charged 15-year-old Ethan Crumbley's parents, James and Jennifer Crumbley, with involuntary manslaughter in the four deaths at Oxford High School, alleging that the couple failed to secure the handgun allegedly used in the shooting.
The charges mark the first time the parents of an alleged gunman are being prosecuted in relation to the death or injuries sustained in a school shooting.
While Raymond Fryberg, the father of the 15-year-old who killed four students at Marysville Pilchuck High School, was arrested and convicted for illegally purchasing and owning the gun used in the 2014 shooting, he was not charged for the events that occurred on school grounds.
Legal experts say that although the charges against the Crumbleys are specific to the facts of the case, prosecutors appear to be warning parents that they have an obligation to prevent school shootings from happening.
Allison Anderman, senior counsel at Giffords Law Center, pointed out to Newsweek that it is difficult to track how often gun owners are prosecuted for allowing their firearms to be used in these shootings, but that the limited data on such penalties "are pursued haphazardly, with substantial variation across different jurisdictions."
While prosecutions seem to have been sought at random, Michigan attorney Jamie White told Newsweek that he hopes the charges against the Crumbleys will begin a new standard in which "parents will continue to be held accountable and pay attention to potential tragedies that come from kids having access to firearms."
"Going forward, I think this case will really change the narrative as to how prosecutors are going to charge parents," White said. "There's likely to be extraordinary scrutiny of parents in similar situations, as to whether or not they were reckless in allowing access to weapons, or ignoring extraordinary warning signs."
"In a lot of cases, you see evidence that the child was troubled, such as by injuring animals or acting out in a manner that would have alerted a responsible parent that the child needs professional help, or that authorities should be alerted," White added.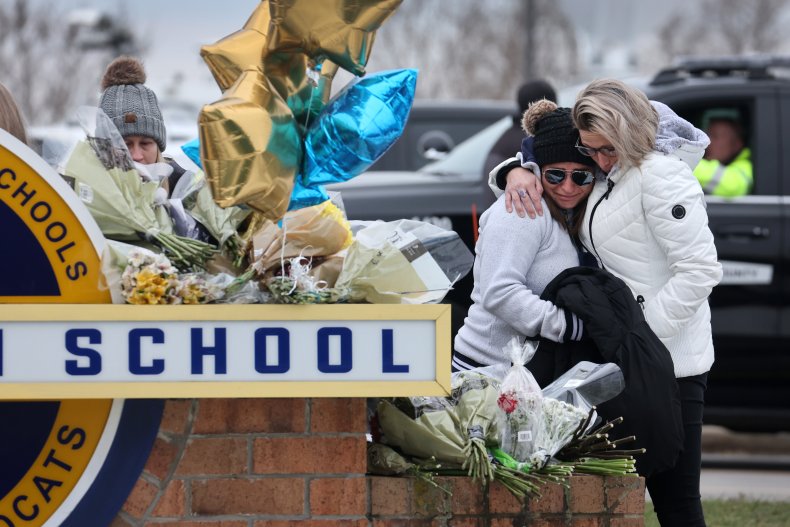 Announcing the four counts against each of the Crumbleys, Oakland County Prosecutor Karen McDonald said gun owners have a "duty to make sure that you don't give access to this deadly weapon to somebody that you have reason to believe is going to harm someone."
"I have tremendous compassion and empathy for parents with children who are struggling, for whatever reason," McDonald said. "But the facts in this case are so egregious. The notion that a parent could read those words, and also know their son had access to a deadly weapon."
Former federal prosecutor and former elected state attorney Michael McAuliffe previously told Newsweek that while charging parents for the actions of their child is unusual, the state benefits from evidence indicating that the Crumbleys had knowledge about their son being deemed a danger to the school before the shooting.
"Charging the parents of the alleged shooter in the Oxford school attack is a major marker that may provide an example to other prosecutors," McAuliffe said.
A week after the shooting, the parents of two Oxford High School students also filed a federal lawsuit, arguing that the constitutional right of their two daughters—one of whom was shot in the neck in front of the other—"to be free from danger" was violated under the 15th Amendment and that school staff "created and increased the dangers then-existing at Oxford High School."
The lawsuit is seeking $100 million in damages.
"[The school has] an obligation to protect students, but they didn't do the bare minimum—which is to call the police," White explained. "They need to do that whether or not they think it's a hoax. We've seen other districts take this step, but Oxford failed to do so and it led to a tragic situation."
The parents in the suit allege that by disregarding social media threats from Crumbley and by failing to report Crumbley's behavior to a school safety liaison officer, school officials "willfully misrepresented the dangers presented."
"The civil suit filed over the Oxford school attack will closely examine and challenge what school personnel did or did not do, and whether the school's policies were adequate, even if followed," McAuliffe said. "The civil suit might reveal it was a perfect storm of a planned attack, enough notice before it took place and an inadequate response to prevent it."
Although the lawsuit could pressure schools to take on a bigger role in preventing gun violence, McAuliffe said it is too early to tell whether it will lead to national change.