Ethan Crumbley Plans to Pursue Insanity Defense for Oxford Shooting
The teenager who has been charged in connection with a mass shooting at an Oxford, Michigan high school on November 30 that left four students dead plans to pursue an insanity defense.
Lawyers for Ethan Crumbley, the alleged Oxford High School shooter, said in a court filing Thursday that their client "intends to assert the defense of insanity at the time of the alleged offense and gives notice of his intention to claim such a defense."
The filing was first reported on by the Detroit Free Press. Crumbley faces two dozen charges including first-degree murder, attempted murder and terrorism causing death. He has pleaded not guilty to the first-degree murder charge.
Crumbley, 15, is being charged as an adult. His parents are both facing charges of involuntary manslaughter and are accused of ignoring warning signs about their son ahead of the shooting.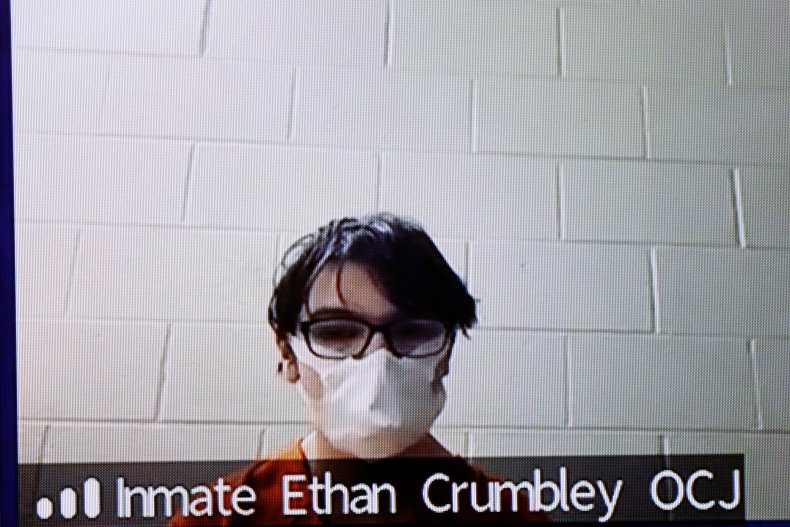 Attorney Ven Johnson, who is representing families of victims of the mass shooting, said that he does not believe Crumbley is legally insane, MLive reported. "When you have somebody who premeditated and plan what he clearly planned for months and months and months, good luck selling an insanity plea," Johnson said.
On Thursday, Johnson also announced he was filing a new lawsuit on behalf of the shooting victims against Crumbley, his parents and some Oxford school staff.
In a statement to Newsweek, the Oakland County Prosecutor's Office said: "As expected, Ethan Crumbley's attorney has requested an evaluation of his criminal responsibility."
"This is a standard procedure," Chief Assistant Prosecutor David Williams said. "The defendant will be evaluated by a doctor from the Center for Forensic Psychiatry, who will then prepare a written report."
Mike Rataj, a criminal defense attorney who practices in Michigan, told the Detroit Free Press that the move from Crumbley's attorneys was anticipated.
"I don't have all the facts. I don't have contact with the client. But from a distance, it seems to me that this is the most prudent form of action," Rataj said. "Sometimes it flies, sometimes it doesn't.
"It's going to come down to a battle of the experts," Rataj told the newspaper, "and whether the jury is going to believe that the kid cannot formulate the necessary intent because he's insane."
Just this week, students returned to Oxford High School for the first time since the shooting.
"We know it's going to be really difficult for our students and our staff to come back because we're still grieving," Principal Steve Wolf said in a video on Sunday. "Our thoughts and our prayers will continue to be with the victims of this senseless act and this tragedy and for those who continue to heal."
Update 01/27/2022, 3:40 p.m. ET: This story was updated with a statement from the Oakland County Prosecutor's Office.
Update 01/27/2022, 1:27 p.m. ET: This story was updated with additional information and background.