Ethan Crumbley Pleads Not Guilty in Shooting Deaths of 4 Students at Michigan High School
Ethan Crumbley, the teenager accused of committing a mass shooting at Oxford High School on November 30, 2021, that left four students dead, has pleaded not guilty to the charges.
Crumbley is currently being held on charges of first-degree murder, assault with intent to murder, terrorism, and gun charges. He has pleaded not guilty to the first-degree murder charge.
The attorney representing Crumbley previously waived his preliminary examination in an attempt to get the case to trial. According to local news station WDIV Local 4, he had the opportunity to enter a different type of plea. However, he decided to have a not guilty plea filed on his behalf. One of his lawyers, Paulette Michel Loftin, said last week that her client's competency should not be a factor in upcoming hearings.
"I've talked with him about ten times now, never had a situation where I felt that he wasn't understanding me," she told local news station WJBK. "The guardian is of the same opinion. Competency is not an issue, at this very second. Obviously we may address that in the future or may address criminal responsibility, which is another aspect of competency."
Meanwhile, Ethan's parents, James and Jennifer Crumbley, recently had their bond reduction pleas denied. Both are each facing four counts of involuntary manslaughter for their alleged roles in ignoring warning signs and not preventing the shooting. Such warning signs included their son's interest in Nazi propaganda and their encouragement in getting a gun for him for Christmas. Their bonds remain at $500,000 each.
The next hearing for Crumbley will be held on January 19.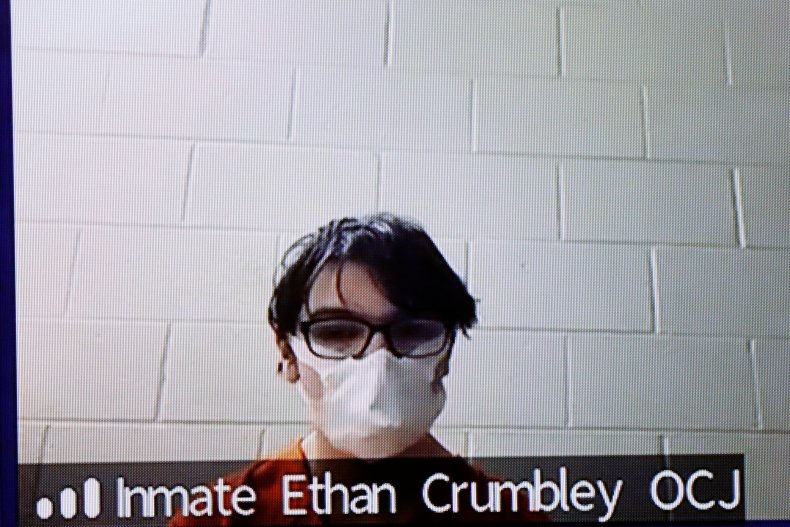 Ethan Crumbley, 15, was arraigned in Oakland County Circuit Court via video from the jail. Crumbley is charged as an adult in the November 30 shooting at Oxford High School, about 30 miles (50 kilometers) north of Detroit.
Crumbley said little during the hearing, except to acknowledge that he could hear the judge and confirm that he was OK with the hearing proceeding via Zoom.
Crumbley's parents also are accused of breaching their responsibility by refusing to remove him from school two hours before the shooting when counselors confronted them with his distressing drawings of violence.
Oxford High students returned to classes Tuesday at a different building in the district. The high school is expected to reopen on January 24.
The Associated Press contributed to this report.