Ethan Hawke Divorce From Uma Thurman Caused His Life to 'Fall Apart,' Actor Was 'Depressed'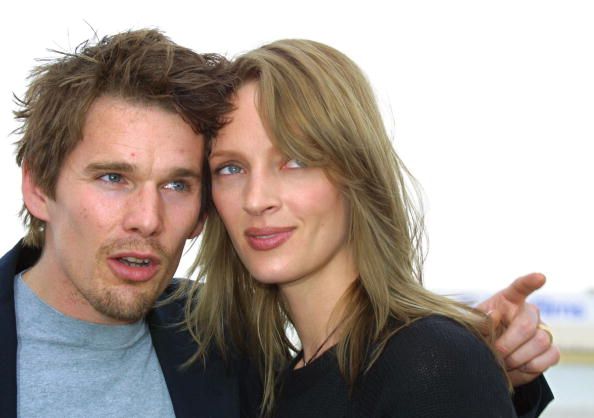 Ethan Hawke admitted to suffering from depression during his divorce from Uma Thurman. The 47-year-old actor opened up on the downfall of his marriage in an interview with GQ magazine, released Monday, and said his relationship with Thurman started to decline shortly after he was nominated for an Oscar for his role in the 2001 blockbuster Training Day.
"In a lot of ways, it could have been the beginning of something. It was the best moment of my career," he said. "Like, 'Maybe, maybe you could be commercially viable.' But I got divorced and my personal life fell apart."
His depression, sparked by his failed marriage, took a toll on his career. "I don't know if you feel this way, but when you're depressed, it's really easy to see everything that is fake about other people and life, and I just started seeing that," he said. "How phony celebrity was, how phony everything is. You channel your inner Holden Caulfield, you know?"
Landing a role in the 2004 drama Before Sunset helped turn his life around. "That was the height of my marriage falling apart," he said. "Getting to spend that summer with Julie Delpy and Richard Linklater, reconnecting with a part of myself that was more… what's the right word? Idealized. That was a great summer and it really helped me put myself back together."
Hawke also credited his two children with Thurman, 20-year-old daughter Maya and 16-year-old son Levon Roan, for helping him recover from his dark moment. "That's the wonderful thing about children is they just need you every day. It gives your life balance. Meaning your whole life isn't just about yourself," he said.
Hawke and Thurman first fell in love on the set of the 1997 film Gattaca when they were in their early 20s, and although their marriage didn't last, Hawke said in a 2013 interview with Mr. Porter he didn't "regret marrying early."
"Gattaca was a great moment in my life and a great moment in Uma Thurman's life, and we fell madly in love and wanted to do all that," Hawke said. "We tried to be as optimistic as we could be. We all want to believe in love and the possibility of love. The older you get, the more you realize how powerful love is. You understand the right ways for emotion to lead your life and the dangerous ways."
The ex-couple separated in 2003 and were officially divorced by August 2005.
Hawke tied the knot a second time with actress Ryan Hawke in 2008. They share two daughters, Clementine, 10, and seven-year-old Indiana.