Ethereum Passes Bank of America, Wells Fargo in Market Cap as Crypto Hits $3,000
Ethereum, the world's second largest cryptocurrency, passed Bank of America and Wells Fargo in market cap on Monday as the cryptocurrency surpassed $3,000.
According to CoinDesk, Ethereum has a market cap of $360.15 billion, as of publication time. In comparison, data from the New York Stock Exchange shows that Bank of America currently has a market cap of $350.91 billion and Wells Fargo has a market cap of $186.557 billion.
As Investopedia reported, the market cap of a stock or cryptocurrency refers to a company's outstanding shares of a stock and is calculated "by multiplying the total number of a company's outstanding shares by the current market price of one share."
Bank of America declined to comment in response to Newsweek's request.
The news of Ether, the digital token of the Ethereum blockchain, passing two major banks in market cap value comes as the cryptocurrency has soared to a new all-time high on Monday, surpassing $3,000.
According to CoinDesk, Ethereum's price hit $3,302.32 at around 4:41 a.m. ET on Monday and has since stayed above $3,000. As of publication time, the cryptocurrency was trading at around $3,193.34.
Ethereum is slightly different from Bitcoin, the world's most popular cryptocurrency, due to the fact that it "acts as a fuel that allows smart contracts to run," while Bitcoin is used as a unit of currency, according to CoinDesk.
"Ether's supply is not capped like that of bitcoin and its supply schedule, often described as minimum necessary to secure the network, is determined by members of Ethereum's community," CoinDesk wrote in its description of Ethereum.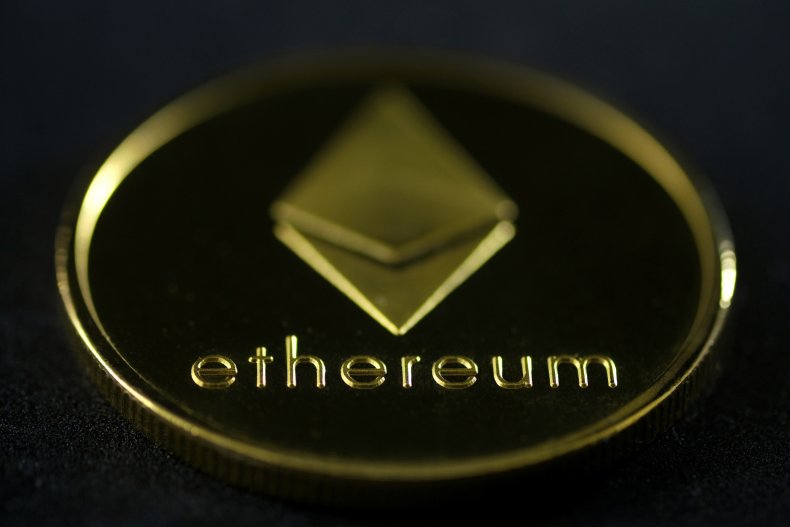 While speaking with The Street, deVere Group CEO Nigel Green, said, "Ether is one of the main beneficiaries in the wider explosion in the cryptocurrency market," and added that "The boom over recent months has been fueled by soaring interest from major institutional investors and growing recognition that borderless digital currencies are the future of money."
Just last week, the European Investment Bank announced that it issued 100 million euros in two-year bonds through the Ethereum blockchain.
"On 27 April 2021, the EIB launched a digital bond issuance on a blockchain platform, deploying this distributed ledger technology for the registration and settlement of digital bonds, in collaboration with Goldman Sachs, Santander and Societe Generale," the European Investment Bank wrote in a press release. "The EIB believes that the digitalisation of capital markets may bring benefits to market participants in the coming years, including a reduction of intermediaries and fixed costs, better market transparency through an increased capacity to see trading flows and identity asset owners, as well as a much faster settlement speed."
In addition to Ethereum, Bitcoin also rose in price on Monday, and was currently trading at $58,604.76 as of publication, according to CoinDesk.
Newsweek reached out to Wells Fargo for comment but did not receive a response in time for publication.