Ethics Experts Slam Trump For Promoting Mar-A-Lago Resort As The 'Southern White House': 'It's An Abuse of Power'
President Donald Trump is once again raising ethical concerns as he promotes his Mar-a-Lago golf course as the "Southern White House."
"It's an abuse of power," Richard Painter, the chief ethics lawyer under President George W. Bush, told Newsweek. "It is really awful that he just doesn't get it that this is not acceptable."
The president shared a Trump Organization promotion of the Florida golf resort on his Twitter account on Wednesday. Trump added the caption: "I will be there in two weeks, The Southern White House!"
Trump has long been criticized for potentially profiting from events and guests at his chain of resorts and hotels. Earlier this year, the president was forced to reverse course after he originally decided to host 2020's G7 economic summit at his Trump National Doral Miami luxury resort. Both Republicans and Democrats had said the idea of hosting world leaders at his business property was inappropriate.
Now, ethics experts say that Trump's latest promotion of the Mar-a-Lago resort is just the latest example of his mixing business with his White House duties.
"He's no longer pretending that he's not using the presidency to advertise his businesses," Jordan Libowitz told Newsweek. Libowitz is the communications director at the Citizens for Responsibility and Ethics in Washington, a nonprofit government ethics and accountability watchdog.
"We've had decades of presidents who separated themselves from their assets in order to show the American people that they could not be bought, that they wouldn't have any potential economic loyalties that would make them think of themselves in front of the American people. But we now have a president who literally is using his official statements to advertise his business," Libowitz added.
The White House did not immediately respond to Newsweek's request for comment, though Trump has repeatedly denied using his time in office to personally benefit financially.
Trump resigned from his business when he became president in January 2017, but he still owns it and can profit from it. His sons, Donald Trump Jr. and Eric Trump, currently run the organization.
Trump's latest promotion of Mar-a-Lago comes as he faces an impeachment effort in the House and other accusations of wrongdoing. On Friday, the House Judiciary Committee approved two articles of impeachment against the president in connection with the Ukraine scandal: abuse of power and obstruction of Congress.
Trump is also facing a trio of lawsuits that accuse him of violating the emoluments clause of the Constitution. The clause prohibits federal officials from receiving gifts from foreign or state governments without the consent of Congress. Trump has dismissed the clause as "phony."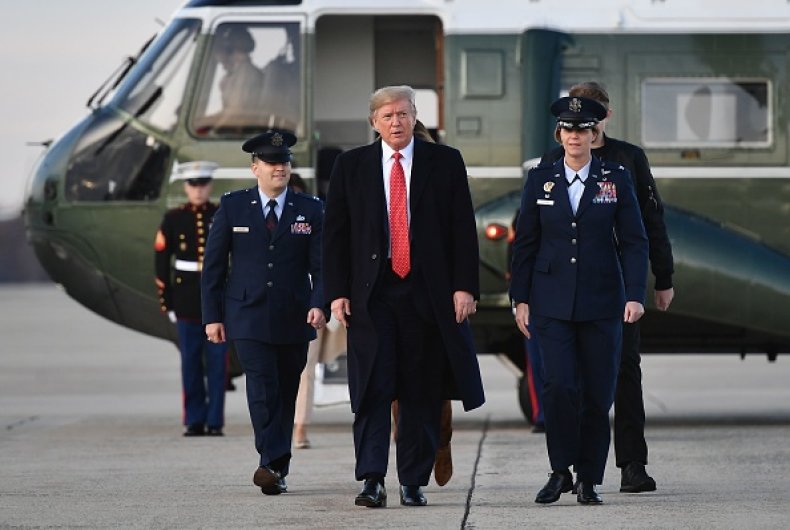 Under current federal law, there is almost nothing Congress can do to punish the president for using his official status for personal profit. Both Libowitz and Painter noted that there will not be any blowback legally on Trump's promotional tweet.
Congressional Democrats are trying to change that. Earlier this year, lawmakers introduced legislation in the House to legally prevent Trump from profiting from the federal government in his businesses. The proposed spending bills would prohibit certain federal agencies from using taxpayer dollars or entering contracts at Trump properties across the world.
"The fact is, when we stay at his hotels and his properties, he makes money. Nobody is supposed to make money from the presidency, directly or indirectly, and they are supposed to report these possibilities to the Congress so we have knowledge," Democratic Representative Steve Cohen of Tennessee said during a debate on the House floor in June.
The legislation has stalled and is unlikely to pass in the Republican-controlled Senate. The authors of the measure said they will be submitting it as an amendment to every spending bill brought to the House floor.
Painter and Libowitz agreed that the laws "need to be updated" so that Trump and future presidents are held to the same standards as other federal employees when it comes to potential conflicts of interest.
"It's three years into the job and he still hasn't figured out that his business is different than the presidency," Painter said of Trump's conduct. "It's a disaster."