Kellyanne Conway Violated the Hatch Act 60 Times, Ethics Watchdog Claims in New Lawsuit
White House Counselor Kellyanne Conway should be removed from her position in the Trump administration because of her repeated violation of the Hatch Act, according to a government ethics watchdog organization.
Citizens for Responsibility and Ethics in Washington (CREW) filed a lawsuit last week demanding the Office of Special Counsel (OSC), an agency tasked with enforcing the Hatch Act, take more disciplinary action against Conway over the violations.
"Since assuming her role in the Trump administration, Kellyanne Conway has continued to unabashedly abuse the power of her position as a high-ranking government official, and to illegally use her official position for partisan politics," CREW Executive Director Noah Bookbinder said in a statement shortly after the lawsuit was filed.
The legal action comes months after the Office of Special Counsel confirmed in a report to President Donald Trump that Conway violated the measure on multiple occasions by promoting his re-election campaign and attacking Democrats. The office recommended Conway be fired over the offenses and stated that her actions "erode the principal foundation of our democratic system — the rule of law."
But the White House did not take any action against Conway following the office's report. Trump told Fox & Friends at the time that "it looks to me like they're trying to take away her right of free speech" and that he would not remove Conway.
Now, CREW is asking a federal judge in the U.S. District Court for the District of Columbia to order the Office of Special Counsel to take the next step in disciplining Conway: file a complaint with the Merit Systems Protection Board.
"Hopefully this will encourage them to file the complaint on their own and not need to work its way through the court system. We are doing what is in our power to do and take it to the courts," Jordan Libowitz, the communication director at CREW, told Newsweek.
"We don't file things, especially lawsuits, just to file them. We want to make sure we are right and we have a good chance of winning," Libowitz added.
The Office of Special Counsel can only enforce the Hatch Act and investigate infractions, but the review board has the power to fine and remove someone over violations. It is unclear why the Office of Special Counsel has not already filed the complaint, which it is required to do under federal law when it discovers a violation.
"We have not seen something get to this point before because we don't usually have this many violations. Generally, an administration would have removed them or they would have removed themselves from service. So this is the last necessary step that no one wanted it to get to," Libowitz said.
The White House has not yet responded to Newsweek's request for comment on the lawsuit or about reports of Conway's violations of the Hatch Act.
The Hatch Act prohibits executive branch employees from using their offices to influence elections or for political purposes. But the measure has been broken by many high-profile Trump officials, according to the OSC, including White House press secretary Stephanie Grisham and former U.S. Ambassador to the United Nations Nikki Haley.
But Conway has violated the act more often than the rest. According to CREW, the White House counselor has broken the measure at least 60 times, including those violations that have been confirmed by the Office of Special Counsel in their report to the president earlier this year.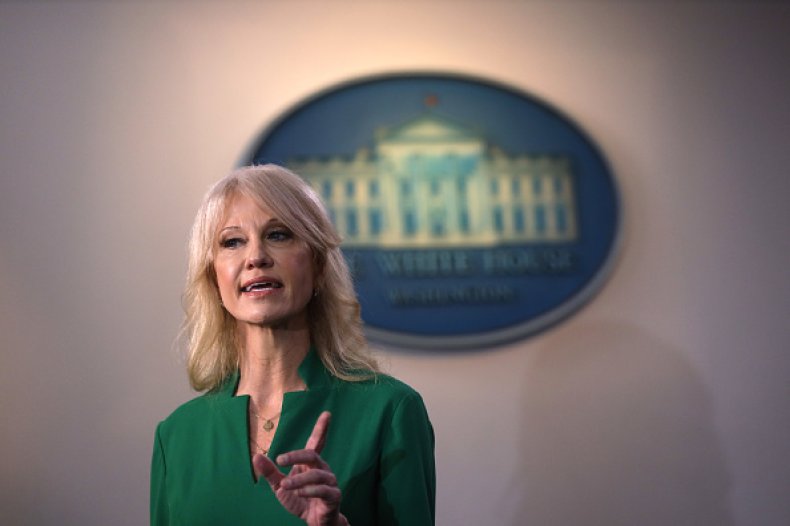 One example of Conway's violation of the act listed in the OSC report is when she publicly supported Trump's White House re-election bid by tweeting in February: "He's got this. #2020:I'mWithHim."
In other instances targeting 2020 Democratic candidates, the report showed, she suggested Senator Cory Booker was a "sexist" and accused former Texas congressman Beto O'Rourke of not believing that "the women running are good enough to be president."
"She clearly should be fired for violating the Hatch Act on multiple occasions," former White House ethics chief Richard Painter told Newsweek. Painter served as an ethics lawyer during President George W. Bush's administration.
"The Office of Special Counsel should do everything they possibly can to see that Kellyanne Conway is removed. They recommended she be removed. They don't have the power to do it but they should do everything in their power to accomplish that," he said.