Ethiopian Officials Hit Back at Olympic Athlete Planning London Marathon Protest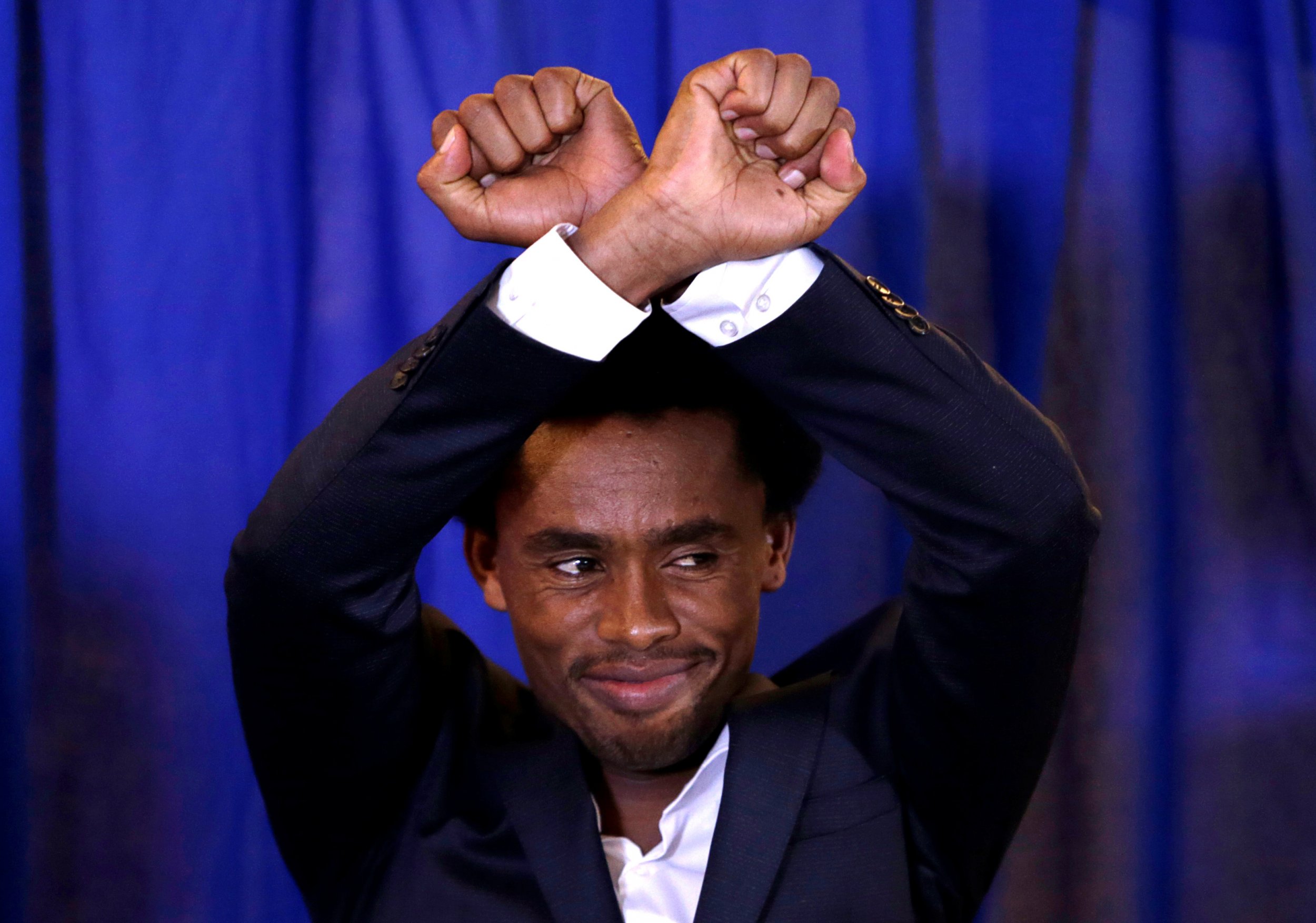 The Ethiopian Embassy in London has hit back at exiled Ethiopian athlete Feyisa Lilesa, who vowed to protest against his country's government at the London marathon on Sunday.
Olympic silver medallist Lilesa made headlines last year after he crossed his arms over his head at the Rio de Janeiro marathon—a symbol of resistance Oromo people widely used during anti-government protests last year—as he passed the finish line in the marathon race at the Rio 2016 Olympics.
The 27-year-old told BBC's Sport Today on Thursday that "blood is flowing" in Ethiopia.
Speaking to Newsweek, an Embassy spokesperson dismissed Lilesa's remarks as "fairy tales."
"The blood is not flowing," the spokesperson said. "These are, as usual, unsubstantiated claims, a way to romanticize what happened.
"He [Lilesa] is entitled to express his opinion, he can say anything. He can return to Ethiopia and no-one would touch him. But the problem is that there are radical people behind this and the diaspora is using him for their own political agenda."
Demonstrations broke out in the Oromia region of Ethiopia in November 2015 and later spread to the Amhara region, growing into what has been considered the biggest anti-government unrest in Ethiopia's recent history. Protesters argued for a greater inclusion in the political process, claiming they had been marginalized, as the government is dominated by the Tigray minority, and called for the release of political prisoners.
The protests resulted in the deaths of 669 people, including 63 policemen, according to a report released by Ethiopia's Human Rights Commission earlier in April. Rights groups have accused security forces of killing hundreds, opening fire on unarmed protesters and arbitrarily arresting protesters, journalists and human rights defenders during the unrest.
While the country's Human Rights Commission recommended prosecution of some police officers, it maintained that the overall response by security forces was adequate.
The commission said the protests were caused by a lack of good governance, but claimed organizations such as the Oromo Liberation Front (OLF), Oromo Federalist Congress (OFC) and Oromia Media Network called for illegal demonstrations and caused ethnic-based attacks.
Rights groups have voiced concerns about the commission's report, suggesting it fails to give an accurate picture of the security forces' responsibility for the casualties.
"The conclusion that security forces used appropriate levels of force in most situations is in stark contrast to what every other organization who has investigated has found," Felix Horne, Ethiopia and Eritrea Senior Researcher at Human Rights Watch told Newsweek.
"They should immediately release a full version of their report to see how they arrived at what seems like another politically-motivated conclusion."
The United Nations and the European Union have expressed the will to conduct investigations into the violent unrest, but Ethiopia's Prime Minister Hailemariam Desalegn rejected such calls.
"The Ethiopian government historically has avoided scrutiny of its human rights record at all levels—from courtrooms to the national commission to international mechanisms," Horne said.
"[The country's government] has regularly stated that it can investigate itself through the Human Right Commission, but it has consistently failed to do so and Commission-led investigations have not met basic standards of impartiality."
Earlier this month, Desalegn told the BBC that Ethiopian sovereignty should be respected and that the Human Rights Commission's investigation was the only way of dealing with the issue.
Following his protest in Rio de Janeiro last year, Lilesa sought asylum in the U.S., claiming his life would be at risk if he returned to his homeland. The Ethiopian government has always denied such allegations.