Ethiopian Paralympic Medalist Backs Oromo Protests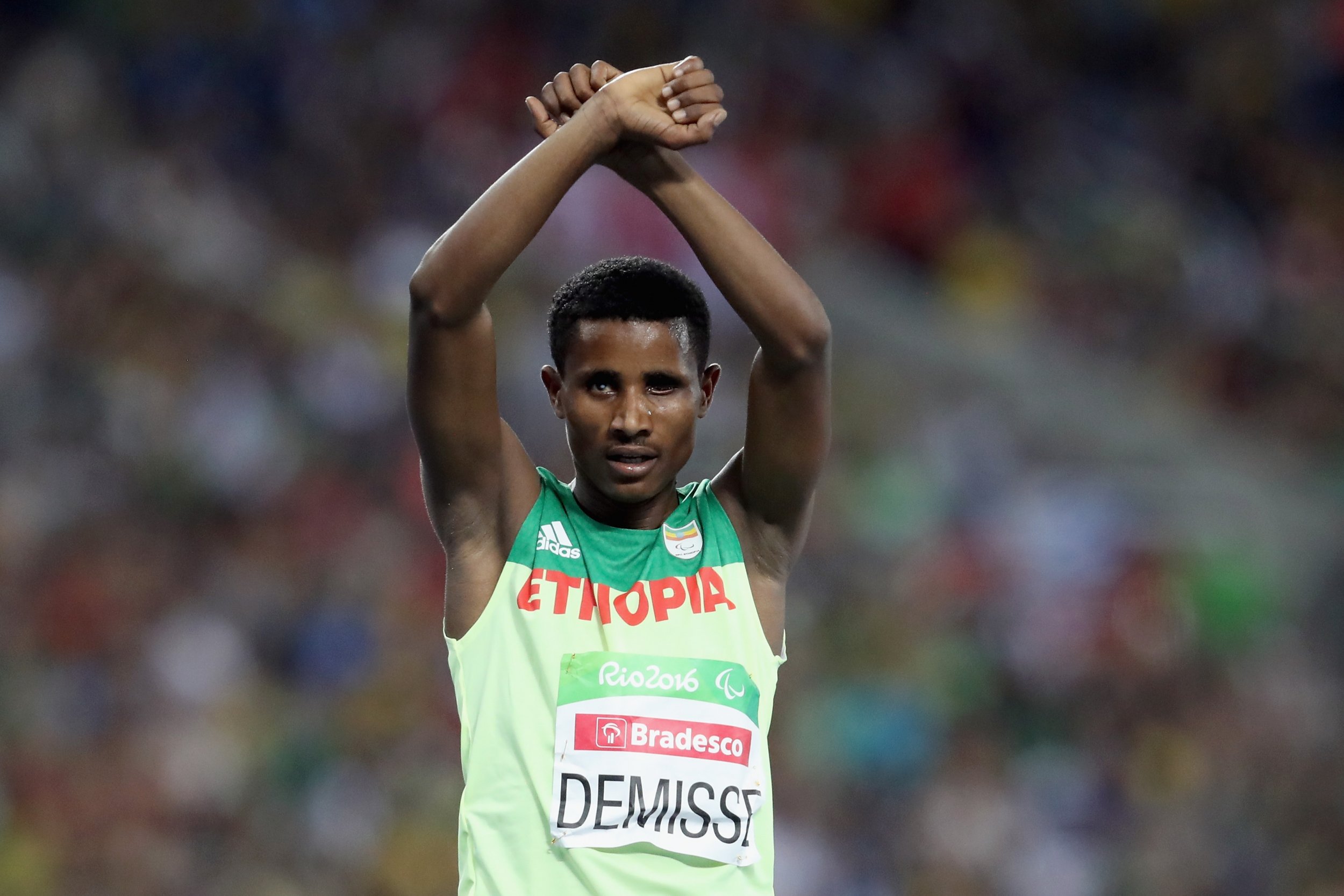 Ethiopian Paralympian Tamiru Demisse showed solidarity with Oromia protesters—who have clashed with the country's government—as he claimed a silver medal, following a protest gesture made by Olympic counterpart Feyisa Lilesa.
Demisse, who competed in the men's 1,500-meter T13 race for visually impaired runners, claimed a silver medal in the race on Sunday at the Olympic Station in Rio de Janeiro, Brazil. As he crossed the finish line, Demisse crossed his arms above his head.The gesture has become widely adopted among members of the Oromo people, the country's largest ethnic group. Oromo protesters have clashed with Ethiopian security forces in recent months, with Human Rights Watch claiming the unrest has seen more than 400 people killed. The Ethiopian government has denied these death occurred.
Demisse, 22, repeated the gesture on the podium and again in the athletes' mixed zone. The athlete said he did not want to return to the Horn of Africa country but wanted to go to the U.S.. "If I go back, I'm a dead man," said Demisse, according to Brazilian television network Globo. "I am totally against what they are doing in Ethiopia, [and I'm] against the government."
The protest echoed that carried out by Lilesa, who also crossed his arms above his head when finishing second in the men's marathon in the Rio 2016 Olympics in August. Lilesa has gone to the U.S., possibly to seek asylum, after saying he would be killed or imprisoned if he returned to Ethiopia following his protest. A crowdfunding campaign set up to cover Lilesa's legal costs and support his family has generated more than $160,000 since it began on August 21.
The protests began in Oromia, a region that surrounds the capital Addis Ababa, in November 2015 over government plans to extend the capital's territory, which protesters said would see Oromo farmers forcibly evicted.
The government abandoned its plans in January, but anti-government protests have continued and spread to other areas. Almost 100 people were killed in early August when security forces used live bullets on protesters in the Oromia and Amhara regions.
Ethiopian Prime Minister Hailemariam Desalegn apologized for the deaths in March, but blamed "anti-peace forces" for orchestrating the demonstrations, claiming that protesters had damaged government property.