Ethiopian Airlines Crash: All 157 People Onboard Killed as Boeing Max 8 737 Crashes Minutes After Takeoff
An Ethiopian Airlines plane crashed on Sunday, killing all 157 people onboard the flight, the airline confirmed.
The Boeing Max 8 737, which took off from the Ethiopian capital of Addis Ababa at 8.38 a.m., crashed six minutes into its journey to Nairobi, Kenya, killing all 149 passengers and eight crew members.
In a statement issued on Sunday, Ethiopian Airlines said: "The group CEO who is at the accident scene right now regrets to confirm that there are no survivors. He expresses his profound sympathy and condolences to the families and loved ones of passengers and crew who lost their lives in this tragic accident."
READ MORE: What We Know About Boeing 737 8 Max, the Jet Involved in Crash
An eyewitness to the crash told the BBC that there had been a fire around the site, which prevented anyone from getting near the wreckage.
"The blast and the fire were so strong that we couldn't get near it," the witness told the BBC. "Everything is burnt down. There are four helicopters at the scene now."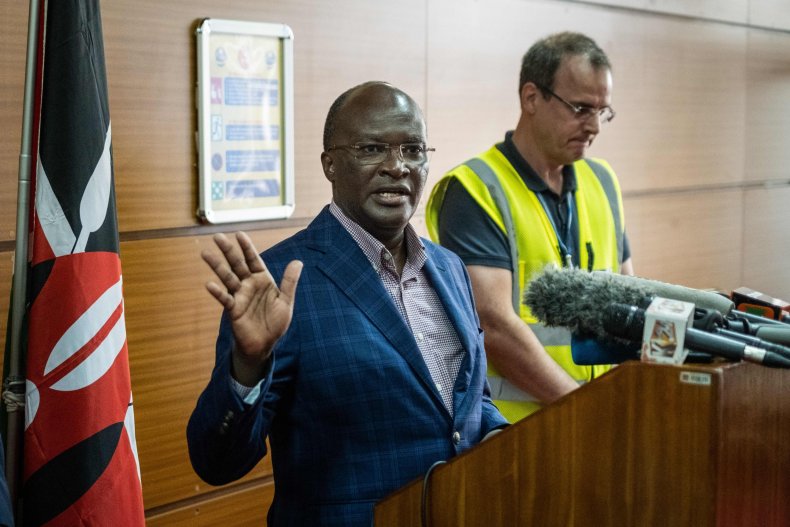 Tweeting about the accident, the airline provided a hotline number for relatives of crew and passengers to contact for information but did clarify that there were no survivors. The airline also confirmed that there were people from 35 countries onboard the flight, including at least 22 United Nations employees, The New York times reported.
Sending a message to those whose family members were on the flight, the Office of the Ethiopian President, Abiy Ahmed, tweeted: "The Office of the PM, on behalf of the Government and people of Ethiopia, would like to express it's deepest condolences to the families of those that have lost their loved ones on Ethiopian Airlines Boeing 737 on regular scheduled flight to Nairobi, Kenya this morning."
At the time of writing, the airline had not given any indication of what may have caused the airplane to crash shortly after takeoff, while flight tracking website FlightRadar24 tweeted that it had limited coverage in the area and had tracked the flight for three minutes following takeoff.
However, it later tweeted: "Additional data from Flightradar24 ADS-B network show that vertical speed was unstable after takeoff."