Renowned Physicist Apologizes for Saying Slice of Chorizo Was JWST Image
A prominent French physicist has apologized after making a light-hearted joke in which he claimed that a slice of chorizo sausage was in fact a James Webb Space Telescope photo of Earth's nearest star.
On July 31, Etienne Klein, director of research at the French Alternative Energies and Atomic Energy Commission (CEA), posted a photo on Twitter of what looked like a red and orange circle against a black background.
Alongside it, he wrote, translated from French: "Photo of Proxima Centauri, the closest star to the sun, located 4.2 light years from us. She was taken by the JWST. This level of detail… A new world is revealed day after day."
The James Webb Space Telescope was launched back in December 2021 and its first proper scientific images were released last month, wowing the public. The images including the deepest infrared shot of the universe ever taken and detailed images of distant nebulae. Bigger and more powerful than the legendary Hubble telescope, Webb's first images were much-anticipated.
Klein's tweet proved popular, gaining over 1,500 retweets and more than 11,000 likes as of Friday this week. In a follow-up tweet on the same day it was posted, Klein wrote: "In view of some comments, I feel compelled to clarify that this tweet showing an alleged snapshot of Proxima Centauri was a form of amusement."
He added: "According to contemporary cosmology, no object belonging to Spanish charcuterie exists anywhere but on Earth."
For comparison, a real image of Proxima Centauri, taken by Hubble and not by the James Webb Space Telescope, can be seen below.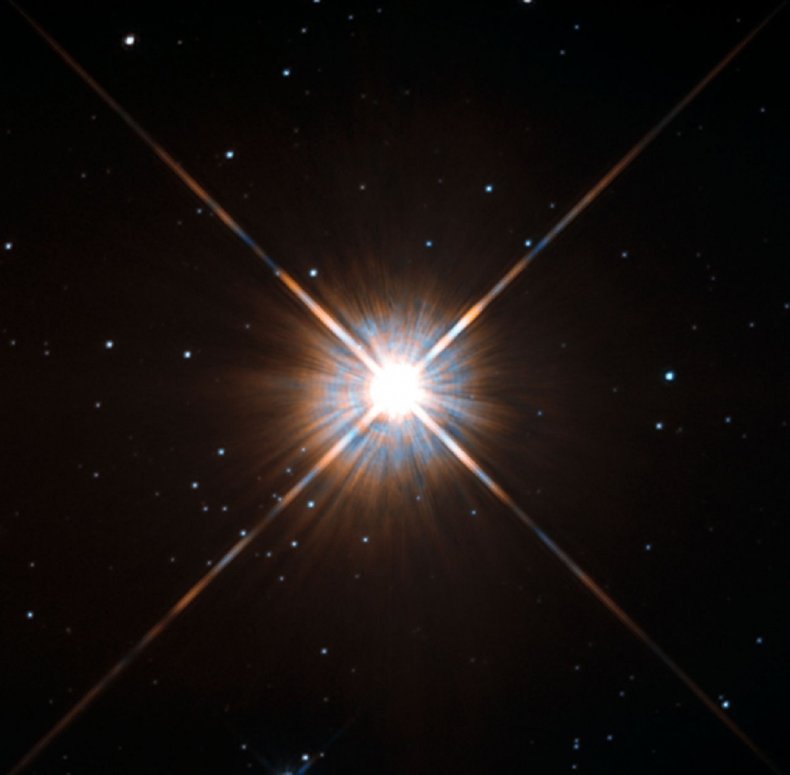 Many people clearly got the joke, with one person sharing a photo of an olive and claiming it was actually an exoplanet.
Others were critical. Some said the joke had already been done by another user the day prior, while one person suggested it was genuinely misleading and "inappropriate" for Klein not to have made the gag more obvious.
In a tweet on Wednesday, Klein wrote: "I come to present my apologies to those whom my hoax, which had nothing original about it, may have shocked. He simply wanted to urge caution with images that seem eloquent on their own."
Speaking to French news magazine Le Point, Klein said it was "the first time" he'd made such a joke as a figure of scientific authority on Twitter.
He said his joke illustrated that "on this type of social network, fake news is always more successful than real news."