Some Etsy Sellers Accidentally Charged Thousands Due to Billing Error, Bank Accounts Overdrafted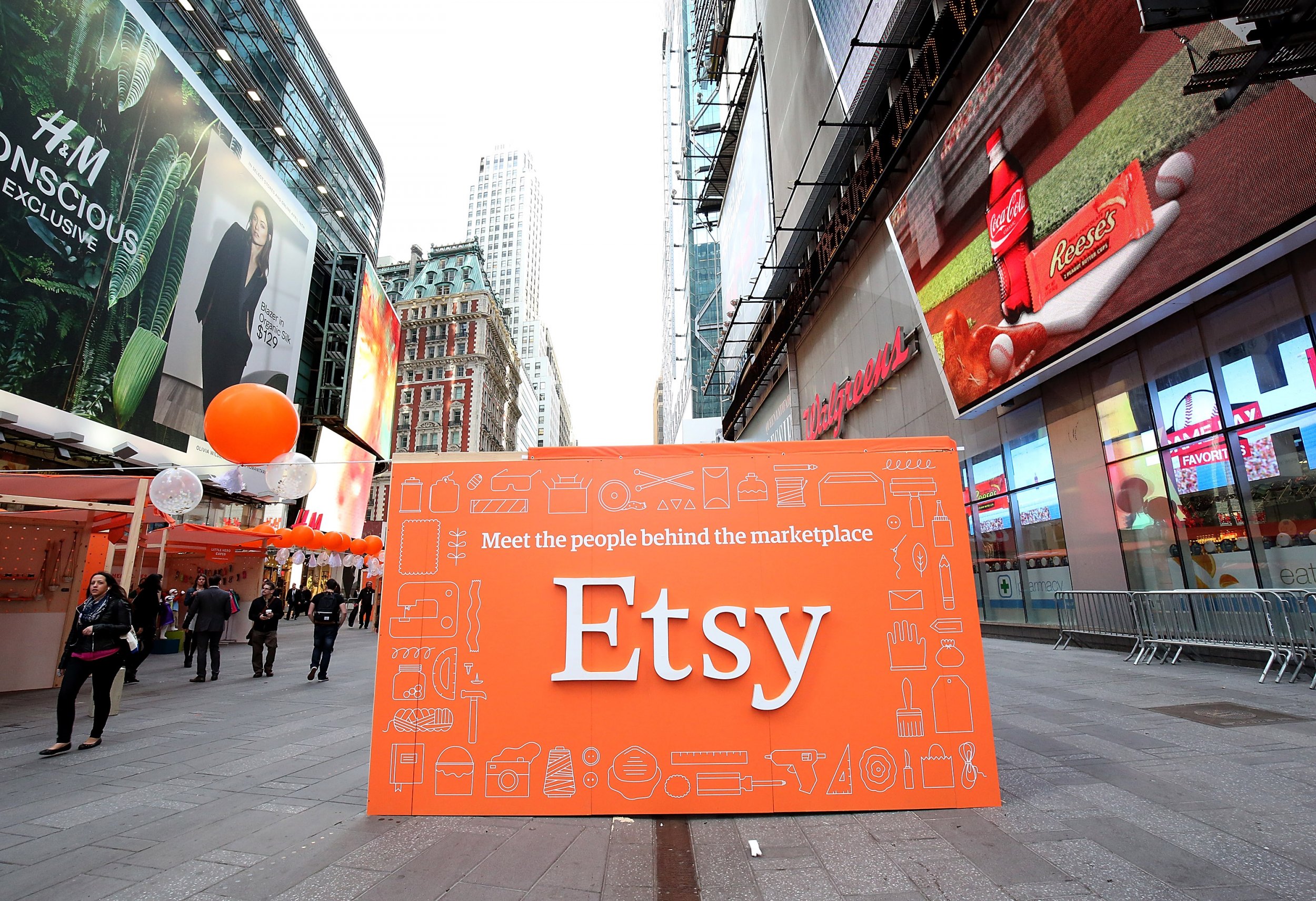 Independent artists and crafters take their business to Etsy, the e-commerce site, in the hopes of selling and promoting their work. Last week, some of them were accidently charged hundreds or thousands of dollars in incorrect seller fees by the company.
Etsy sellers were shocked on February 15 to see that the site charged them hundreds, and in some cases thousands, of dollars in seller fees, far more than what they usually pay. Some found out when their banks called or texted them to ask if they had authorized such unusually high payments. Others found out when their accounts were overdrawn and they couldn't pay their bills.
One Etsy seller was at a trade show when their credit card company texted them and asked if they had authorized a charge of $19,273.50.
Newsweek spoke with six people who said they were victims of the Etsy billing error.
"I had to read it four times to even comprehend what I was looking at, there was that many digits," said a Baltimore-based seller who has been selling prints and posters of their artwork on the site for about two years. The seller agreed to speak with Newsweek under the condition of anonymity.
"I was more confused than anything, because it said it was Etsy seller fees. So it wasn't even to something I'd never heard of. I was like, 'Well, I do pay that?', but in no reality would it ever be that high, so I was just really concerned and confused all at the same time," the seller said.
For a week, Etsy users were reeling and shocked about how such an error could happen. Twitter threads and forums on Etsy popped up almost immediately after the charges started rolling in, written by sellers wondering if they were the only ones with the erroneous charges. For a week, users relied on forums and threads for information beyond an email from the company or the single post on the website.
It wasn't until the Friday after the error occurred that Etsy explained what happened. "On Friday afternoon, we made an update to our billing system. Unfortunately, the update contained an error," the company said in a statement.
Etsy said that while only about 0.1 percent of active sellers were impacted by the error, it was taking the issue seriously and working to make sure it didn't happen again. "We know that all of our sellers trust Etsy to help run their creative business, and that is a responsibility we do not take lightly," read the update Etsy provided to sellers Friday.
One such forum on the Etsy site was started by a seller who said she had $395 taken from her checking account, through the debit card she had on file to pay her regular seller fees. That forum thread was 120 pages long on Friday and only getting longer.
Other users said the same thing happened to them, except that the charges amounted to thousands. Some said their accounts were overdrawn and that they'd ended up with overdraft fees as well.
The Baltimore-based seller told Newsweek that they don't usually even pay their seller fees by card—those fees normally come out of their Etsy profits, so they don't have to think about them much. Etsy requires sellers to keep a credit or debit card on file for seller fees, which can vary from a few hundred to a few thousand dollars for users.
"I pay nowhere near this much in fees, especially for the last month it's been a little slow, [but] they charged me more than the total amount I made," Ron Kieser, who sells handmade movie-prop replicas and handmade items on commission on Etsy, told Newsweek.
Etsy sent a four-sentence email to the Baltimore-based seller on February 15, informing them of the failed charge. "Hi, We recently attempted to charge your card on file. This was due to a bill payment error and the charge did not go through. We're very sorry for any confusion this may have caused. If you have any questions, please contact Etsy support," read the email that the seller shared with Newsweek.
Other sellers, including those who had the fees go through, received a slightly more detailed email. In one email, Etsy wrote, "When your card was incorrectly charged, the amount was applied to your payment account balance. We've adjusted this balance to reflect the refund we've issued back to your card."
The company also put a notice on the forum where sellers were discussing the issue Saturday and then marked the forum as "solved." The note told users that the incorrectly charged cards were refunded but that the deposits could take a few days to process over the long weekend. Deposits were still processing back to user accounts as of Thursday. That note also said that sellers who were impacted were notified by email or through Etsy Conversations, a communication platform on the actual website.
"Card refunds and reversed disbursements are reflected in seller payment accounts as 'credit card refund' and 'returned deposit,' respectively, and are not considered gross income," an Etsy spokesperson told Newsweek.
Another Etsy seller, who also wished to remain anonymous, said a charge did go through on their debit card for a whopping $2,200. "Then they sent a follow-up email that said sorry and they'd send that payment back to me within a few business days," the seller told Newsweek.
"So, I'm still out that money, just waiting for it to be refunded. They've done absolutely nothing to compensate the fact that I've been without that money for so long. I'm still furious over it," they said on Tuesday.
Kieser was still waiting for his money to be returned as of Wednesday. "They did a partial return, less than what they took out, and when that happened they took that out again. It shows that another one is being processed, but I'm not holding my breath," he said. He also incurred fees for the overdraft and will have to contact Etsy directly to get those fees reimbursed.
Some lucky sellers had banks that were able to stop the charge to their debit or credit card before it went through, as was the case with one seller who tweeted screenshots of the incident that showed Etsy attempted to charge them more than $120,000.
In the note Etsy left on the forum where sellers were discussing the error, the company said it had assembled a task force to tackle the issue, and that it didn't expect it to be a concern moving forward.