Trump's EU Ambassador Will Defy White House and Testify Before Congress About Ukraine Scandal
The United States ambassador to the European Union, Gordon Sondland, will comply with a congressional subpoena to testify to lawmakers behind closed doors next week in a move that will defy a directive from the State Department and the Trump administration.
"Notwithstanding the State Department's current direction to not testify, Ambassador Sondland will honor the Committees' subpoena, and he looks forward to testifying on Thursday," Sondland's attorney, Robert Luskin, confirmed Friday in a statement.
The decision by the ambassador, who's named in the Ukraine whistleblower report and is viewed as a key witness in the House Democrats' impeachment inquiry, came despite the State Department directing him Tuesday not to appear for a voluntary deposition just hours before he was slated to do so. Sondland was already prepared to speak with lawmakers after making the trip from Brussels to Washington, D.C., when the directive was handed down.
As part of the subpoena, which was issued Wednesday, Sondland will testify privately to lawmakers from several committees October 17. Luskin said he will not, however, be complying with the subpoena's demand to turn over documents relevant to the Ukraine scandal because the State Department "has sole authority to produce such documents."
"Ambassador Sondland has at all times acted with integrity and in the interests of the United States," Luskin added. "He has no agenda apart from answering the Committees' questions fully and truthfully."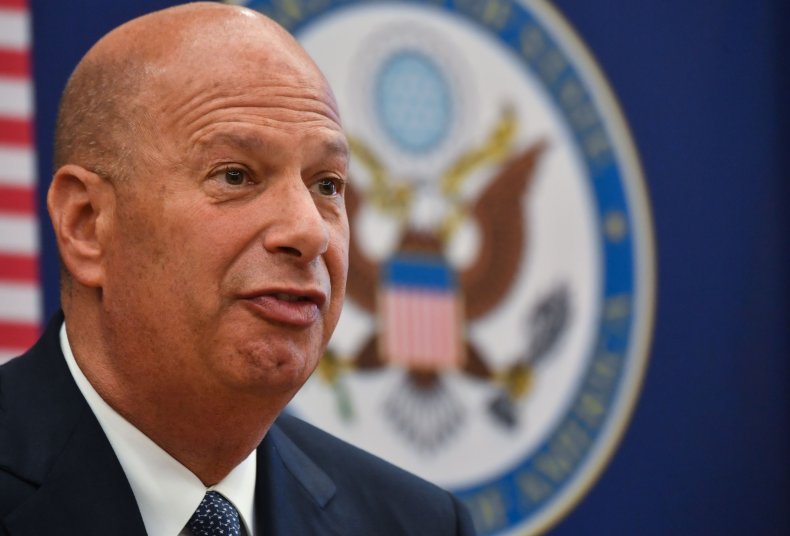 The State Department did not immediately respond to Newsweek's request for comment.
Text messages among top U.S. diplomats, including Sondland and the former top U.S. diplomat to Ukraine, Kurt Volker, released by congressional committees leading the impeachment probe, have shown that Sondland acted as an intermediary for Trump and Rudy Giuliani, the president's personal lawyer, in their attempts to sway the Ukrainian president to investigate former Vice President Joe Biden and his son, Hunter.
The push to hear from Sondland has been bipartisan, as Democrats believe it could pull back the curtain to provide additional details about Trump's efforts to pressure his Ukrainian counterpart to probe a political foe before an upcoming election. Republicans believe the ambassador's testimony could help vindicate Trump.
Some of Trump's most loyal allies on the Hill, including Reps. Jim Jordan (R-Ohio), Mark Meadows (R-NC), Matt Gaetz (R-Fla.) and Lee Zeldin (R-NY), expressed disappointment earlier this week when they'd learned the State Department and the Trump administration blocked Sondland from appearing. However, they also made their beliefs clear that the hearings conducted as part of the newly launched impeachment inquiry have been a "Kangaroo Court" and have labeled it an "unfair and partisan" process.
"The way [House Intelligence Chairman Adam Schiff] treated Ambassador Volker in his interview last week, that treatment is the reason why the administration and the State Department said we're not going to subject Ambassador Sondland to the same treatment," Jordan told reporters Tuesday. "Look, we were actually looking forward to hearing from Ambassador Sondland. We thought he was going to reinforce exactly what Ambassador Volker told us last week."
Schiff classified the blocked testimony of Sondland to reporters earlier this week as "strong evidence of obstruction" coming from the administration.