EU Calls on China to Give Reliable 'Proof' Peng Shuai Is 'Free and Not Under Threat'
The European Union made a statement Tuesday saying it wanted "verifiable proof" from China that tennis player Peng Shuai is safe, and calling for an investigation into her sexual assault allegations.
The 35-year-old and three-time Olympian Peng wrote a social media post on her verified Weibo account in early November detailing her allegations against a former member of the Communist Party's ruling Standing Committee, Zhang Gaoli.
The post was quickly deleted along with Peng's account. Then Peng disappeared, with no one seeing or hearing from the former top-ranked world doubles player for over two weeks.
Concerns for Peng's wellbeing rose, with people across social media all asking "Where is Peng Shuai?"
On November 17, Chinese state news outlet CGTN posted a screenshot of an email they said was from Peng to their Twitter. The letter stated that the allegations were not true. For many followers of Peng's situation, the dubious letter only raised their concerns.
Peng resurfaced on November 21, when she did a video call from Beijing with Olympic officials. In the 30-minute call, she told International Olympic Committee President Thomas Bach she was safe, thanking everyone for their concern but asking for privacy.
However, the video call did not inspire confidence in many people. A Human Rights Watch spokeswoman called it an example of China's "coercion" and "propaganda machinery."
"Her recent public reappearance does not ease concerns about her safety and freedom," an EU spokesperson said to the Associated Press.
The EU asked that China fulfill its "human rights obligations" by confirming Peng's whereabouts and conducting a fair and transparent investigation into the matter.
For more reporting from the Associated Press, see below: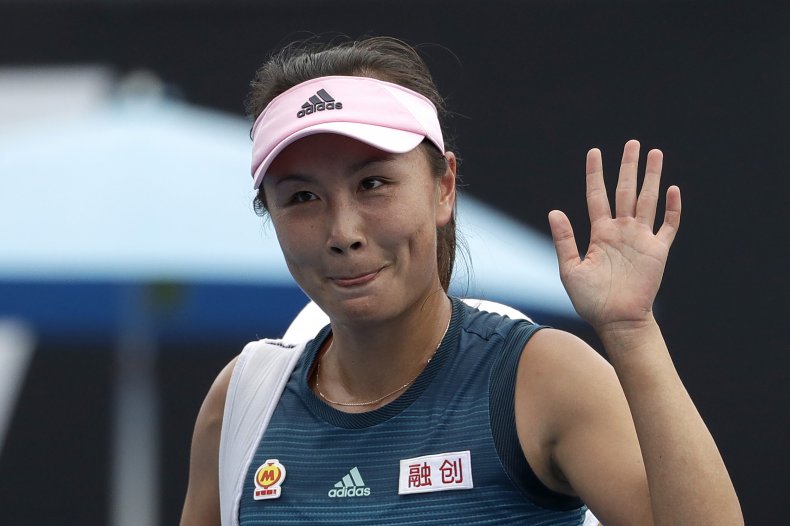 "The EU joins growing international demands, including by sport professionals, for assurances that she is free and not under threat," the EU said in a statement. "In this spirit, the EU requests the Chinese government to provide verifiable proof of Peng Shuai's safety, well-being and whereabouts. The EU urges the Chinese authorities to conduct a full, fair and transparent investigation into her allegations of sexual assault."
Peng adds to a growing number of Chinese businesspeople, activists and ordinary people who have disappeared from public view in recent years after criticizing party figures or in crackdowns on corruption or pro-democracy and labor rights campaigns.
"The EU strongly opposes the use of the practice of enforced disappearance and arbitrary detention...and calls upon China to comply with its human rights obligations under national and international law," the EU said.