EU Chief Used Bright, Simple Flash Cards to Explain Trade War to Trump: Report
President Donald Trump and European Commission Chief Jean-Claude Juncker held a successful round of trade negotiations Wednesday at the White House, partially due to Juncker's use of colorful cards with easy to read, simple explanations of the situation at hand, a senior EU official who was in the room during negotiations told The Wall Street Journal.
As a result of the meeting, Trump said that he would not increase tariffs on European cars and that the European Union would buy more soybeans and liquified natural gas from the United States. During joint remarks in the White House Rose Garden, it was announced that the leaders would "work together toward zero tariffs, zero non-tariff barriers, and zero subsidies on non-auto industrial goods."
The announcement came just one day after the Trump administration issued a $12 billion bailout to American farmers caught in the middle of the trade wars between the U.S., Europe, China, Mexico and Canada.
The result of the meeting between the two officials beat expectations on both sides. On the plane ride to Washington D.C., Juncker confessed to reporters that he did not feel ready and "we'll have to see how it goes." But the Oval Office discussion lasted three hours and ended in an agreement. It appeared that the president had reversed course from his stance in previous weeks when he called the EU his "foe."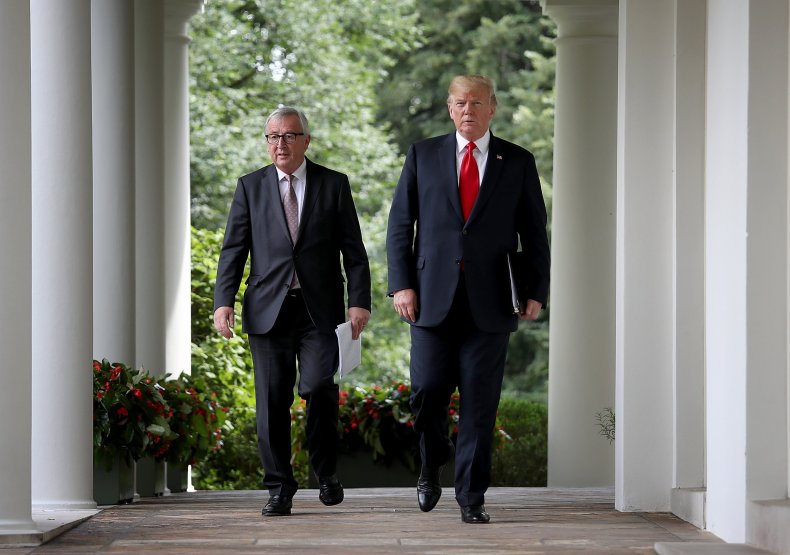 The senior EU official said that Trump was in a good mood and ready to negotiate, and responded well to the cards Juncker had prepared. Juncker reportedly explained to Trump that a war of increasing tariffs was a lose-lose situation. "If you want to be stupid," he told Trump, "I can be stupid, as well."
"We knew this wasn't an academic seminar," the EU official told The Wall Street Journal. "It had to be very simple."
President Trump's chief economic adviser, Larry Kudlow, also reportedly primed the president and encouraged him to use this visit to negotiate. Kudlow appeared on Fox & Friends the morning of the meeting and warned viewers to "keep an open mind—you might be surprised by the outcome of this meeting."
After the negotiation session, Trump said that the United States and EU had entered a "new phase in [their] relationship" and called the meeting a "very big day for free and fair trade."
European leaders, however, aren't convinced. On Thursday, French President Emmanuel Macron said he was still seeking clarification on the negotiations.
"A good trade negotiation, as I have said before, can be only done on balanced and reciprocal basis and under no circumstances under threat," he said during a press conference with Spanish Prime Minister Pedro Sanchez. "We have some questions that we will want to clarify in the coming days with our European partners."