Joe Biden, Boris Johnson, EU All Move to Sanction Vladimir Putin Personally
The European Union, United Kingdom and U.S. all are moving to directly sanction Russian President Vladimir Putin in the wake of the invasion of Ukraine.
The U.S. was the last of the three to announce plans to sanction the Russian leader. White House Press Secretary Jen Psaki confirmed the move during Friday's press briefing.
While announcing a Russian sanctions package Thursday, U.S. President Joe Biden said that sanctioning Putin was "on the table" but didn't provide additional information on when it might occur.
The EU sanctions were discussed at a meeting of EU foreign ministers in Brussels, while British Prime Minister Boris Johnson announced the U.K.'s plans to sanction Putin during a virtual meeting with world leaders Friday afternoon, Sky News reported.
The U.K., EU and U.S. also are sanctioning Foreign Minister Sergey Lavrov.
Canadian Prime Minister Justin Trudeau followed suit Friday evening, announcing sanctions against Putin, Lavrov and his chief of staff, Anton Vaino, during a news conference.
"These men bear the greatest responsibility for the death and destruction occurring in Ukraine," Trudeau said.
Russia has been hit with a number of sanctions from leaders around the globe since Putin launched the attack on Ukraine. The measures are aimed at chipping away at Russia financially by restricting certain types of trade, freezing assets and excluding the country from other economic opportunities.
Biden said Thursday that Putin's aggression against Ukraine "will end up costing Russia dearly, economically and strategically," and that the U.S. and other countries will make sure that "Putin will be a pariah on the international stage."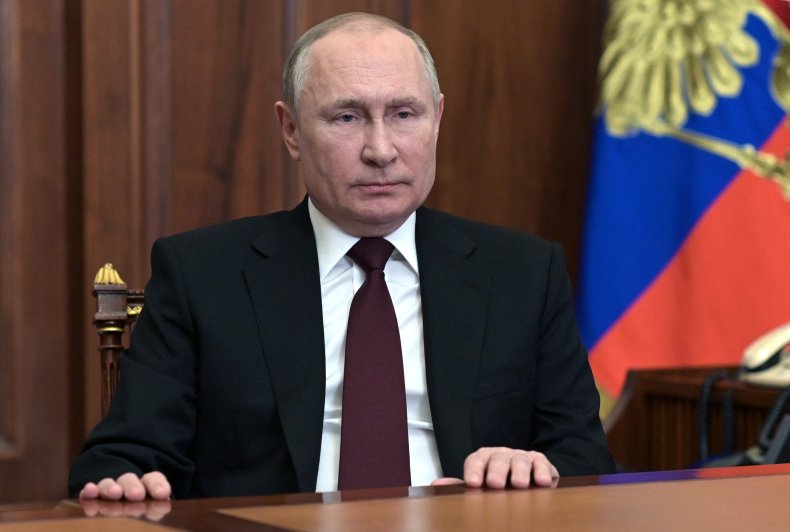 The EU sanctions package is expected to be finalized Friday, following the announcement Thursday that bloc leaders had agreed to add new sanctions against Russia.
Any foreign-held assets of Putin and Lavrov would be frozen under the pending package, a move that will send a strong message about the EU's stance on Russia's aggression even though Putin likely doesn't have any identifiable personal assets outside of Russia, The Guardian reported.
As the EU awaits final approval for the sweeping measures, some foreign ministers and EU leaders have expressed confidence that there will be agreement on the direct sanctions for Putin and Lavrov.
"I think we agree that Putin and Lavrov, as far as the freezing of assets is concerned, that we will find a consensus here," Jean Asselborn, Luxembourg's foreign minister, said prior to the meeting.
"If there are no surprises and no one objects as we require unanimity, then, yes, Putin and Lavrov will be on the list," said Josep Borrell Fontelles, vice president of the European Commission and high representative for foreign affairs.
The U.K.'s sanctions against Putin and Lavrov will be in addition to those announced by Johnson on Thursday. The previously unveiled measures include a full asset freeze against the Russian state-owned bank VTB and a ban against Aeroflot, Russia's largest airline.
While addressing the House of Commons on Thursday, Johnson said that it would be the "largest and most severe package of economic sanctions that Russia has ever seen."
"We will continue on a remorseless mission to squeeze Russia from the global economy piece by piece, day by day and week by week," Johnson said.
Update 02/25/22, 5:10 p.m. ET: This story has been updated with a quote from Canadian Prime Minister Justin Trudeau.
Update 02/25/22, 4:26 p.m. ET: This story has been updated with additional information and a new headline.