EU Logs 160K Illegal Crossings Through October, 70 Percent Increase Compared to 2020
The European Union reported a significant increase in migrants attempting to cross its borders without authorization in the past 10 months, rising to a higher level than in 2019, pre-pandemic, the Associated Press reported.
The European Border and Coast Guard Agency, known as Frontex, said in a statement on Tuesday that it recorded 160,000 "illegal border crossings," a 70 percent increase from last year. Looking at pre-COVID, it still shows a 45 percent increase from 2019.
The biggest rise was found in the EU's eastern borders and the Balkans region of southeast Europe, as well as from central Mediterranean Sea crossings.
AP reported that almost 8,000 people—most from Iraq, Afghanistan and Syria—crossed the EU's eastern borders, 15 times more than 2020.
The EU asserts that many of the crossings were facilitated by the Belarusian government, as Belarus was a popular entry point for migrants wishing to enter the three EU countries with which Belarus shares a border—Poland, Latvia and Lithuania.
Frontex said crossings from Belarus peaked in July, with more than 3,200. However, they have since slowed as countries sharing a border with Belarus have heightened their border security, with only 600 crossings in October.
The situation came to a head when hundreds of migrants were camped out on the Belarus-Poland border for almost two weeks earlier this month. Belarusian authorities said they will be sending groups of the migrants back to their home countries.
Frontex said that "while high level frictions between the EU and the Belarusian regime continue," countries bordering Belarus have "significantly strengthened their border-control measures under exceptional states of emergency," stopping large numbers of people from crossing.
For more reporting from the Associated Press, see below.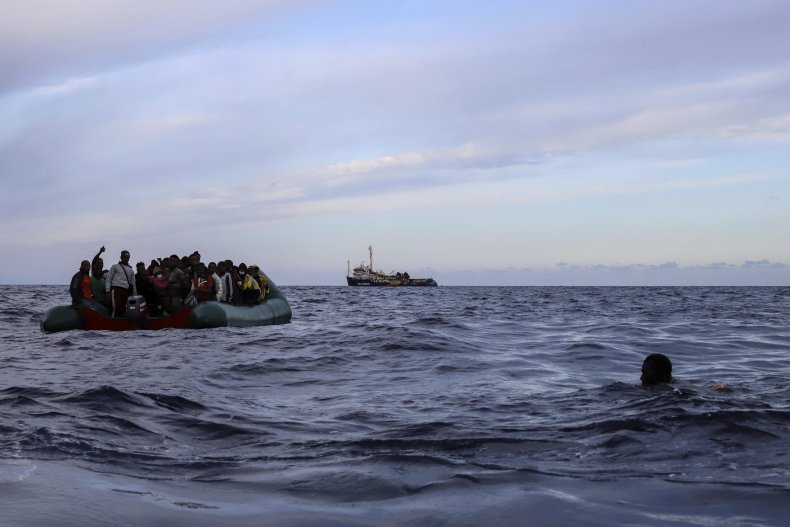 The agency said that 48,500 crossings were reported on the "Western Balkans Route," which many migrants traverse on foot in search of better lives or sanctuary in the relatively wealthy 27 EU member countries. More than 9,000 entries were recorded in October, an increase of 810 percent compared to 2019.
Arrivals via the central Mediterranean also rose, reaching 6,240 in October, 186 percent more than in 2019. Frontex said a "significant development" is that a growing number of migrants are crossing by sea into Italy directly from Turkey. Most usually come from Libya and other parts of northern Africa.
More Egyptians are arriving through the central Mediterranean from Libya, it said. Separately, migration to the island of Cyprus is also on the rise.
The agency said that 16,390 "illegal border crossings" were reported on the western Mediterranean route, often into Spain from northern Africa, but the numbers were 23 percent less than in 2019.