EU Medical Regulator Dismisses Concerns AstraZeneca's COVID Vaccine Causes Blood Clots
The European Union's top medical regulator on Tuesday joined other leading global health authorities seeking to ease concerns about AstraZeneca's coronavirus vaccine and its possible side effects.
After reports of serious blood clots in individuals who recently received the immunization prompted a number of European nations to halt vaccine administration, Emer Cooke, executive director of the European Medicines Agency (EMA), said evidence collected so far does not suggest a connection between the shots and subsequent illnesses.
"I have to first explain that a situation like this is not unexpected," Cooke explained during a Tuesday news conference. "When you vaccinate millions of people, it's inevitable that you have rare or serious incidences of illnesses that occur after vaccination."
As of Tuesday, more than a dozen countries across Europe have temporarily suspended further use of the COVID-19 vaccine, developed by British-Swedish pharmaceutical company AstraZeneca and the University of Oxford. A growing list of nations decided to pause administration following reports of unusual bleeding, blood clots and diminished platelet counts in a small group of vaccine recipients, which preceded several deaths.
The EMA is pursuing an investigation, helmed by a panel of experts, to determine whether there are discernible links associating the AstraZeneca vaccine and ensuing illnesses. Cooke said the panel is expected to release findings from its inquiry on Thursday, although she emphasized that the EMA does not expect the evaluation to substantiate fears about severe side effects.
"Currently, we are still firmly convinced that the benefits of the AstraZeneca vaccine in preventing COVID-19, with its associated risk of hospitalization and death, outweigh the risks of these side effects," she told news conference viewers on Tuesday.
"I want to also stress that at present there is no indication that vaccination has caused these conditions," Cooke continued. "They have not come up in the clinical trials, and they are not listed as known or expected side events with this vaccine."
During clinical trials, similar incidences of blood clots were recorded among individuals who received doses of AstraZeneca's vaccine and individuals who received placebo shots, Cooke noted.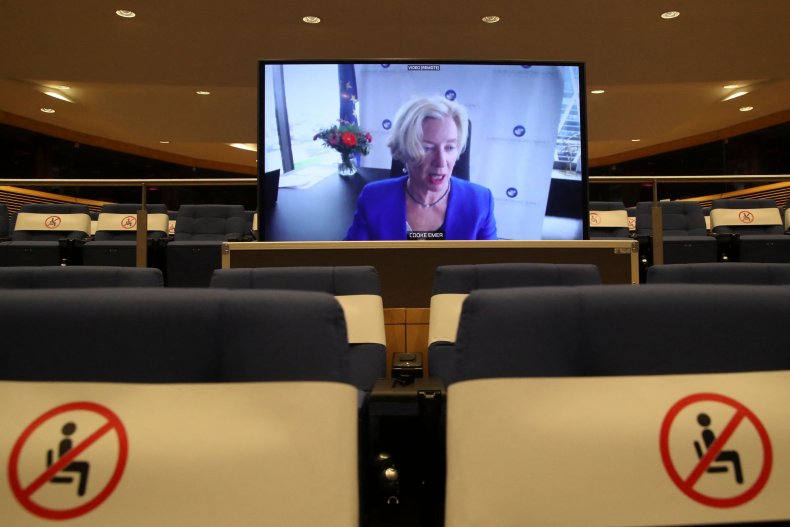 Officials at the World Health Organization previously addressed concerns about the vaccine, after reports raised concerns about adverse medical effects. On Monday, WHO Director-General Tedros Adhanom Ghebreyesus confirmed that the agency's vaccine safety advisory committee was reviewing data to better understand the situation.
"Since our last press conference on Friday, several more countries have suspended the use of AstraZeneca #COVID19 vaccines as a precautionary measure, after reports of blood clots in people who had received the vaccine from two batches produced in Europe," Ghebreyesus tweeted.
"This does not necessarily mean these events are linked to [COVID-19] vaccination, but it's routine practice to investigate them, and it shows that the surveillance system works and that effective controls are in place," he said.
Newsweek reached out to the EMA for further comment but did not receive a reply in time for publication.
Newsweek, in partnership with NewsGuard, is dedicated to providing accurate and verifiable vaccine and health information. With NewsGuard's HealthGuard browser extension, users can verify if a website is a trustworthy source of health information. Visit the Newsweek VaxFacts website to learn more and to download the HealthGuard browser extension.