E.U. Official Sees No Rift With U.S. Over Arming Ukraine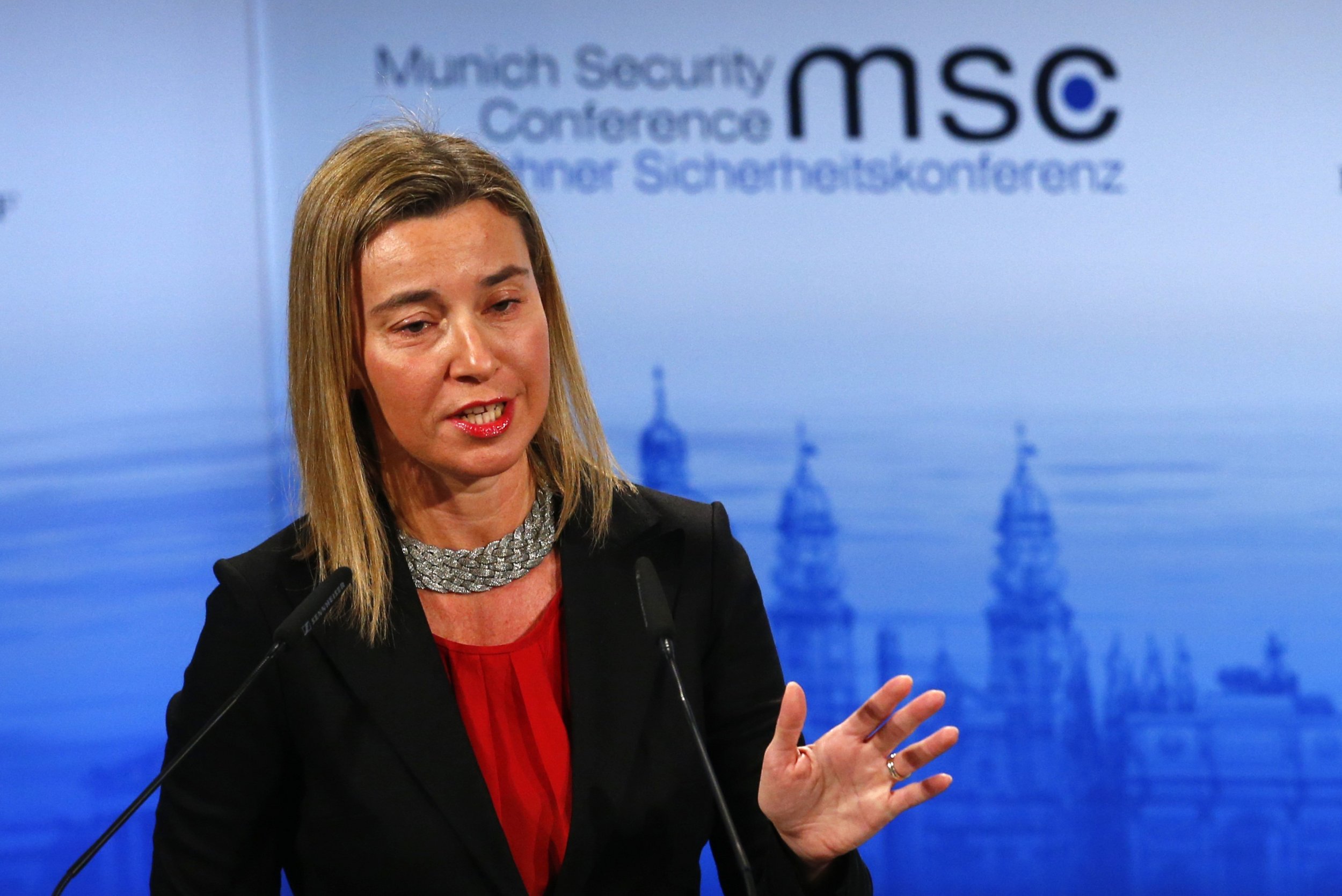 MUNICH (Reuters) - The European Union's foreign policy chief said on Sunday she did not expect any transatlantic rift with Washington over Ukraine if the United States went ahead with proposals to supply arms to Kiev.
With pro-Russian separatists making gains in eastern Ukraine, discussions are under way in Washington about whether the United States should send weapons to the Ukrainian army.
A number of European ministers at this weekend's Munich Security Conference opposed sending weapons, fearing it could further escalate the conflict.
The E.U.'s Federica Mogherini, who met Ukrainian President Petro Poroshenko and Russian Foreign Minister Sergei Lavrov, told Reuters in an interview she respected the internal debate on the subject in the United States and "it is up to them to discuss and decide".
Newsweek subscription offers >
"We are united when it comes to support to Ukraine...we are united when it comes to economic pressure and we are united also on...the need to have a political dialogue," she said.
SANCTIONS
Asked if there was a danger of a transatlantic rift if the United States decided to meet Kiev's request for arms to fight the rebels, who have seized swathes of eastern Ukraine in a war that has killed over 5,000, she replied: "No."
Poroshenko and the leaders of Russia, France and Germany hold talks in Minsk, Belarus, on Wednesday aimed at reaching a ceasefire in Ukraine. An agreement reached in September in Minsk has failed to stop the fighting, which began in April.
Newsweek subscription offers >
Kiev accuses Moscow of supplying the pro-Russian rebels with sophisticated arms, including tanks and air defense systems, and says its own armaments are outdated. Moscow denies sending arms.
Mogherini chairs a meeting of E.U. foreign ministers in Brussels on Monday that is expected to add more names, led by Russian Deputy Defence Minister Anatoly Antonov, to the list of Russian and Ukrainian people and organizations under E.U. asset freezes and travel bans.
Any discussion of "further steps" would be left to E.U. leaders who meet on Thursday and again in March, Mogherini said, referring to possible tighter economic sanctions on Russia.
Mogherini indicated that a decision on stronger sanctions would depend on whether a durable ceasefire was reached in Ukraine.
"If we manage to reach a ceasefire, to make it sustainable in time, and to start implementing the Minsk agreements obviously this would lead to some decisions. If this is not the case, decisions could be of a different nature," she said.
E.U. Official Sees No Rift With U.S. Over Arming Ukraine | World