EU MPs Call For Sanctions on Putin Over Trial of Ukrainian Pilot Savchenko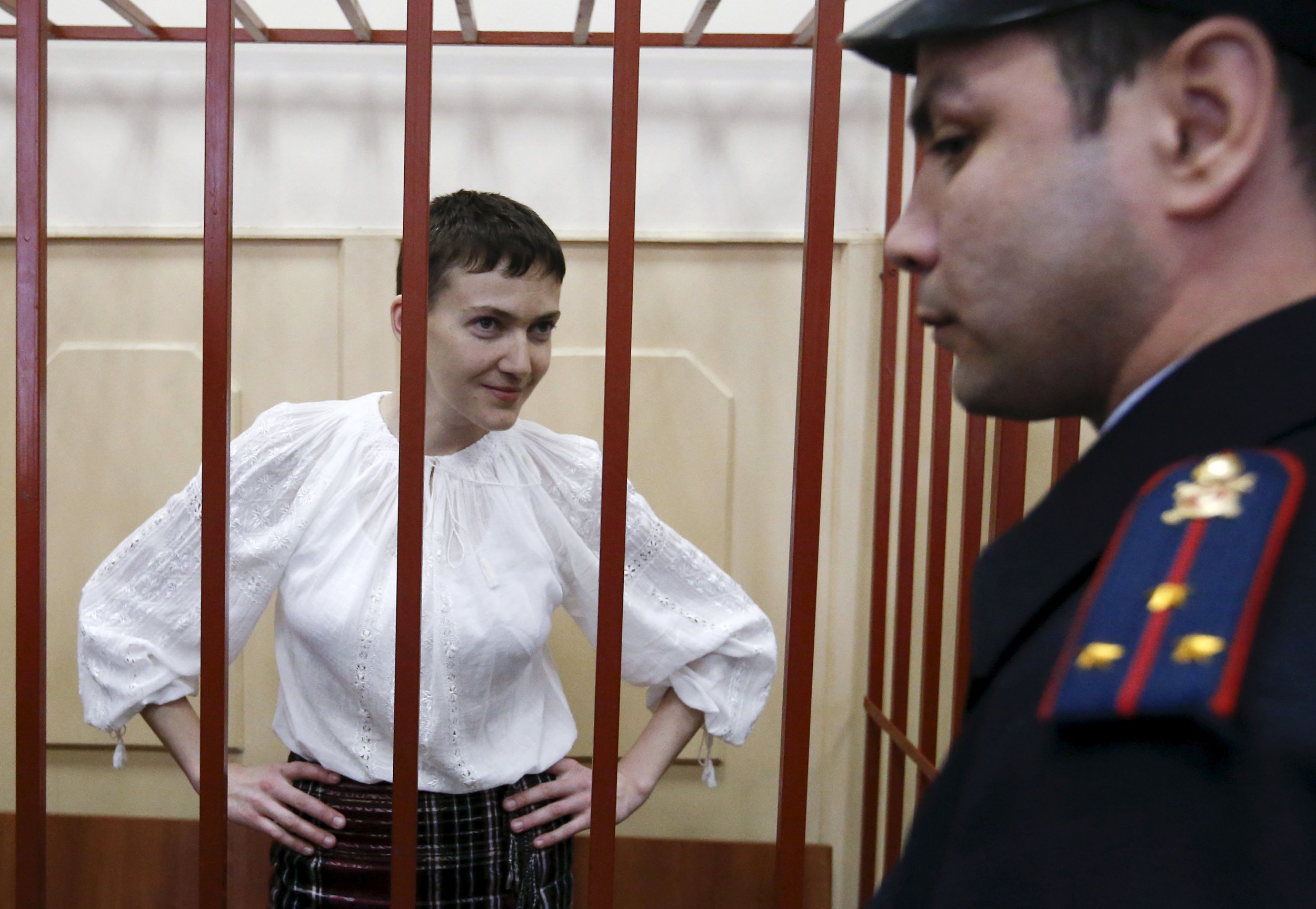 Members of the European Parliament have requested that Russian President Vladimir Putin and 28 other officials be put under sanctions over the detention of Ukrainian pilot Nadiya Savchenko.
Savchenko is currently in court, accused of killing two Russian journalists with artillery fire during combat in eastern Ukraine in 2014. The case is highly controversial and has prompted protests in Ukraine and abroad against her detention. Russia has charged her with killing the journalists and claims she was captured while trying to sneak into Russia, posing as a refugee.
Savchenko's lawyer has dismissed these accusations, saying that Savchenko was captured by pro-Russian fighters on Ukrainian soil in June, and then illegally abducted to Russia where she is now. He also denies that Savchenko was guilty of the journalists' deaths as she was already in captivity when they were killed.
On Wednesday, Jacek Saryusz-Wolski, member of Poland's Civic Platform party in the European Parliament posted on Twitter a photo of an official request signed by 57 of his colleagues, requesting the EU put sanctions on Putin as well as security and judiciary officials.
In a letter addressed to the High Representative of the EU for Foreign Affairs and Security Policy Federica Mogherini, the group urges her to take action against Russia's "fabricated" charges.
The EU should respond to Russia's "shameful and blatant breach of international law" by freezing assets and barring Putin, his security services chief Alexander Bortnikov, Moscow's head investigator Alexander Bastrykin and others from traveling to the EU.
In response, Kremlin spokesman Dmitry Peskov called the petition "unacceptable" and warned against "attempts to meddle in our judiciary processes," state news agency RIA Novosti reports.
A final verdict on Savchenko is due on March 22, though the Russian judge has previously said her guilt has been proven "beyond doubt" and she is expected to get a 23-year jail sentence. She has declared she will start a hunger strike if the court continues delaying the verdict.
Savchenko has also said she opposes any moves by Ukraine to free her through an exchange for one of the Russian soldiers captured fighting covertly in Ukraine. Ukrainian officials have discussed this possibility, but on Wednesday Peskov said he was not aware of any such proposals being made to Russia.