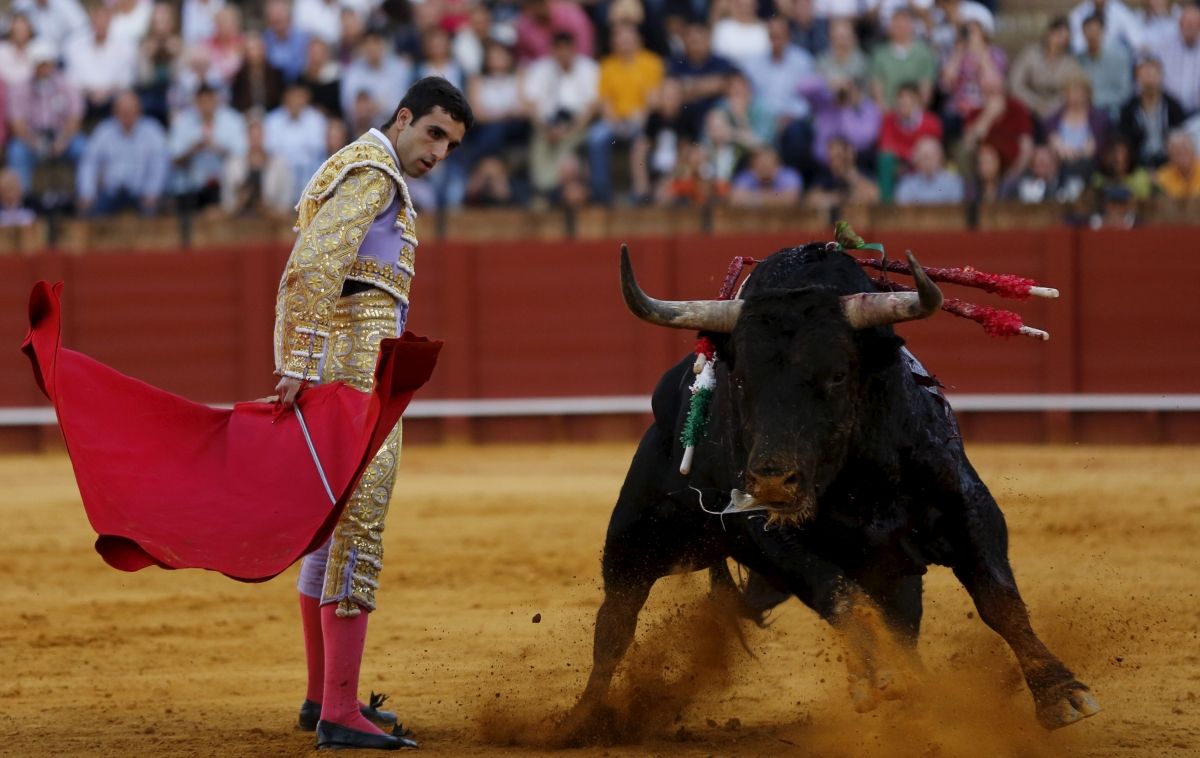 If Brussels can outlaw bent bananas, why can't it ban bullfights? So might run a typically English response to the European Union. Leaving aside the apocryphal nature of tabloid reporting on absurd incursions into national sovereignty, the cultural patrimony of Spain is protected by Article 13 of the Treaty of Lisbon of 2007: the reformation of the Constitutional Texts of the European Union—the Treaty of Rome (1958) and the Maastricht Treaty (1993)—retained the clause that stipulated that policy on animal welfare must respect the legislative or administrative provisions and customs of Member States. This has always been the response of the European Commission when animal rights groups have raised questions about the use of EU subsidies for the rearing of fighting bulls.
This, it seems, is about to change: on 28 October, MEPs voted by 438 votes to 199 to approve the following amendment: "Common Agriculture Policy (CAP) appropriations or any other appropriations from the budget should not be used for the financing of lethal bullfighting activities". When I asked one of the most pro-European members of Margaret Thatcher's government, Lord Tristan Garel Jones, for his response to the ruling, he referred to it as "a clear example of the EU overreaching itself and ignoring the traditions and cultural heritage of individual member states". One does not have to share his politics or advocacy of the bulls to see he has a point. Bullfighting remains contentious in Spain, citizens often split along generational and ideological lines, but voting at the European level was dictated by geography more than politics: nine out of fourteen Spanish Socialist MEPs rejected the motion, while a number of right-wing politicians from Northern Europe voted in favour.
The amendment was submitted by the European Greens; of their 50 MEPs, three of the four Spanish representatives were born in Catalonia, the autonomous community that banned bullfighting in 2011. This was an act of political grandstanding, showcasing distinction from the centralist state, which had little if anything to do with animal rights as is demonstrated by the hypocrisy of prohibiting corridas (professional bullfights) but allowing popular festivities involving the torture and death of animals as part of local festivities to continue. I have far more respect for The Canary Islands, which has enforced a long-term ban on bullfighting, alongside legislation and attitudes to animals that are amongst the most progressive in Europe. This, I am sure, is the laudable aim of the Green MEPs, but more questionable are their Machiavellian strategies: ends don't always justify the means
As part of their proposal, they submitted a tendentious 2013 report by the academic and politician Alfred Bosch, a fierce Catalan nationalist. In the initial summary, he states that just shy of 130 million Euros from the CAP are dedicated to the breeding and raising of fighting bulls; far less prominence is given to the figure of 5,160 Euros, his estimate for the total received by the Spanish state for all farming activities. To target this 2.5 percent is clearly to impose an ideological stance that infringes on national sovereignty. The counter-argument that the EU might not have the jurisdiction to ban bullfighting but is perfectly within its rights to withhold subsidies from breeders collapses if one takes into account that fighting bulls are hardly the sole victims of human (in)action in Europe; until it can be demonstrated that CAP funds are not dedicated to any activities that generate a similar or greater degree of suffering to animals than in the bullring, this amendment will constitute a deliberate, concerted attack equivalent to the IRS's targeting of specific political groups in the US.
From a logistical perceptive, I struggle to see how the new legislation will be applied, while also doubting its efficacy. There is no shortage of bull-breeders in Spain, but less than a dozen have a monopoly. If businesses collapse, there will always be those willing to step in, especially given the number of private fortunes invested in vanity bullfighting. For many Northern European MEPs and their voters, this amendment provides a reassuring sense of moral superiority, a convenient scapegoat for the mass-suffering of animals throughout the Union. The reference to "lethal bullfighting activities" provides a get-out-clause for Portugal where bulls are not killed in the ring, a convention that lets the audience but not the animal off the hook. Maybe animal welfare ought to be a cornerstone of European politics with certain guarantees being a pre-requisite of continued membership, but these are far bigger questions than suggested by this anti-constitutional ruling, whose proponents are fully aware that exploiting populist opposition to this Spanish cultural tradition will rally more support than many of their more radical suggestions.
Duncan Wheeler is Associate Professor of Spanish Studies at the University of Leeds. His book, The Cultural Politics of Spain's Transition to Democracy, will be published next year by Bloomsbury.