The European Union (EU) has recommended that member states place travel restrictions on unvaccinated travelers arriving from the U.S.
The European Council of the European Union, which represents the governments of the EU's 27 countries, opted to remove the U.S. from a Covid-19 "safe list" of countries on Monday.
What Is the EU's 'Safe List'?
The safe travel list is an agreed recommendation devised by the European Council.
For a country to be on the list, it must have fewer than 75 new daily cases of Covid-19 per 100,000 people over the previous 14 days.
According to Johns Hopkins University, the U.S. recorded over 3.9 million new cases over the last 28 days.
The U.S. wasn't the only country removed, with Israel, Kosovo, Lebanon, Montenegro, and the Republic of North Macedonia also taken off the list due to rising cases.
Other factors that determine whether or not a country is approved include vaccination progress, an overall downward trend of new cases, the presence of variants of concern, more than 300 tests per 100,000 people with no more than 4 percent of those tests returning positive results in the last seven days, the reliability of data, a government's overall response to Covid-19 and in some cases, reciprocity.
As the below image provided by Statista shows, the EU has only recommending granting permission for travelers from a select number of countries to enter member states.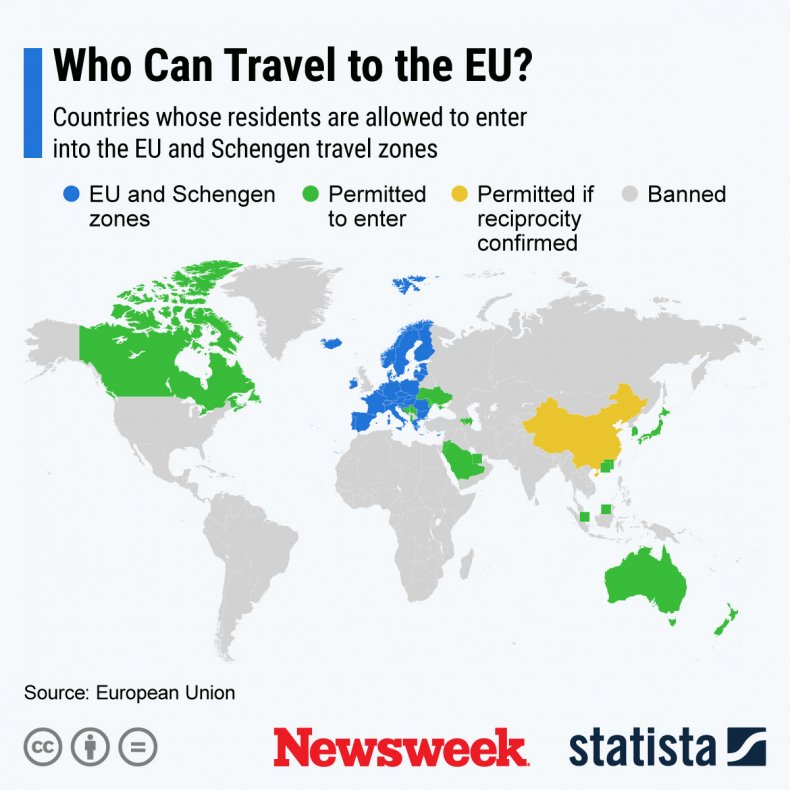 The countries on the list now include Albania, Armenia, Australia, Azerbaijan, Bosnia and Herzegovina, Brunei Darussalam, Canada, Japan, Jordan, New Zealand, Qatar, Republic of Moldova, Saudi Arabia, Serbia, Singapore, South Korea, Ukraine and China (the latter is subject to confirmation of reciprocity).
Member states may also implement an "emergency brake" mechanism, introducing temporary restrictions on countries where the epidemiological state has rapidly worsened, or a variant of concern has been detected.
In this case, these restrictions would not apply to EU citizens or long-term EU residents and essential travelers.
The safe list also applies to non-EU countries in the Schengen Zone including Norway, Iceland, Switzerland and Lichtenstein.
As it is just guidance, this recommendation is not binding and so restrictions will differ between member states.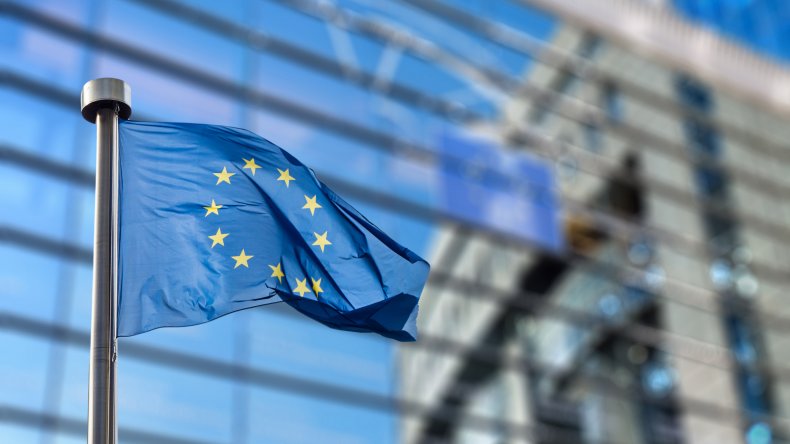 Who Is Allowed to Travel to the EU From the U.S.?
According to the recommendation, people from countries not on the safe list will be allowed entry to the bloc as long as they are either fully vaccinated or essential travelers.
For vaccinated travelers, you must have received your last dose of an EU-approved vaccine at least 14 days before arriving in a member state.
Currently, the list of authorized vaccines includes Moderna, Pfizer-BioNTech, Johnson & Johnson and AstraZeneca.
Some countries may also accept travelers who have been vaccinated with other vaccines as long as they are approved by the World Health Organization.
Children who have been excluded from vaccination due to their age are permitted to travel as long as they are accompanied by fully vaccinated adults and are able to present a negative PCR test.
Essential travelers include EU citizens and their families, long-term EU residents and their families, and those with an essential function or need.
Some countries may require additional testing, self-isolation, quarantine, or contact tracing.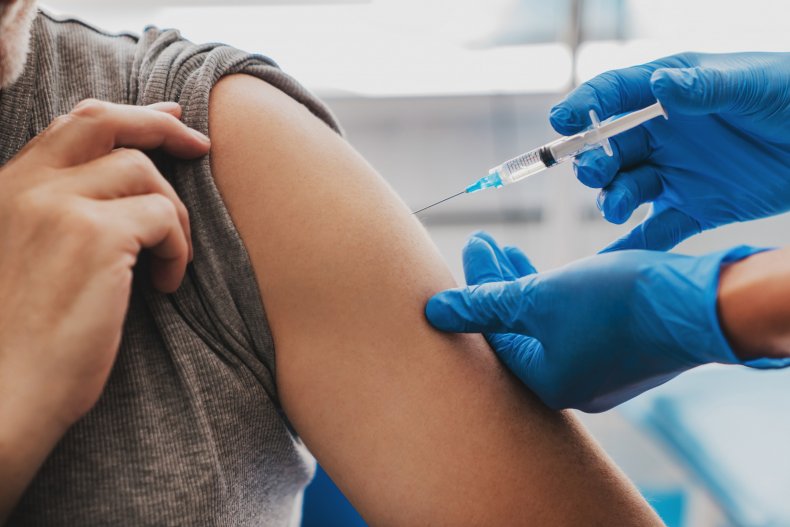 What Does This Mean For My trip?
For vaccinated travelers, not much has changed since June, when the U.S. was initially added to the safe list and allowed quarantine-free travel to the bloc.
Many member states have recommended bringing proof of vaccination on arrival so be sure to keep your Centers for Disease Control and Prevention (CDC) vaccine record card safe.
It's currently unclear how the recommendation for unvaccinated travelers arriving from the U.S. will be adopted by member states so it is best to check the local rules and restrictions before you travel.
You can also check the U.S. Department of State, Bureau of Consular Affairs, Country Information page before your trip for up-to-date information on your destination.
The CDC currently advises against all international travel for those who are not yet fully vaccinated.
Regardless of vaccination status, the CDC also states that travelers should wear a mask on planes, buses, trains, and other forms of public transportation and warns that not following local rules in your destination country could result in being denied entry and requirement to return to the U.S.
For travelers who have not received all their vaccine doses, it advises continued mask-wearing once you arrive, avoiding crowded spaces and maintaining a social distance.
What Happens When I Return to the U.S.?
All passengers returning to the U.S. are required to present a negative PCR test on arrival taken no more than three days before travel, or documentation proving they have recovered from Covid-19 in the last three months before boarding a flight.
Vaccinated passengers arriving back in the U.S. must get tested again three to five days after landing, self-monitor for Covid-19 symptoms, and follow state and local requirements after travel.
If you have received all vaccine doses and develop symptoms after traveling back to the U.S., you must isolate and get tested.
For non-vaccinated travelers, the same rules apply but they must also self-quarantine for seven days after arriving back in the U.S., even if their test is negative.
Those who don't get tested must self-quarantine for 10 days.
They are also advised to stay away from those who are at an increased risk of severe illness for 14 days after travel regardless of their test result.