The European Union hit Venezuela's vice president and 10 other senior officials with sanctions for irregularities following the re-election of President Nicolás Maduro and allegations of human rights abuses.
Maduro won another term in office last month in an election marred by claims of fraud. Popular opposition leaders were prevented from running in the contest.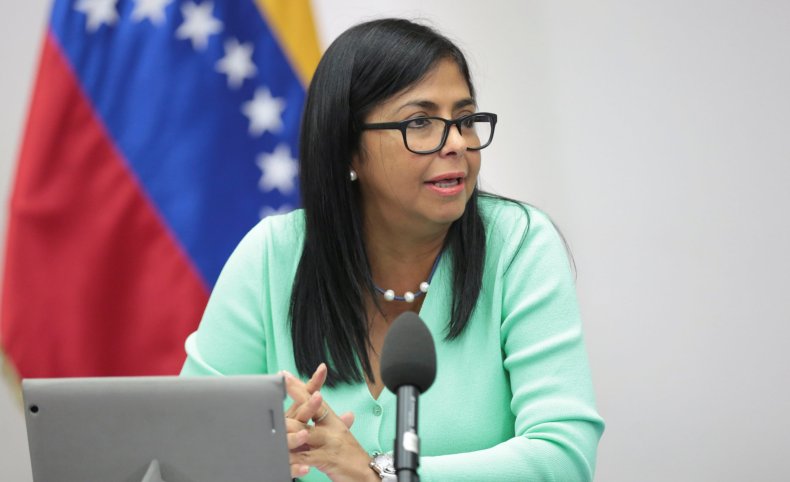 Vice President Delcy Rodríguez was among those slapped with travel bans and asset freezes for allegedly undermining the country's democracy. The deputy attorney general and industry minister were also sanctioned, along with former Vice President Tareck El Aissami, who was allegedly accused of being "responsible for serious human rights violations...including arbitrary detention, politically motivated investigations, inhumane and degrading treatment and torture."
"The persons listed are responsible for human rights violations and for undermining democracy and the rule of law in Venezuela," the EU said. "The elections held in Venezuela on 20 May 2018 were neither free nor fair and their outcome lacked any credibility as the electoral process did not ensure the necessary guarantees for them to be inclusive and democratic."
The EU's decision to sanction senior Venezuelan leaders follows a call last Friday by the U.N. high commissioner for human rights, Zeid Ra'ad al-Hussein, for an international probe into the country's human rights abuses.
In May, the United States levied its own sanctions against members of the Venezuelan government, prompting tit-for-tat diplomatic expulsions.
After President Donald Trump signed an executive order sanctioning the Venezuelan government on May 21, the Latin American country expelled the top U.S. diplomat and his deputy. The U.S. State Department quickly responded by announcing that Venezuela's chargé d'affaires and deputy were no longer welcome in the U.S.
"The United States will not sit idly by as Venezuela crumbles and the misery of their brave people continues," Vice President Mike Pence said at the time.
Since taking office, Trump has adopted a hard line on Venezuela, which is experiencing the world's highest inflation rates, a serious recession and a humanitarian crisis fueled by food and medical shortages. The president has so far signed three executive orders placing sanctions on Venezuela, and last year Trump suggested conducting a military intervention there to mitigate the crisis.
Maduro has bristled at Trump's approach. In February, he insinuated that Trump was acting hypocritically, tweeting that the president had "campaigned promoting non-interference in other countries' domestic affairs" and that "the time has come to fulfill it and change your agenda of aggression for one of dialogue."