EU Threatens Sanctions Against Russia Over Ukraine Aggression, but Timing Vague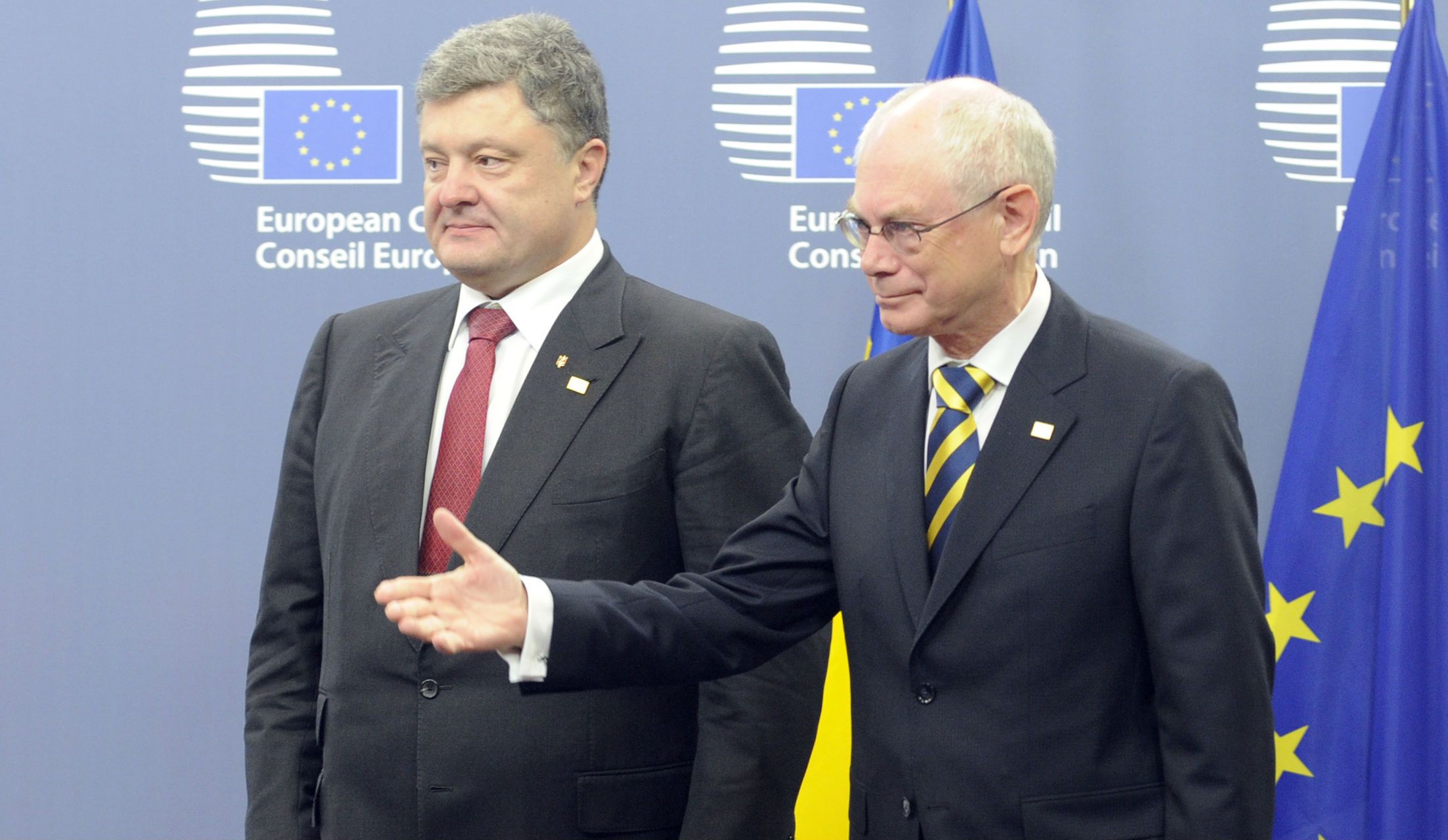 The European Union threatened Russia with new trade sanctions if Moscow fails to start reversing its action in Ukraine, but sharp divisions among leaders at a summit in Brussels left the timing of any measures uncertain.
After a lengthy briefing by Ukrainian President Petro Poroshenko, who warned "full-scale war" was imminent if Russian troops continued an advance in support of pro-Moscow rebels, the leaders agreed on Sunday to have EU officials draw up within a week a list of new measures that could hit a range of sectors.
But anxiety about the impact of sanctions on their own sluggish economies - and their access to Russian energy supplies - meant a divided EU could not agree to impose precise deadlines or conditions on Russian President Vladimir Putin. He denies his forces are involved, in the face of substantial evidence.
The European Council called on Russia "to immediately withdraw all its military assets and forces from Ukraine" and urged a ceasefire. The leaders asked the EU's executive arm, the Commission, to prepare proposals on new sanctions for them to review within a week, including measures that would penalise any person or body which dealt with Ukraine's eastern separatists.
German Chancellor Angela Merkel, the bloc's most powerful figure, noted measures would be ready within a week and said Putin must act to avoid them: "There will be decisions about new sanctions, if the current situation goes on or deteriorates."
She said the penalties could be in any of the business sectors the EU has already said could be targeted.
But asked about a deadline for EU action, the summit chairman, EU Council President Herman Van Rompuy, said: "It depends, further steps, on development of the situation on the ground. There is no precise criteria, but I can assure you that everybody is assured that we have to move quickly."
Underlining division among the 28 member states during talks that lasted till after midnight, the Slovak prime minister, Robert Fico, called sanctions "meaningless and counter-productive" and threatened to veto any new measures that harmed Slovakia's interests. Those include its need for Russian gas.
Austria, Hungary and the Czech Republic are also sceptical.
"I am against senseless sabre-rattling and against further sanctions that hurt only ourselves," Austrian Chancellor Werner Faymann said. "I am against military chest-thumping. What is needed now is heightened pressure for political dialogue."
Czech Prime Minister Bohuslav Sobotka also reserved a right to object to new measures and questioned their effectiveness.
Van Rompuy, whose successor was named on Saturday as Polish Prime Minister Donald Tusk, conceded that the sanctions caused problems for member states: "But this is the price to pay."
NEW APPOINTMENTS
The appointment of Tusk, a former student activist in Poland's Cold War-era, anti-communist Solidarity movement, was a major advance in influence for the eastern states who joined the bloc this century, many of whom share non-member Ukraine's concerns about Putin's ambitions to rebuild Russia's influence.
Also named to an important post was Italian Foreign Minister Federica Mogherini. She becomes the EU's foreign policy chief, overcoming resistance from some in the east who saw her as soft on Putin due to Italy's reliance on Russian gas.
In her first comments after being appointed, Mogherini stressed the need to work for a diplomatic deal with Russia:
"As we think and we work on the level of sanctions, we also have to keep the diplomatic way open ... hoping that the combination, a wise combination, can be effective," she said.
The president of ex-Soviet Lithuania, an outspoken critic of Putin and of EU hesitation to challenge him, called for urgent military supplies to Kiev. Dalia Grybauskaite said Moscow, by attacking Ukraine, was "in a state of war against Europe".
Poroshenko, who won renewed assurances of financial support from the EU, said he was discussing military purchases with several countries but that significant progress was more likely at this week's summit of the NATO defence alliance in Wales, at which U.S. President Barack Obama will carry the most sway.
Merkel for one made clear Germany was not willing to send arms to Ukraine, saying only a political solution would end the conflict. Poroshenko also said he hoped for a diplomatic deal and said the EU sanctions plan would accompany his own efforts to start implementing a negotiated peace over the coming week.
He said he hoped a ceasefire could follow three-way talks on Monday among representatives of Kiev, Moscow and the EU.
"I think we are very close to the point of no return," he said. "The point of no return is full-scale war."
CHANGED RELATIONSHIP
British Prime Minister David Cameron said: "We have to show real resolve, real resilience, in demonstrating toRussia that if she carries on in this way the relationship between Europe and Russia ... America and Russia, will be radically different."
Many commentators were unimpressed by the EU's ability to respond to an unpredictable challenge from Putin: "Clueless in Brussels," was the verdict of Germany's Sueddeutsche Zeitung.
For Le Monde in Paris, "The EU appears to be buying time, waiting for the arrival in Europe of President Barack Obama".
The Ukraine crisis erupted nine months ago when Poroshenko's pro-Moscow predecessor rejected a free trade deal from the EU, triggering a popular uprising in which he was overthrown.
Moscow, denouncing the new Kiev government as "fascists" set on harming the interests of Russia and Ukraine's large Russian-speaking minority, seized and annexed Crimea and has since been supportive of - Kiev says arming and funding - rebels in the east of the country who have set up breakaway republics.
More than 2,000 people have been killed, with the toll rising sharply since Poroshenko, elected in May, launched an offensive that seemed close to smothering the rebellion before Russian armour and troops began a counter-attack last week.
The appointments of Tusk and Mogherini balance the interests of left- and right-wing factions across the bloc, eastern and western states, northern Europe and the south, as well as satisfying some pressure for more women in senior EU roles.
Tusk, a conservative easterner, replaces the Belgian Herman Van Rompuy; Mogherini from the centre-left takes over as the bloc's foreign policy chief, replacing Briton Catherine Ashton.
Other elements in striking a deal on the top jobs will be understandings reached on further key roles in the Commission, which will be formed in the coming weeks by Jean-Claude Juncker, the former Luxembourg premier who will head the new executive.
The horse-trading over jobs underlines the power of rival national governments over the supranational institutions of the EU. Proponents of a strong political leadership in Brussels that can inspire and rally an increasingly sceptical European public behind the common project may again be left disappointed.
Tusk pledged to address Cameron's concerns over growing EU powers and immigration from eastern Europeand to work with the British leader to help avoid Britain quitting the Union.
Cameron, who has promised to seek reforms of the EU and then to give Britons a vote on continued membership, said he was "delighted" with Tusk's appointment. It came two months after Cameron lost a very public and acrimonious battle to block the appointment of Juncker, whom he sees as a European federalist.