Turkey implemented $266.5 million in tariffs against the United States on Thursday, a day before the European Union will launch its own retaliatory measures against President Donald Trump's duties on steel and aluminum.
"The total tariff burden today being imposed by Turkey on the U.S. is commensurate with the additional costs Turkey faces due to the tariffs imposed on it by the U.S.," Turkey's Economy Minister Nihat Zeybekci said in a statement, according to Reuters.
The Turkish tariffs affect American imports of coal, paper, walnuts, almonds, tobacco, unprocessed rice, whiskey, automobiles, cosmetics, machinery equipment and petrochemical products. Bloomberg reported that the tariffs impact 19 percent of the $9.4 billion in products the U.S. sends to Turkey.
Zeybekci called the tariffs "proportional, measured and designed to protect Turkey's interests, while encouraging dialogue."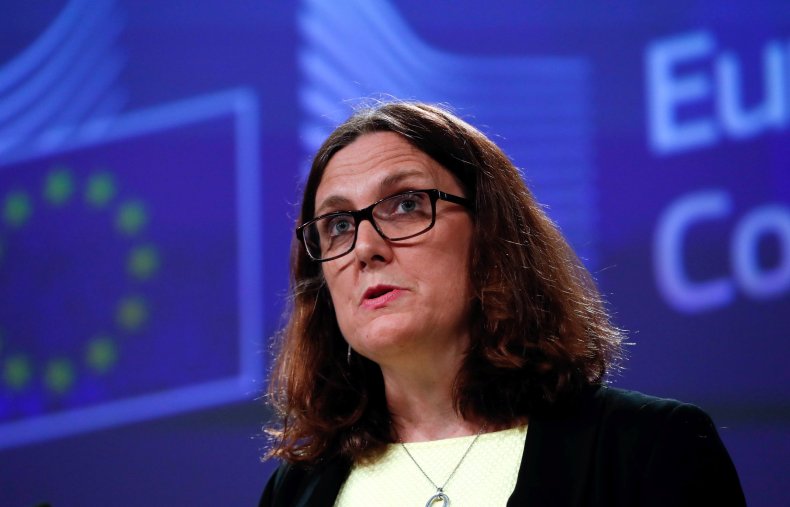 Meanwhile, the EU's $1.6 billion in tariffs will be applied to $3.4 billion worth of American goods, including trademark U.S. products including blue jeans, motorcycles and bourbon whiskey. Vox reported that the EU has carefully selected the products it will tax so the tariffs particularly affect Republican-leaning states such as Florida.
"We did not want to be in this position. However, the unilateral and unjustified decision of the United States to impose steel and aluminum tariffs on the EU means that we are left with no other choice," EU Trade Commissioner Cecilia Malmstrom said.
Trump's announcement in March that the U.S. would be imposing 25 percent import tariffs on steel and 10 percent duties on aluminum excluded key allies, including the European Union, Mexico and Canada. The president revoked those temporary exemptions in June.
World leaders have pushed back against the tariffs, which Trump has justified by saying that the world's oversupply of steel and aluminum detrimentally affects American producers of these metals. Canadian Prime Minister Justin Trudeau called the duties "illegal and counterproductive," while French Finance Minister Bruno Le Maire described them as "unjustifiable and dangerous."
South Korea, Argentina, Australia and Brazil negotiated to limit the number of metals sent to the U.S. to avoid being subjected to the tariffs, according to the BBC. Other countries were less conciliatory: China reacted particularly forcefully, levying its own duties against $3 billion in U.S. goods in April.
Bloomberg reported that preparations among World Trade Organization member countries could lead to further tariffs of $3.5 billion on U.S. goods in forthcoming weeks.