Mitt Romney Didn't Know How Close He Was to Rioters Till Unseen Security Video Aired At Trump Trial
Senator Mitt Romney didn't know just how close he came to the violent crowd that stormed the U.S. Capitol on January 6.
Never-before-seen security footage shows that Romney narrowly evaded rioters only, after Capitol Police Officer Eugene Goodman told him to run away from them.
"I was very fortunate indeed that Officer Goodman was there to get me in the right direction," Romney told reporters after watching the video of his near-miss.
The video from a Capitol hallway camera is part of the House impeachment team's evidence in its case against former President Donald Trump.
The security footage, which doesn't include audio, shows Goodman running away from the violent mob just after it stormed the Senate side of the Capitol. Romney is seen casually walking in the direction of the Senate chamber, when Goodman meets him and waves him to turn around. Romney is then seen sprinting back toward his office in the opposite direction.
Senators were warned that there would be "very graphic violent footage coming" before the House impeachment managers began a detailed play-by-play of the siege. The insurrectionists were attempting to disrupt the certification of President Joe Biden's election, after Trump spread baseless claims that the election was stolen from him.
Goodman, an Army veteran who joined the Capitol police force in 2009, has been lauded for his heroism after footage emerged of him confronting and then diverting a growing crowd that was approaching the U.S. Senate chamber before all members and then-Vice President Mike Pence could be evacuated. He has been named acting deputy sergeant-at-arms for the Senate and was invited to escort Vice President Kamala Harris during Biden's inauguration at the Capitol two weeks after the siege.
It wasn't previously known how close Romney came to facing the rioters.
Romney said he didn't know until Wednesday that it was Goodman who told him to turn around that day.
"I look forward to thanking him when I next see him," Romney said.
Romney, who has been a frequent foe of Trump, has been among a few Republican senators who have voted to continue with the impeachment trial, even though Trump is no longer in office.
Romney watched intently and didn't move as the new footage was shown of Goodman directing him away from the rioters. Goodman was posted outside the Senate chamber, on duty during the impeachment trial.
Romney was one of several near-misses that House impeachment managers have used to build their case. Footage shown during the trial also showed Pence, House Speaker Nancy Pelosi and then-Senate Minority Leader Chuck Schumer coming within feet of the insurgents. Never-before-seen security video showed that all senators who were rushed off the floor to a secret secure location were 58 feet from the crowd, blocked only by a human shield of officers.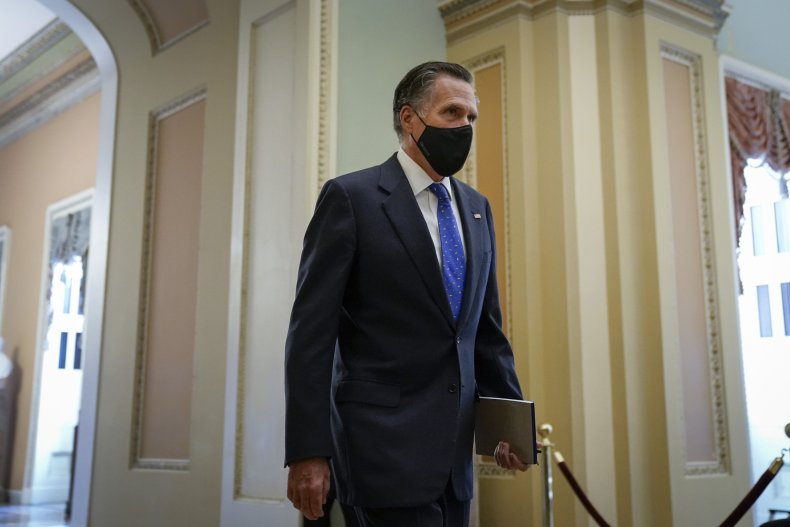 This story angle and headline has been changed to reflect Mitt Romney's comments to reporters and to honor the request of Eugene Goodman to Congressional pool reporters to remove his name from the headline.