Who is Eugene Yu? Konnech CEO Arrested Over Alleged Data Theft
The founder and CEO of an elections technology company targeted by election deniers was arrested Tuesday on suspicion of stealing poll worker data.
Eugene Yu, 51, of Konnech Corporation, was arrested in Meridian Township in Michigan on Tuesday and held on suspicion of theft of personal identifying information, Los Angeles County district attorney George Gascón said in a statement.
The district attorney's office is seeking his extradition to California.
Computer hard drives and other "digital evidence" were seized by investigators from the LA County district attorney's office.
Yu's company, Konnech, is based in East Lansing, Michigan. It distributes PollChief software to track poll worker schedules, communications and payroll.
The software requires workers to submit personal identifying information, which is retained by Konnech.
Under a five-year, $2.9 million contract with LA County, Konnech was supposed to securely maintain the data in the U.S. and only provide access to citizens and permanent residents.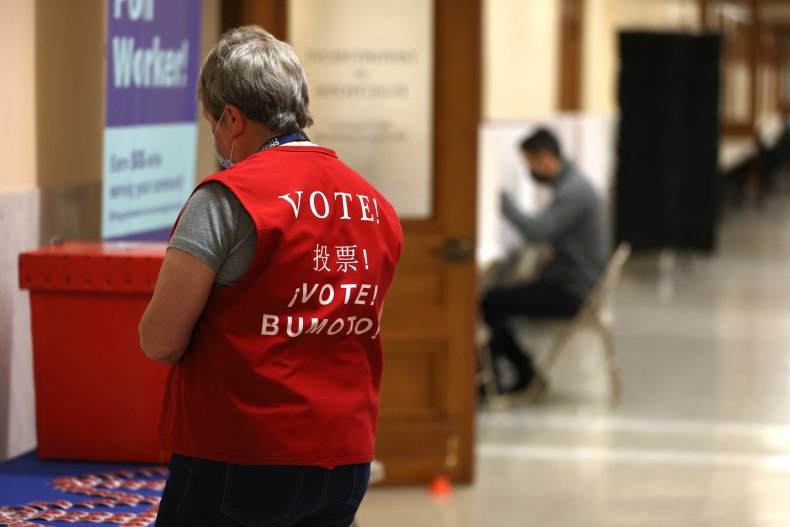 But investigators found information was stored on servers in the People's Republic of China, the district attorney's office said.
Gascón didn't specify what specific information was allegedly taken.
But he said the investigation only involved the personal identifying information of election workers, and that "the alleged conduct had no impact on the tabulation of votes and did not alter election results."
"But security in all aspects of any election is essential so that we all have full faith in the integrity of the election process," Gascón said.
"We are continuing to ascertain the details of what we believe to be Mr. Yu's wrongful detention by LA County authorities," Konnech said in a statement, according to The Associated Press.
"Any LA County poll worker data that Konnech may have possessed was provided to it by LA County, and therefore could not have been 'stolen' as suggested."
Konnech has been contacted for further comment.
Konnech has repeatedly denied keeping data outside of the U.S., the New York Times reported.
Yu is an American citizen who immigrated from China in 1986.
Yu and Konnech—which has 21 employees in the U.S. and six in Australia—became the target of claims by a group of election deniers that the company had secret ties to the Chinese Communist Party and had supplied information about 2 million poll workers.
Despite a lack of evidence to support those claims, Yu received threatening messages and went into hiding with his family, the paper said.
"I've cried," Yu wrote in an email to the Times. "Other than the birth of my daughter, I hadn't cried since kindergarten."
Konnech currently has 32 clients in North America, according to its website.
The website quotes Yu saying that the "strong partnerships we have formed with election administrators over the years have helped us continuously improve our PollChief Election management system since 2006.
"Each partnership is a special opportunity to make these tools better for our clients. After supporting thousands of elections, we still help implement our software with care and deference for each election. We can guarantee that you will get the system you want from your very first implementation."