'Euphoria' Bonus Episode Release Date: Christmas Special Confirmed
Euphoria has still not started filming its second season yet, with production still aiming to start in 2021. That does not mean, however, that Rue (played by Zendaya) and the rest of the gang from the HBO show will not be back on screens soon.
It had previously been revealed that Euphoria had filmed what HBO president Casey Bloys called a "special Covid episode" of the Emmy-winning series, filmed during lockdown to tide fans over on the long wait to Season 2.
However, it has since been revealed that there will be not one but two special episodes of Euphoria to bridge the long gap between the first set of episodes and the second.
Though Euphoria is hardly what you could call a festive show, the first special will be a Christmas-themed one. HBO has revealed that the episode will be titled "Trouble Don't Last Always," a title taken from a song by the so-called "Godfather of Gospel," the Rev. Timothy Wright.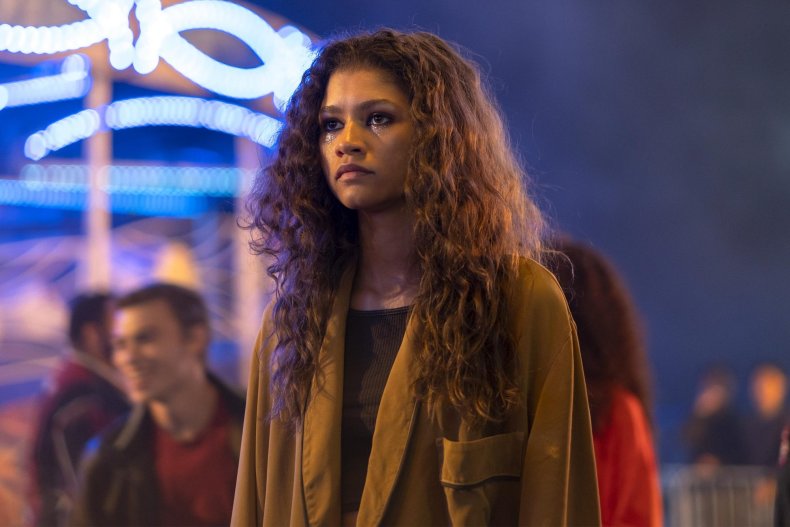 The official HBO synopsis for the Euphoria bonus episode reads: "In the aftermath of being left by Jules [Hunter Schafer] at the train station and relapsing, the first special episode follows Rue as she celebrates Christmas."
The network also revealed that the special will star Colman Domingo, who played Ali, the Narcotics Anonymous member who becomes a mentor of sorts to Rue in Season 1.
This seems to suggest that after her relapse Rue may be on the road to recovery again.
"Trouble Don't Last Always" also has a release date. The special will air on HBO on Sunday, December 6 at 9 p.m. ET / 8 p.m. CT. The release date and title of the second special, meanwhile, are TBA.
These two specials were filmed earlier in the year under Covid-19 safety guidelines.
Zendaya, fresh off of her surprise Emmy win for playing Rue, also teased the new specials on her Instagram. Sharing what looked like a screenshot from one of the episodes of Rue reflected in Jules' eye, the Greatest Showman actor wrote, "We really missed them. Two special Euphoria episodes coming soon. First one December 6th on @hbo."
She had previously teased what she was then calling a "little bridge episode." She told Jimmy Kimmel: "I don't really know how to describe it, but an episode that we can do with a limited amount of people in a safer environment so we have something to live on until we are able to go into Season 2."
Season 2, meanwhile, is set to start shooting in early 2021. The HBO show was just about to start shooting in March when COVID-19 caused nearly all TV show sets to shutdown.
Euphoria's bonus episode airs December 6 on HBO. Season 1 is streaming now on HBO Max and the HBO Now Amazon Prime Video channel.