'Euphoria's Martha Kelly Based Character on 'Disturbed Predator' She Knew
"There's something really chilling about a mild-mannered sociopath."
That's Martha Kelly talking about her breakout performance as Laurie, the eerily calm and incredibly dangerous drug dealer that Zendaya's Rue gets herself mixed up with in season two of Euphoria.
"I don't watch a lot of crime documentaries," the standup-comedian-turned-actress said, "but the ones where it's a likeable sociopath, the damage they cause is really terrifying. So yeah, it's a scary character."
In order to access Laurie, Kelly said, "I unfortunately but luckily had very limited exposure to an actual very disturbed not drug dealer but predator, so [I just thought] about how awful and creepy it is to be around someone like that," she said during SAG-AFTRA Foundation's recent panel of Emmy nominees in the category of best guest actress, drama. "But mostly just in the script and Sam [Levinson's] directing and Zendaya, who's very good at acting scared of Laurie. [And] I think Sam may have known someone similar to that character. But I have met someone who doesn't have a conscience."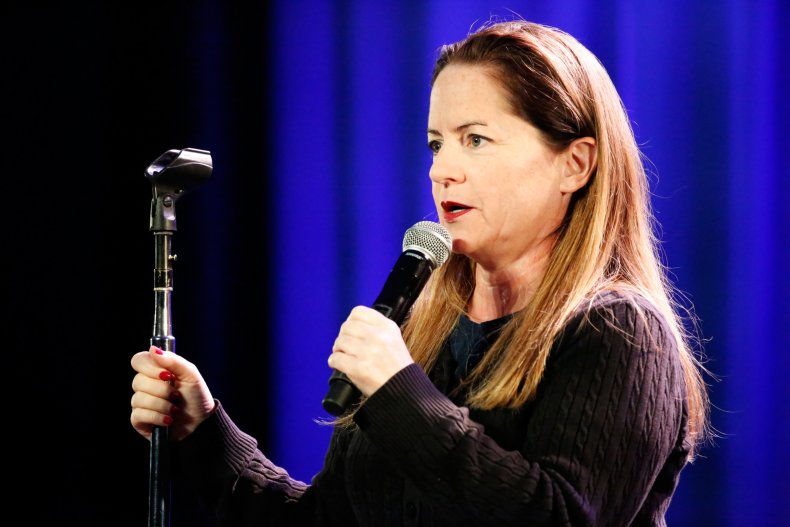 The other nominees participating in the panel included Hope Davis (Succession), Marcia Gay Harden (The Morning Show), Sanaa Lathan (Succession) and Harriet Walter (Succession). Lee Yoo-Mi, who did not attend, is nominated in the category for Squid Game.
Unlike Laurie, one of the 2021 TV season's most chilling characters, Kelly is humble and hilarious. Though she is without a doubt a bona fide actor—in addition to Euphoria, she's appeared in Baskets, Gaslit and Grace and Frankie—she still feels like an outsider looking in. "I'll just say that I was very intimidated by Zendaya because she's such a powerhouse. And she was just really easygoing and very sweet. I know it was probably awkward to have someone be that nervous around her. But she was lovely and now my niece and nephew are finally actually impressed by a job that I've had, which is exciting. It was intimidating but everyone was really nice, so it ended up being as fun as it could be considering the subject matter."
She added, "I'm nervous most of the time, including during this [panel]. But with standup, I always definitely know what I'm going to be talking about and with acting, because I've only been doing it for a few years, I just show up knowing my lines and show up on time, in a good mood, and then at least I know at least I do everything I can. And then the acting part, the director will either say that was great or can you try it differently, or worst-case scenario, they might say, Sorry, you're fired, but at least if that happens, it won't be because I messed up something that I could have tried harder at....And it's also a group effort, which is really fun."
Of the other women on the panel, she revealed, "I'll just say that I am more of a fan of all of you than what I would consider a peer, and so I really do wish the nomination part was the end because then everyone just feels really stoked....I have such an admiration for actors and feel kind of on the outside of it, so it's wonderful to be with you ladies. I'm a fan and I'd never expected anything like this. I love you all and I'm really thrilled to be here."
"I don't think we could do what you do," offered Walter about standup comedy. "It's a big gladiatorial deal."
"Exactly!" echoed Lathan.
To which Kelly responded, "I kept muting because my cat Gary was walking around yelling." (See for yourself in the video below.)
She added, "I'm not trying to be self-deprecating, but it is a big deal. If you can have a career and longevity, that's really amazing. But let's say you get three acting jobs your whole life, still, what an amazing thing to get to do and so many people want to do it and don't get to."
The Emmy Awards air on NBC and stream on Peacock on July 12.