Meet the New Cast and Characters in 'Euphoria' Season 2
The brand new season of Euphoria, which premiered on January 9 on HBO Max has seen fans finally reunited with Rue, played by Emmy-winning actress Zendaya, after more than two years of waiting.
It also sees the return of Maude Apatow as Lexi, Angus Cloud as Fez, Eric Dane as Cal, Alexa Demie as Maddy, Jacob Elordi as Nate, Barbie Ferreira as Kat, Nika King as Leslie, Storm Reid as Gia, Hunter Schafer as Jules, Algee Smith as McKay, Sydney Sweeney as Cassie, and Colman Domingo as Ali.
For the second season, there are also some new faces joining the Euphoria world, from fellow drug addicts to new students and love interests.
Newsweek has everything you need to know about the new cast and characters of Euphoria Season 2 below.
Meet the New Cast and Characters in 'Euphoria'
In 2021, HBO Max announced three new actors would be joining the cast of Euphoria Season 2: Dominic Fike, Minka Kelly, and Demetrius "Lil Meech" Flenory Jr.
Details of their characters were kept largely under wraps but thanks to some teaser details revealed in interviews, fans were able to get to know the newbies before they made their debut.
Elliot — Dominic Fike
Dominic Fike is a 26-year-old singer, songwriter, and musician from Florida. Over the last year, Fike has collaborated with Halsey, Kevin Abstract, Justin Bieber, and slowthai and even appeared on the lead single on Paul McCartney's 2020 album, McCartney III Imagined.
Fike was originally supposed to star in Euphoria Season 1, but the part he auditioned for was eventually written out. He was then approached to star in Season 2 and thankfully, Fike said yes.
Now, after more than two years of waiting, Euphoria marks Fike's acting debut. Speaking to Variety, Fike described his character, Elliot, as a "homie" who finds himself part of a love triangle with Rue and Jules.
He also shared his character is a lot like him in real life.
"I don't have to do much acting," Fike said. "He's exactly like me. It's s*** I would say and s***I would do."
Speaking of Fike's character and Elliot's importance to the story, Zendaya added: "There were a lot of conversations over the years about where the show was going to go and what it was going to evolve into, and I remember when Sam first kind of talked about the idea of this Elliot character, I wasn't feeling it—as someone who ships 'Rules' to the bitter end.
"And I was like, 'whoa, whoa, whoa, what are we doing here?' But, in retrospect, and also as someone who understands where the show needs to go and what needs to happen for these characters, it's crucial that Elliot exist, and that he be the person that is honestly the catalyst for a lot of things that just have to happen."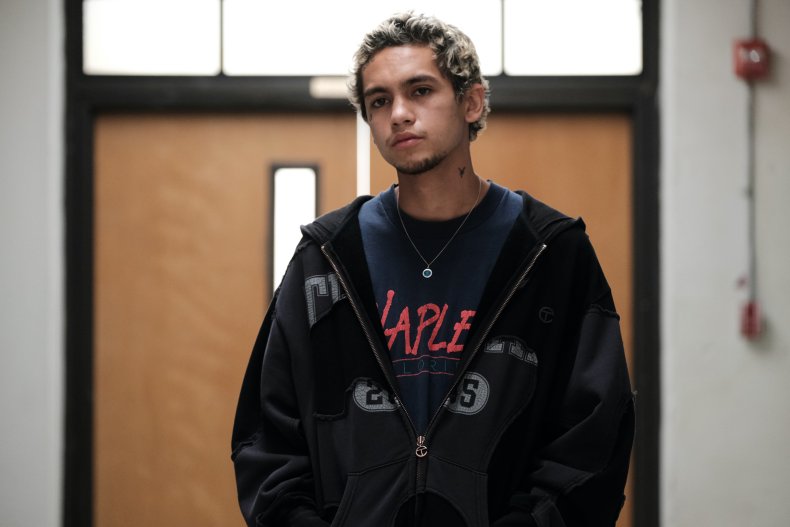 Samantha — Minka Kelly
Minka Kelly stars as Samantha, a rich housewife who Maddy babysits for in Euphoria Season 2.
Kelly is best-known for her role as Lyla Garrity in Friday Night Lights, starring alongside Kyle Chandler and Connie Britton.
Since 2018, Kelly has starred in HBO Max's Titans as Dawn Granger/Dove.
Her other well-known credits include Parenthood, Charlie's Angels and Almost Human.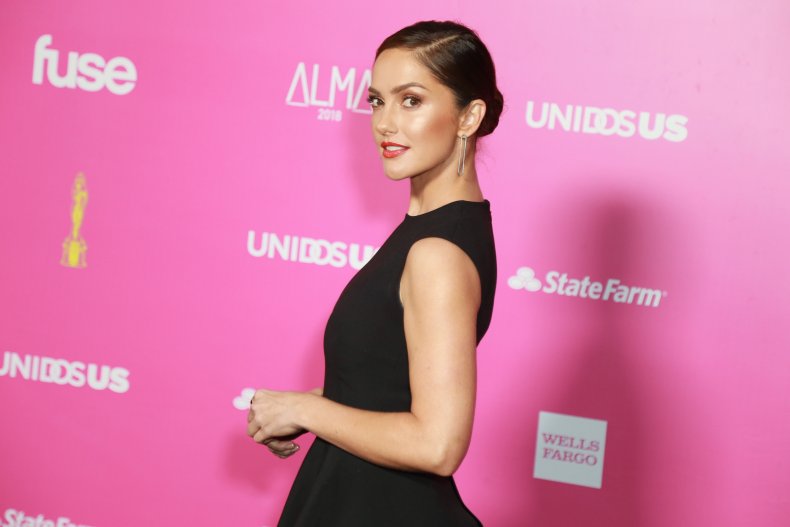 Travis — Demetrius "Lil Meech" Flenory Jr.
Demetrius Flenory Jr. made his debut as Travis in Season 2, Episode 1 of Euphoria. Marking his entrance, Travis has eyes only for Maddy (Alexa Demie) and the pair seem to be hitting it off, so much so, he unintentionally saved Maddy from finding out Cassie (Sydney Sweeney) was hiding in the bathroom after sleeping with her ex-boyfriend Nate (Jacob Elordi).
Outside of acting, Flenory, 21, is also known for his rap career under the name Lil Meech. He released his first song in 2019 titled "Bad Habits." Another up-and-coming actor, Flenory made his acting debut this fall, playing the lead and his real-life father Demetrius "Big Meech" Flenory in Starz's Black Mafia Family.
Speaking to Allhiphop, Flenory Jr. said: "It was an amazing experience. I really probably can't say exactly what my part is, but it was an amazing experience because I got to work with Zendaya, Hunter Schafer. And people will get to see a whole different side of Meech. It's not the same Meech, that's why I tell you, it's definitely a whole different side."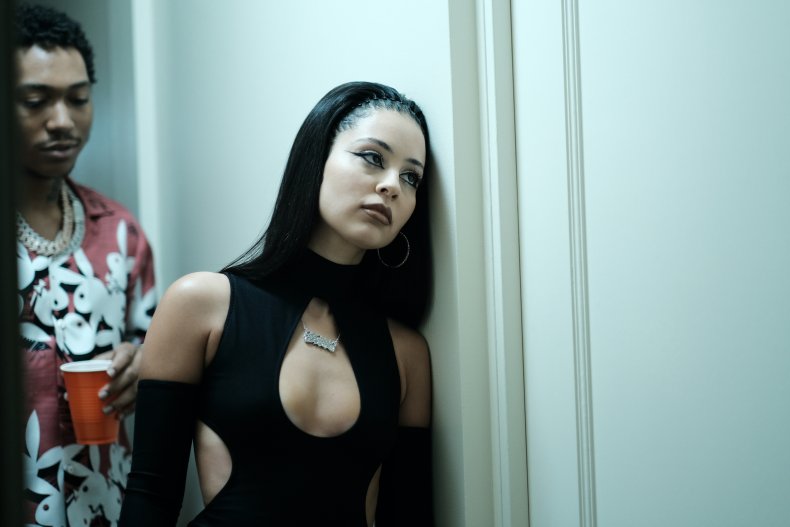 Fez's Grandmother — Kathrine Narducci
Kathrine Narducci opened the first episode of Euphoria Season 2, taking on the character of Fez's grandmother.
As fans expected, Fez and his younger brother Ashtray came from a pretty troubled and rough background. Fez's grandmother was a drug dealer and was in and out of all sorts of trouble but one thing is for sure, she loved her grandchildren with all her heart.
Narducci is best known for playing Charmaine Bucco, Artie Bucco's wife in The Sopranos and Carrie Bufalino in The Irishman.
Her other well-known credits include Power, Godfather of Harlem and Capone.
Faye — Chloe Cherry
Chloe Cherry plays the role of Faye, a heroin-addict who accidentally falls into the care of Fez.
Cherry made her debut as Faye in the first episode of Euphoria Season 2 and was present at the house where Fez and Ashtray went to seal a drug-deal with a powerful gang. Once the deal was done, audiences assumed that was the first and last time they would see Faye.
However, in Episode 2 it was revealed she was on the run after she accidentally killed a man by pushing him over a balcony and somehow ended up having to crash at Fez's place for a while. Her friendship with Fez is all well and good, until her presence seems like it could be a problem for Fez and Lexi's blossoming romance.
Euphoria is Cherry's first major mainstream acting role to date. She is best known for her career in the adult film industry, a job she has worked in since the age of 18, reports Decider.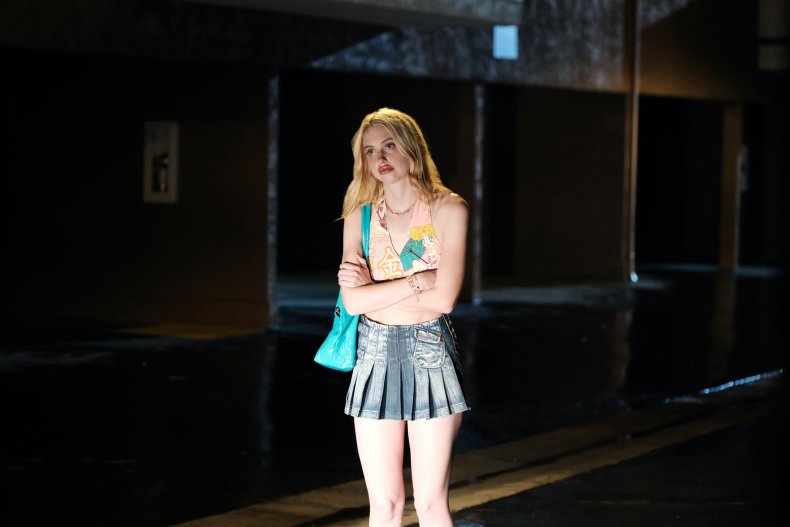 Laurie — Martha Kelly
Martha Kelly stars as the powerful drug dealer in Euphoria, who was Mouse's (Meeko Gattuso) supplier in Season 1 before his death.
In Episode 3 of Euphoria, with Rue's addiction getting worse, she decides to present Laurie with a business opportunity to become one of her newest dealers. Laurie accepted and tasked Rue with selling a suitcase filled with $10,000 worth of drugs.
Kelly is best known for her stand-up career and appearing in the FX comedy series Baskets. Euphoria fans may also recognise her as Nancy Katz in Marriage Story and Gloria in Corporate Animals.
She will next star in the up-coming sci-fi thriller film Dual alongside Karen Gillan, Aaron Paul and Jesse Eisenberg.
Eagle-eyed Euphoria fans may have also spotted several casting calls in February 2021 and their details give some clues about which sort of characters audiences may be introduced in Season 2.
Jamieson (Lead): An outsider aged 18-25 who "might have a drug problem, might not."
Bruce (Supporting): The producers of Euphoria were looking for an actor aged 30-50 to play the role of Bruce, a "hot-headed man on probation with a history of crime."
Darian: Darian is a 17-year-old described as an "outsider, sensitive, vulnerable, and mischievous."
Ray: Ray in Euphoria Season 2 is "attractive with an edge"
Ami: Ami is a drug addict and stripper who often can't read the room.
Serena: Serena is a woman in her 50s described as "sassy and tough."
Euphoria Season 2 premiered on Sunday, January 9 on HBO Max.
Update 02/14/22, 4:00 a.m. ET: This article has been updated to include more information about Minka Kelly and new characters in Season 2.