'Euphoria' Season 2 Soundtrack: All of the Songs in the HBO Max series
The first season of Euphoria wowed critics and audiences with it's gripping storylines, top performances from the diverse cast, and boundary-pushing twists and turns when it aired in June 2019 on HBO Max.
It also received a lot of praise for its soundtrack, created by and featuring British musician Labrinth.
The show is back for season 2, airing every Sunday on HBO Max and Labrinth has once again produced an eclectic soundtrack for fans to fall in love with.
Each week, Newsweek will bring you the list of songs from each episode. Expect to hear a variety of sounds from original tracks to rap, country, pop, and R&B. Warning, spoilers below.
All Of The Songs in Euphoria Season 2
Episode 1 — Trying to Get to Heaven Before They Close the Door
In Episode 1 of Season 2, the entire Euphoria gang attends a New Year's Eve party and it's fair to say, it will be a night they won't forget, for all the wrong reasons.
The good news is, Rue (played by Zendaya) and Jules (Hunter Schafer) reunited and confessed their feelings for each other. The bad news is, their reunion happened on the same night Rue almost died (again) after deciding to dabble in some heroin.
Elsewhere, Cassie (Sydney Sweeney) and Nate (Jacob Elordi) decided to hook up and were almost caught by Nate's ex-girlfriend Maddy (Alexa Demie). Thankfully for Cassie's sake, their rendezvous went under the radar, although it looks like Cassie's ex-boyfriend McKay (Algee Smith) may have an inkling something happened.
However, karma for all of the terrible things Nate has done in the past came for him in the form of Fez (Angus Cloud), who hit him over the head with a glass bottle and punched him to the ground, leaving him bloodied and unconscious.
"Don't Be Cruel" by Billy Swan — When the flashback to Fez's childhood when his grandmother marches into the strip club and shoot's Fez's father in the pelvis
"I Want Action" by Poison — When Fez's grandmother is spotted sunbathing on the roof of their home.
"Hit 'Em Up" by 2Pac — The song Rue raps in the back of Fez and Ashtray's car on the way to the drug deal.
"Right Down the Line" by Gerry Rafferty — When Rue and Fez are told to strip by the drug dealers. The song was also featured in the official trailer.
"Dirty Work" by Steely Dan — When Rue and Fez are allowed to put their clothes back on.
"Nate Growing Up" by Labrinth — The song that plays when Nate bumps into Cassie outside the convenience store and they talk about their breakups.
"Dead of Night" by Orville Peck — Nate drives Cassie to the party at 100mph and as a result, she spills her drink all over herself. She then decides to take off her soaking underwear and hang her head out the window and he drives.
"Hypnotize" by The Notorious B.I.G. ­— The girls walking into the New Year's Eve Party.
"Runway" by Blaq Tuxedo — The song that plays when Maddy is aggressively knocking on the bathroom door, not knowing Nate and Cassie are inside having sex.
"Back That Azz Up" by Juvenile, Lil Wayne, and Mannie Fresh — This track can be heard playing in the background of the New Year's Eve party.
"Uhuh Yeah" by G.L.A.M and Colbie — When Rue and Elliot (Dominic Fike) are in the laundry closet and Rue goes into cardiac arrest.
"DIRT" By B.O.B — Cassie is hiding in the bathtub.
"Party Up" by DMX — Plays when Maddy and Travis (Demetrius Flenory Jr.) dance in the living room.
"Madonna" by Tarik — When Nate interrogates McKay about his conversation with Cassie, assuming they had sex.
"4,5,6" by Big Mali — When Fez asks Lexi for her phone number after an evening of low-key flirting on the couch.
"The Lake" by Labrinth — New Year's Eve countdown.
"(I Just) Died In Your Arms by Cutting Crew — End Credits.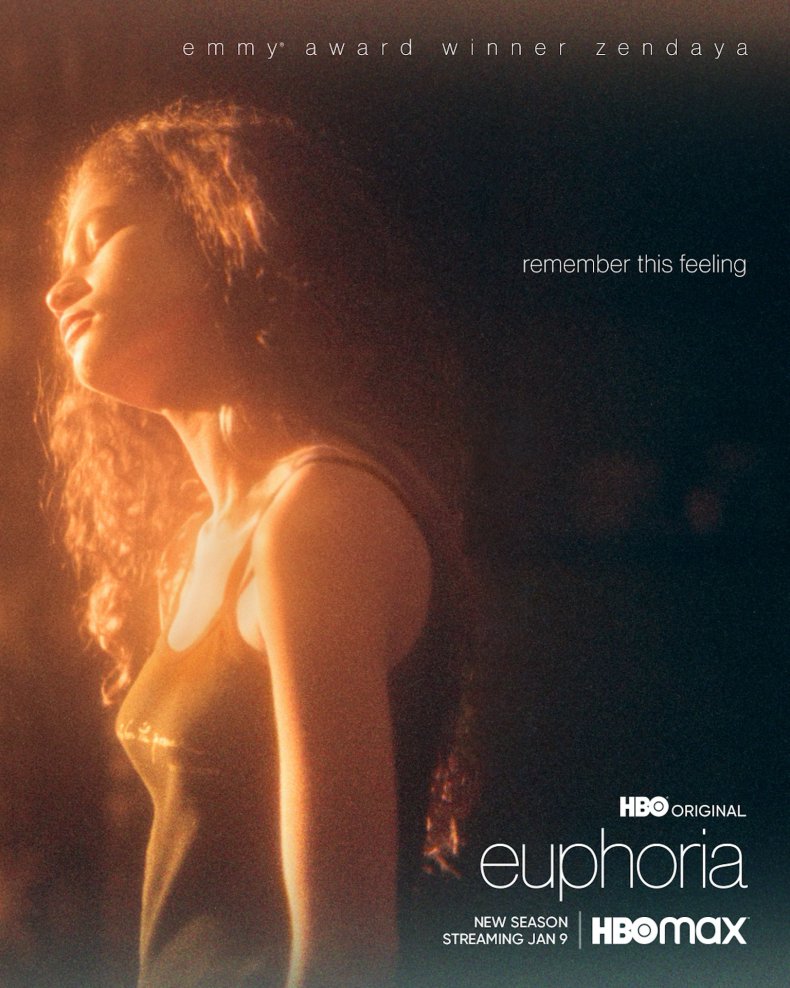 Episode 2
— Out of Touch
Episode 2 of Euphoria follows on from the events of New Year's, which saw Fez violently attack Nate, leaving him bloodied, unconscious and waking up in a hospital bed. Nate (somehow) survived the attack and as expected, Fez's actions have not come without consequences, especially if Nate's father, Cal Jacobs (Eric Dane) has anything to do with it.
Things ultimately backfire for Cal in the end, with Nate revealing he was fully aware Cal had sex with Jules and recorded their entire sexual encounter, without her consent.
The episode came to a dramatic end with Cal begging Nate to tell him where the missing tape was located, but whether Nate knows exactly where the tape is himself...fans will have to wait until Episode 3 to find out.
"Live or Die" by Noah Cyrus, Lil Xan — The opening song of Episode 2, when Nate dreams about a life with Cassie and not his ex-girlfriend Maddy.
"I've Never Felt So Alone" by Labrinth — Labrinth's original track plays when Rue and Jules see each other at school and kiss in the corridor.

"Come Rain Or Come Shine" by Judy Garland — When Maddy tries on the expensive, designer clothes at the babysitters house.
"Do What You Want, Be What You Are" by Daryl Hall and John Oates — Plays in Kat's (Barbie Ferreira) room as she kisses Ethan (Austin Abrams).
"Haunted" by Laura Les — Lexi (Maude Apatow) decides to take a risk and pay a visit to Fez at his store.
"Right Down the Line" by Gerry Rafferty — Rue dances to "Right Down the Line" in Elliot's bedroom.
"She Brings the Rain" by Can — "She Brings the Rain" is the sound to the montage of Rue riding her bike to her addiction class, Cassie and Nate kissing in his car and Maddy trying to call them both.
"Blue Monk" by Thelonious Monk — Rue and Ali (Colman Domingo) talk in his car about how great Thelonious Monk's music is.
"Seaside_demo" by SEB — Elliot and Rue talk about love, the potential cause of their addiction and Rue's father's death.
"Hennythings Possible" by Vintage Lee — Lexi arrives at Fez's store.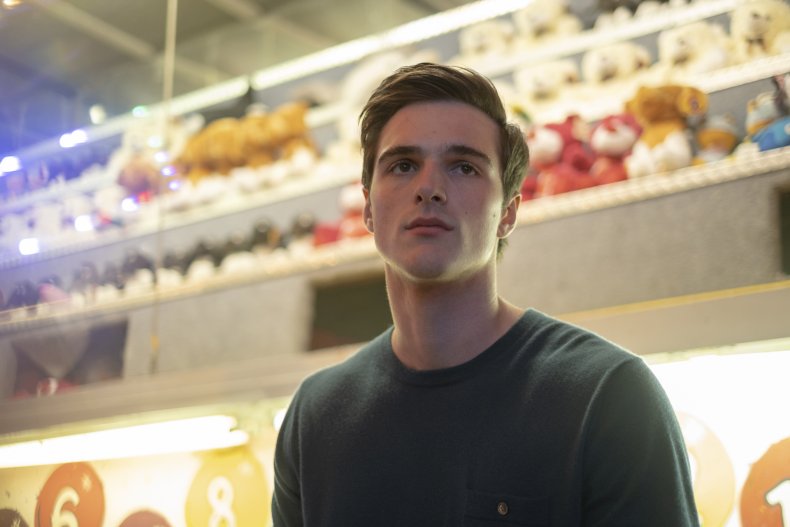 Episode 3 — Ruminations: Big and Little Bullys
In Episode 3 of Euphoria Season 2, audiences finally get to learn a little bit about Cal's backstory and his sexuality. It turns out, Cal (Elias Kacavas) had been suppressing feelings for his best friend Derek (Henry Eikenberry) as a teenager but on the night of their graduation, they finally kissed.
However, the following morning Cal felt like he had to suppress his true self once again, after his girlfriend Marsha shared the news she was pregnant.
Elsewhere in the episode, Rue crossed the line from drug taker to a drug dealer, after sleeping with Cassie in secret, Nate decided to visit Maddy with a bunch of flowers and Jules and Elliot have some serious chemistry between them, Rue better be careful.
"Need You Tonight" by INXS — At the beginning of the episode when Cal and Derek are driving. The song also plays when Cal and Derek are in the bar towards the end of the Cal backstory.
"Mystify" by INXS — Cal wrestles at school and impresses Marsha.
"Never Let Me Down Again" by Depeche Mode — The song plays when Cal and Derek get milkshakes and an attractive girl walks past.
"The Look" by Roxette — Marsha and Cal are out for a drive and things get pretty intimate between them.
"Chains of Love" by Erasure — Derek and Cal are hanging out in Cal's bedroom and Cal talks about his night in the car with Marsha.
"Lips Like Sugar" by Echo & The Bunnymen — Cal and Derek are hanging out with their girlfriends and they jump into the pool naked.
"She Sells Sanctuary" by The Cult — Cal and Marsha have sex for the first time.
"It Ain't Over 'Til It's Over " by Lenny Kravitz — "It Ain't Over 'Til It's Over" plays when Cal and Derek wrestle.
"I Can Dream About You" by Dan Hartman — Derek and Cal go to a gay bar after graduation.
"Never Tear Us Apart" by INXS — Cal and Derek dance at the bar and eventually kiss.
"Call Me Irresponsible" by Bobby Darin — Rue is high in her room, singing and dancing with a pillow.
"Como La Flor" by Selena — Maddy and Cassie talk about Nate by the pool.
"Effigy (I'm Not An)" by Ministry — Rue cycles past Cal in his car.
"Emotions" by Brena Lee — A fast montage of Cassie and Nate having sex, every Friday for the past 3 weeks.
"Gangsta Nation" by Westside Connection — Rue leaves Lori's house with a suitcase full of $10,000 of drugs.
"Watercolor Eyes" by Lana Del Rey — End Credits.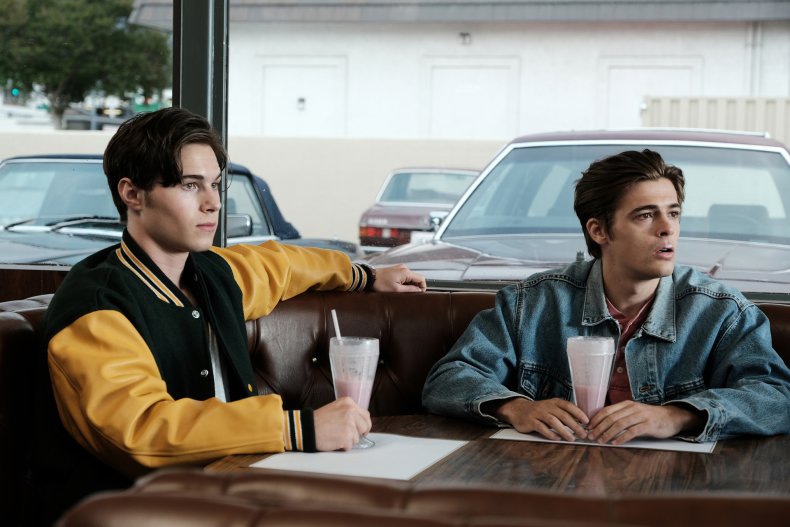 Episode 4 — You Who Cannot See, Think of Those Who Can
In Episode 4 of Euphoria Season 2, it was suddenly the right time for Cal Jacobs to come clean to his family. In a booze-fueled speech, Cal admitted he was attracted to men and that he had had several affairs during his marriage, with men, women and trans women, before walking out on his wife Marsha and two sons, Nate and Cal.
Elsewhere, there is a huge possibility Rue has overdosed (again), Jules and Elliot slept together and Cassie is seriously spiraling over the possibility Nate and Maddy have rekindled their romance.
"I'll Be Here in the Morning" by Townes Van Zandt — Opening song of the episode. Jules and Rue are taking their relationship to the next level but Rue is so high, she (hilariously) fakes an orgasm.
"Summertime/Sometimes I Feel Like a Motherless Child" by Mahalia Jackson — A montage of Cassie and Maddy at Maddy's birthday.
"How Long" by Tove Lo — The girls party to celebrate Maddy's birthday.
"Devil Inside" by INXS — Cal drinks in the living room as Nate writes Maddy's birthday card. He tells his son he is going out for a drive and Nate asks him to wear a seatbelt.
"I Was Dancing In the Lesbian Bar" by Jonathan Richman — Rue and Elliot dance in Elliot's bedroom. When Rue leaves to use the bathroom, Jules and Elliot kiss.
"This Is How We Do It" by Montell Jordan — Maddy dances at her party.
"trademark usa" by Baby Keem — Elliot drives with Jules and Rue to a gas station where they steal alcohol.
"sad4whatt" by Ericdoa — Nate arrives at Maddy's birthday party.
"Heartbeat" by Red 7 — Cal drives to a gay bar, swerving in the road.
"Bailala" by Chiki Di — Nate gives Maddy a Tiffany & Co. necklace for her birthday.
"Vitamin C" by Can — Rue argues with Elliot and Jules in the car and asks Elliot to drive her home.
"Don't Cha" by The Pussycat Dolls — Cassie changes out of her pink dress into a bright pink bathing suit and walks down the stairs, catching Nate's eye.
"Way Over My Head" by Love Taps, Chi Duly and Melika — Lexi watches her sister Cassie's behavior spiral.
"Method of Modern Love" by Daryl Hall & John Oates — Cal arrives at the gay bar and drinks.
"Drink Before the War" by Sinéad O'Connor — Cal picks "Drink Before the War" on the jukebox and sings along. Cassie also sings along to the song at Maddy's party, getting tangled up in the balloons and downing a bottle of wine.
"Love Like This" by Faith Evans — Nate and Maddy argue in the hot-tub. When Maddy starts listing all of the promises Nate has told her, including marriage and having kids, Cassie throws up into the water.
"True" by Spandau Ballet — Cal dances in the gay bar with a man he imagines to be Derek.
"(Pick Me Up) Euphoria" by James Blake and Labrinth — End Credits.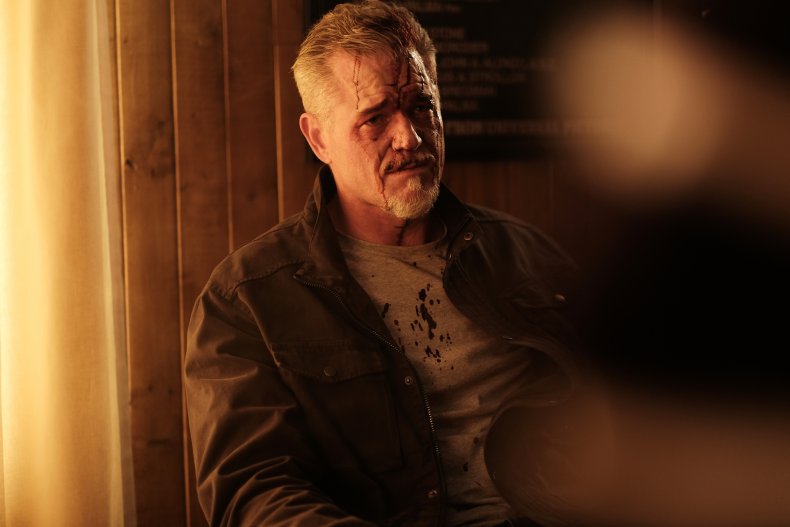 Episode 5 — Stand Still Like the Hummingbird
Finally, five episodes into Euphoria Season 2, fans got the Rue-centric episode they had been waiting for. After learning of Rue's relapse, Jules told Rue's mother Leslie (Nika King) the truth about her daughter.
As a result, Leslie and Rue's sister Gia (Storm Reid) flushed her $10,000 stash of drugs down the toilet, causing Rue to not only suffer from withdrawal but completely break down. Desperate to get her fix and to find a way to pay back Laurie (Martha Kelly), Rue went on the run, hurting herself and everybody in her path, even going as far to expose Cassie and Nate's secret relationship.
"Fever" by Sharon Cash — Rue breaking into a stranger's home, stealing their jewelry and $2,000 in cash.
"Understand Me" by Labrinth — Labrinth's orginial song plays as Rue runs away from the cops in the dead of night.
"It Never Rains In Southern California" by Albert Hammond — End credits.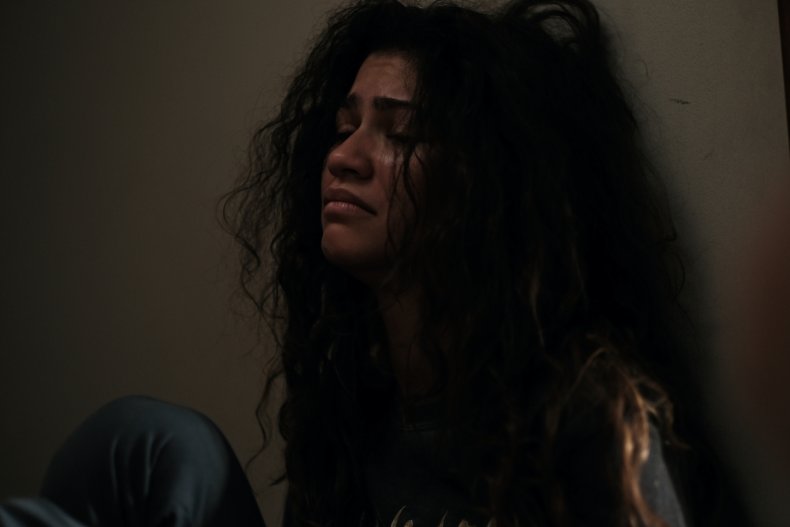 Episode 6
—

A Thousand Little Trees of Blood

In Episode 6 of Euphoria Season 2, a twisted sense of reality finally set in for Nate Jacobs. Now that his relationship with Cassie had been exposed thanks to Rue, he had to make a decision between his on-and-off again girlfriend Maddy or the woman he says he loves, Cassie.

In the end, Nate ultimately chose Cassie, but in order do that, he had to burn some bridges and heal open wounds.

He visited Maddy and threatened her at gunpoint to retrieve the tape of his father having sex with an underage Jules. He then passed the tape onto to Jules and admitted he had feelings for her. Moments later, he called Cassie and asked her to come over, ending their call with "I love you."

"Stairway To The Stars" by Dexter Gordon ft. Bud Powell, Pierre Michelot and Kenny Clarke — Plays when Ali comes over to visit Rue and her family and cooks with Gia in the kitchen.

"My Lovin (You're Never Gonna Get It) by En Vogue — Nate's mom Marsha dances in the kitchen with a glass of wine, celebrating Cal walking out on the family.

"Stand By Me" by Ben. E King — Fez and Lexi sing the song with tears in their eyes after watching the film of the same name.

"I'll Be There For You/You're All I Need To Get By" ft Mary. J Blige [Puff Daddy Mix] by Method Man — Nate drives to Jules house with the tape of Cal and her in the front seat.

"Quiet, The Winter Harbour" by Mazzy Star — Nate and Cassie arrive at Nate's house, Nate's mom smiles at Cassie.

"Peace Piece" by Bill Evans — End credits.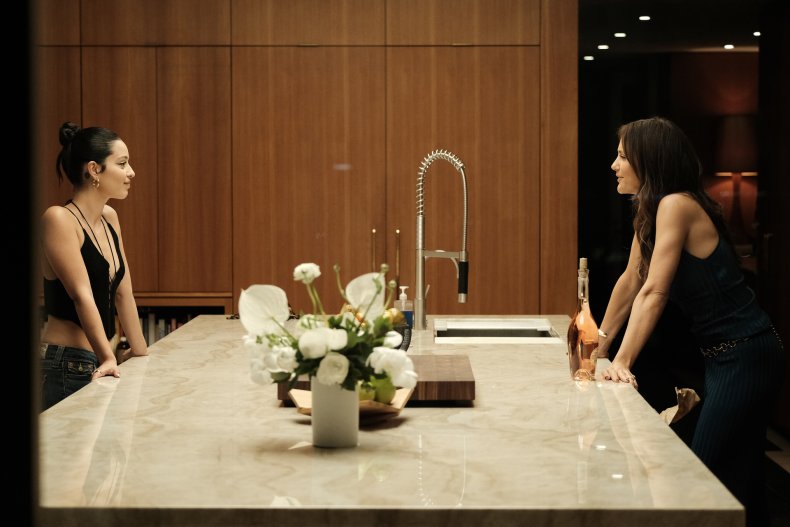 Episode 7 — The Theater And Its Double
Lexi Howard finally got her time to shine in Euphoria Season 2, Episode 7. Her highly-anticipated play had its opening night and within the first half, she had dropped some serious truth bombs on her peers.
Not only did Lexi hold up a mirror to her own sister, she also shone a light on Nate's secrets, Rue's addiction, her parents and her jealously of Maddy.
One of the most savage moments of all was when Ethan (Austin Abrams) as Jack (Nate in the play), performed a homoerotic dance routine to Bonnie Tyler's "Holding Out for a Hero," causing Nate to walk out of the theatre and dump Cassie in the process.
"Amore mio aiutami (Version No. 2) by Piero Piccioni — Lexi's play begins.
"Minuet in a major, D. 334" by Gerhard Oppitz — Rue's father's funeral.
"Rêverie, L. 68: Reverie" by Claude Debussy and Michael Korstick — Lexi reads Rue the poem "Let This Darkness Be a Bell Tower" by Rainer Maria Rilke.
"Love Will Keep Us Together" by Captain & Tennille — The cast of Lexi's play are introduced.
"Uno che grida amore" by Ennio Morricone — Lexi and Fez talk on the phone.
"Luna, amore e no" by Piero Piccioni — The scene in Lexi's play where she talks about life after high school.
"Vivre Pour Vivre" by Frances Lai — Lexi talks about her hopes to fall in love.
"The World Hurricane" by Air — Nate and Cassie make their debut at school as a couple.
"Count My Blessings" by Fleacoco — Lexi watches Rue and Fez hang out when they were younger.
"E'vero Ogni Mondo E Felice" by Piero Piccioni — Lexi and Rue talk on the roof.
"More (Remastered)" by Bobby Darin — Lexi dances with her dad.
"Spartacus - Love Theme" by Alex North — In Lexi's play when Jade convinces Lexi to smoke, before flashing back to Rue and Lexi smoking in real life.
"Oops (OhMy) ft. Missy Elliot" by Tweet — The cheerleaders perform in Lex's play.
"Surrender - From II Commissario Pepe" by Armando Trovajoli — The montage of Cassie crying in the school bathroom, Kat dancing as a cam girl and Cassie and Nate kiss in bed.
"Ti prego amani" by Ennio Morricone — Maddy opens her gift from Samantha.
"Holding Out for a Hero" by Bonnie Tyler — Ethan as Jake (A.K.A Nate) lip syncs along to the song and performs a dance routine with actors playing members of the football team.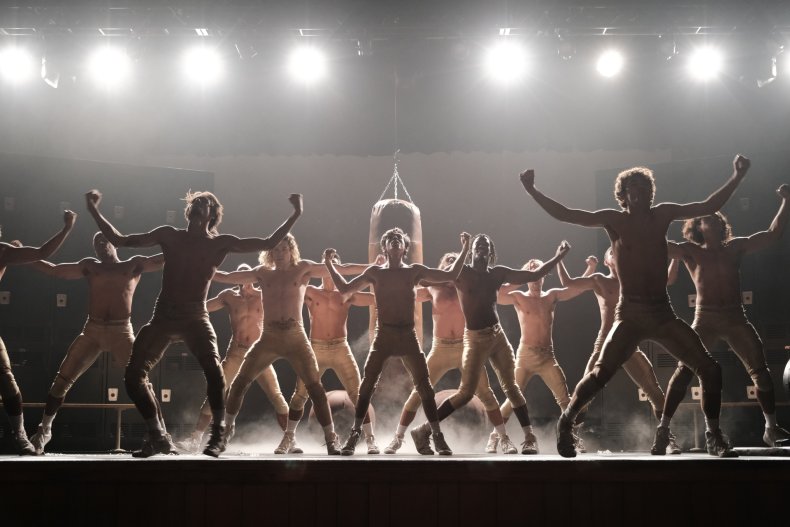 Episode 8 — All My Life, My Heart Has Yearned for a Thing I Cannot Name
Sadly, one person who did not make Lexi's play was Fez, despite his best intentions. Instead, Fez had found himself in the middle of a police shootout, after they closed in on his home in relation to the death of Mouse.
Thankfully, Fez made it out alive but unfortunately, Ashtray was shot dead by the police after he decided to try and take them down single-handedly by shooting from behind the bathroom door.
Elsewhere in the Euphoria Season 2 finale, Cassie and Maddy had a full on fight on the school's stage and Rue worked on herself, giving and asking for forgiveness from others. In another big twist, Nate got his own father arrested after over a decade of torment.
"Uno che grida amore" by Ennio Morricone — Fez and Lexi talk on the phone
"Un homme qui me plait (Concerto pour la fin d'un amour)" by Francis Lai — Lexi is woken up by her mother and visits her father in hospital.
"For Gillian/End Title" by John Williams — Lexi checks her phone for a message from Fez as Cassie angrily stares into the theatre.
"Elliots Song" by Dominic Fike — Written by Zendaya and Labrinth. Elliot sings it to Rue when she pays him a visit to let him know she has forgiven him.
"Ti prego amami" by Ennio Morricone — Plays as Rue gives a speech at her father's wake and Fez is arrested.
"The Lake" by Labrinth — Ashtray kills a police officer before he is shot himself.
"Can't Get You Out of my Head" by Kylie Minogue — Plays as Nate visits his father.
"I'm Tired" (From "Euphoria" An Original HBO Series) by Zendaya and Labrinth — Rue shares she stayed clean the rest of the school year and wants to try and be a good person. Also plays as the end credits begin.
Euphoria Season 2 airs on Sundays at 9 p.m. ET on HBO Max.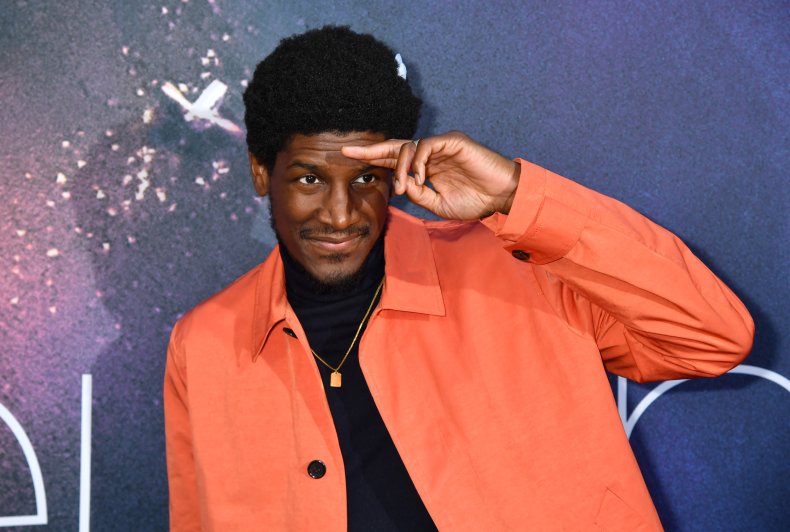 Update 02/28/22 at 7.34 a.m. ET: This article was updated to include more information on Euphoria Season 2's soundtrack.