'Euphoria' Viewers Shocked by Sex, Drugs and Nudity in HBO Teen Drama: 'Not for the Faint of Heart'
New HBO teen drama Euphoria premiered on Sunday night, shocking many viewers with its explicit depictions of sex, drugs and nudity.
Based on the Israeli show of the same name, the eight-part series follows a group of high school students including recovering drug addict Rue, played by former Disney Channel star Zendaya. The program had already stirred a great deal of controversy before it even aired for its unflinching look at the lives of Generation Z, with actor Brian "Astro" Bradley allegedly quitting the show after feeling uncomfortable about the sex scenes, according to the Hollywood Reporter.
Warning—spoilers of the first episode of Euphoria below.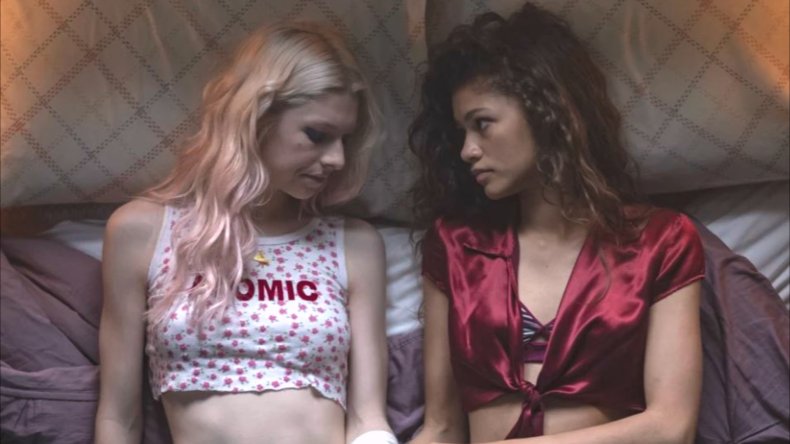 In the pilot episode, as well as a drug overdose, there are two particularly distressing sex scenes. One involves one teen choking another during intercourse, while another shows a 17-year-old trans female character raped by an older man in which you see his erect penis.
Viewers took to Twitter after the episode aired to express their shock at some of the scenes in the show. One person warned "Don't watch Euphoria if you are easily triggered by:
Addiction/drug use
Overdosing
Rape
Cutting
Sheeeeesh."
Others pointed out that the levels of nudity were similar to HBO's other infamous show, Game of Thrones.
One person wrote "euphoria is out here trying to put game of thrones to shame in terms of nudity lmao," while another said, "even though i was expecting all the nudity,, it was still kinda shocking?? i got over it quick and they really did those scenes well"
Despite the many outrageous moments in the pilot episode, many viewers praised the fact the show was not pulling its punches when depicting what modern teenagers have to go through.
One person tweeted "#EuphoriaHBO Not for the faint of heart, or the easily disturbed. But it's a really fucking good story so far," while another added "Everyone needs to watch Euphoria it's amazing they don't sugarcoat anything they show real shit teenagers go through."
And others pointed out that the sex, drugs and nudity in the show should not be the major talking point. "If the only thing you take away from Euphoria is nudity and sex, then you missed the point of Euphoria," one person wrote.
Some critics were not as impressed. Writing in Rolling Stone, Alan Sepinwall said "there are moments where Euphoria seems to cynically lean into fearmongering about teen recklessness."
Caroline Framke of Variety observed that "The premiere careens so chaotically, and is so aggressively jarring that it would be completely understandable if viewers tuned out just to avoid the sheer stress of it all."
Written by Sam Levinson, son of the Hollywood director Barry Levinson, and executive produced by Canadian rapper Drake, Euphoria also stars Maude Apatow, Hunter Schafer, Algee Smith, Barbie Ferreira, Jacob Elordi and Sydney Sweeney.