Euro 2016: Who Makes The Team Of The Tournament?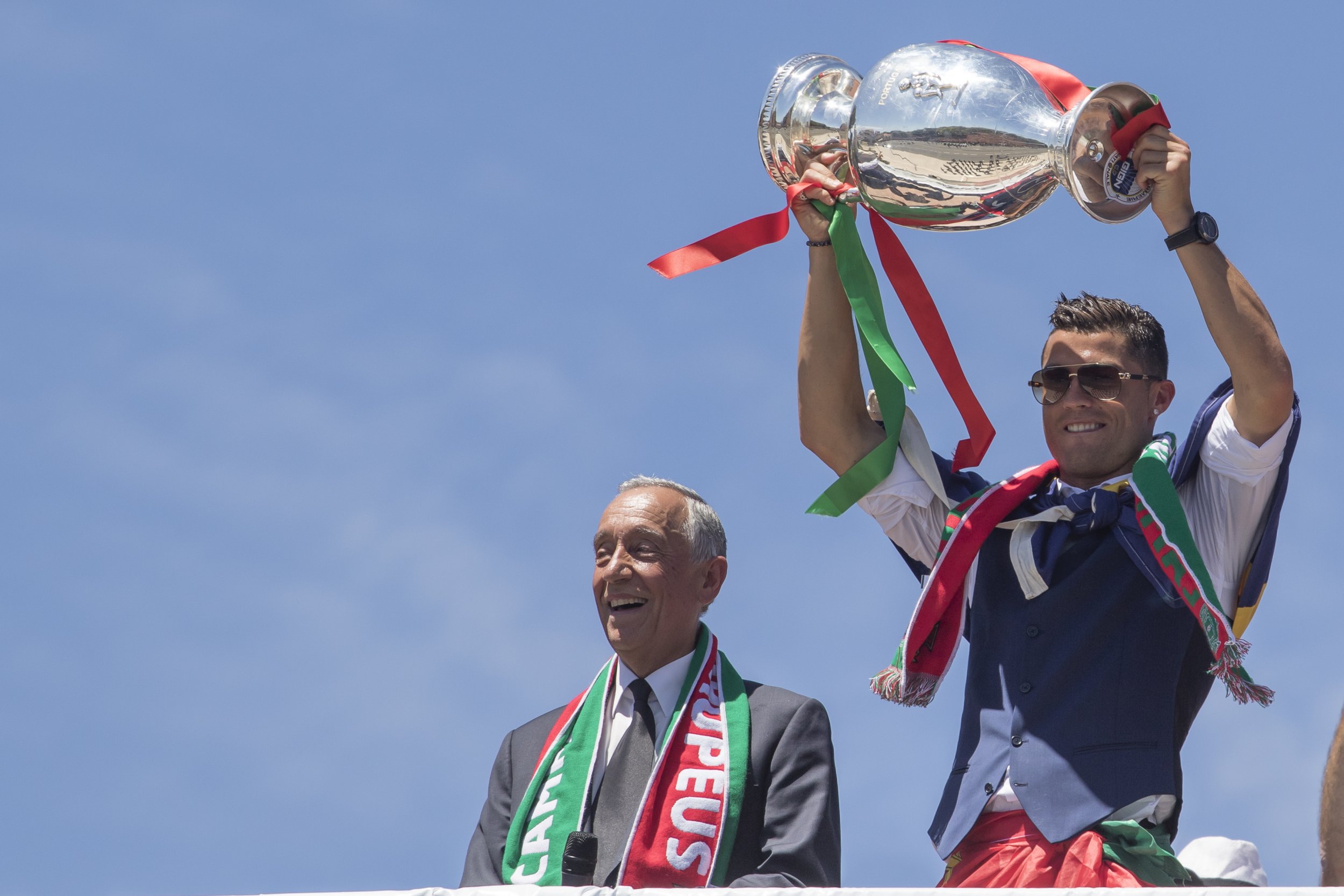 UEFA Euro 2016 has already started to recede into the inner recesses of the mind for everyone but the winners, Portugal, and captain Cristiano Ronaldo.
Portugal beat France on Sunday evening in Paris, capping a successful tournament that never quite reached the heights imagined by fans and pundits alike.
There were, though, some notable individual performances that stood out during the competition. Here, Newsweek looks at the team of the tournament.
Goalkeeper
Hard to look beyond Hugo Lloris, despite France's heart-breaking loss in the final. Lloris who captained his country was a constant source of positivity and encouragement, conceding just five goals in seven games. There was nothing he could do about the tournament-winning goal from Eder.
Defense
Few were better going forward or more solid defensively in the right-back position for Germany than Joshua Kimmich, the Bayern Munich defender in his first senior international tournament.
At left-back, Raphael Guerrero was a revelation for Portugal, combining defensive solidity, his primary job, with skill and dynamism going forward. Cristiano Ronaldo and Renato Sanches took the plaudits, but Guerrero was just as important.
Guerrero can line up next to Jose Fonte, his Portugal team mate who has risen from the English League One with Southampton to become a proven top-class Premier League and international defender. Portugal's strength, despite the presence of Ronaldo, was at the back. Fonte was central to that, and may even have been more assured than Pepe, the man of the match in the final.
Fonte should line up, naturally, next to a member of the tournament's best defense. It sounds strange to say that before proceedings kicked off, France's greatest concern was with its defense. The absence of Mamadou Sakho and Raphael Varane should have spelled trouble; instead Laurent Koscielny was the sticking plaster next to partners whose identities changed throughout the month.
Midfield
In the center, Toni Kroos' metronomic displays from start to the semi-final deserve a place almost without question.
Who to play next to the German? Kevin de Bruyne sparkled, but Belgium's magnificently tame exit to Wales hurt his chances of inclusion. Perhaps it is unfair to suggest that De Bruyne should have pulled his side through, but then this is a tough party to get into. The Manchester City man just misses out.
Paul Pogba merits inclusion based on being worth £100 million ($131 million), but not on the basis of his performances at Euro 2016, which were patchy. A better, less heralded candidate might be Aaron Ramsey, whose partnership with Gareth Bale was central to Wales' unexpected progression.
It has to be between two French midfielders not named Pogba, however, and since N'Golo Kante became more of a peripheral figure as the tournament wore on, Blaise Matuidi gets to be the spiky destroyer to Kroos' smooth ocean liner. Linked, like Pogba, with Manchester United, Matuidi makes less of a noise but is arguably more effective than his midfield partner.
Croatia went out at the last-16 stage to Portugal, having looked, in the group stages, as good as any team in the competition. It is a mark of how good he was, then, that Ivan Perisic gets in on the left wing despite only having played four games.
Perisic is versatile in his positioning, able to play left or right wing or behind a striker. When he gets the ball at his feet, though, the result is predictable and tricky to stop at the same time, a brutally direct dribble followed by a whipped cross or a powerful shot, usually off his left foot.
That brought him two goals and an assist in the group games, and it was a shame that we did not get to watch his effervescence for longer.
France would not have got out of the group stages with any kind of ease had it not been for Dimitri Payet, whose goal on opening night against Romania suggested a more open, exciting tournament than that which ensued.
Payet flickered thereafter, but he always looked capable of producing the unexpected. In a competition where physicality ruled and defenses dominated, the lift-off the West Ham United winger gave to France grants him a berth in this side.
Attack
Euro 2016 should have been blessed with at least one great striker on his game, but Alvaro Morata left too early and Robert Lewandowski, the best of them all, scored just once for Poland in the quarter-final against Portugal.
There has to be a place for Antoine Griezmann, the Golden Boot winner with six goals, but Griezmann is not an out-and-out striker by any stretch, despite his goalscoring ability.
And, love him or loathe him or just don't care enough to care about him, Cristiano Ronaldo, as the captain of the championship-winning team and scorer of a crucial goal in the semi-final, has to be there. He wasn't always brilliant or even average, by his standards, but this was still Ronaldo's tournament.
That gives us a 4-4-2, sound backline, with attacking full-backs, defensive midfield cover to protect three creative midfield players and two Ballon d'Or candidates up front.
Who said Euro 2016 was a poor tournament?