Euro 2016: Why Russian Football's Ultras Won't Stop Fighting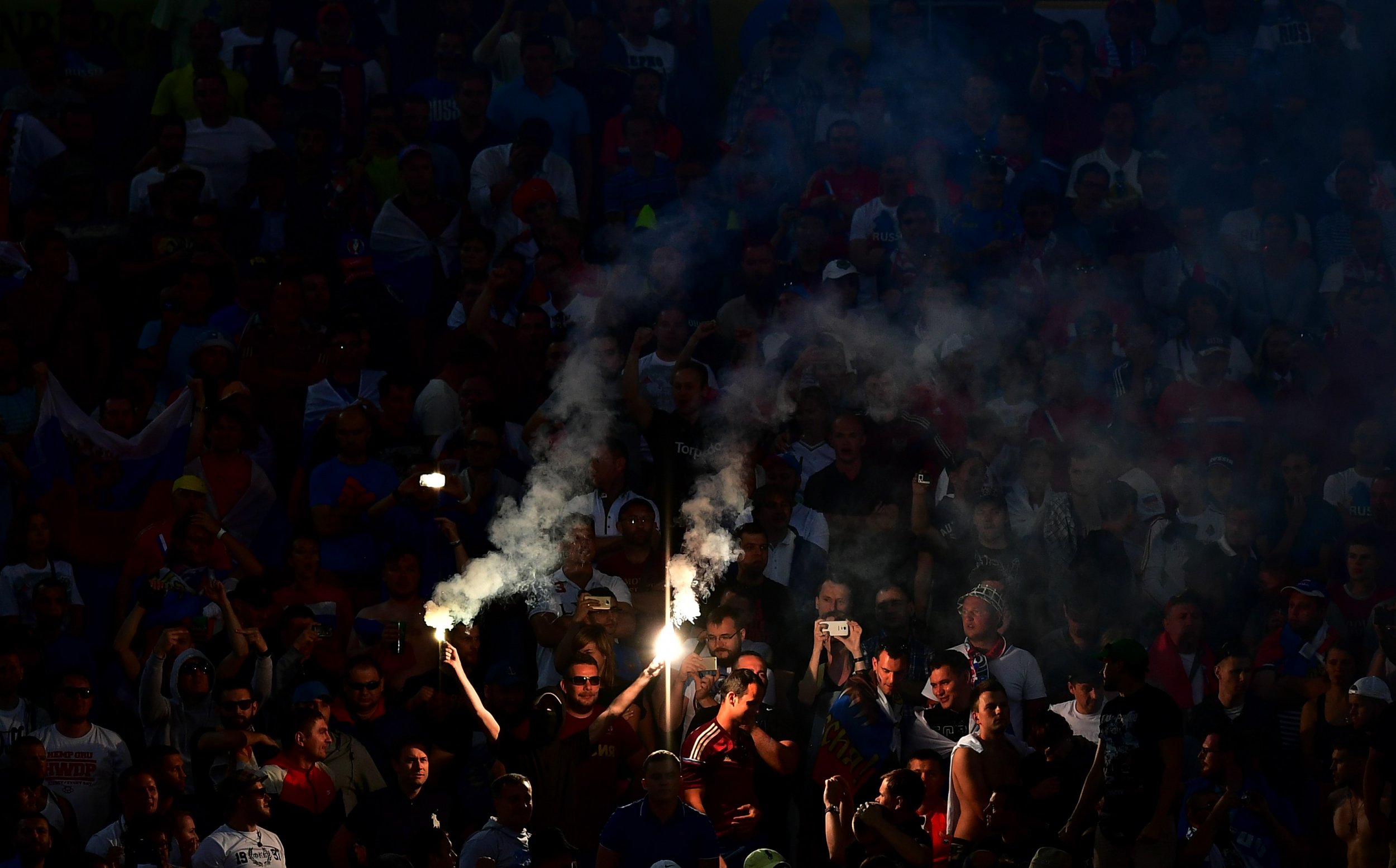 Before the European Championship Group stage game between England and Russia the host city of Marseille experienced fan violence not seen at a major tournament since the 1998 World Cup, which was also hosted by France. The drunk English hooligans that were involved were an old ugly face, what was new about the violence was the involvement of what has been labelled by the media as a "a new brand of hooliganism."
English and French hooligans played a big role in the events in Marseille, but it was a small group of about 150 Russian hooligans that were responsible for the most violent scenes. Furthermore, it was Russian hooligans that lit off flares in the stadium and could be seen rushing into the English half of the stand behind the England goal after the final whistle sounded the 1-1 draw between England and Russia.
Within hours it was announced that the Russian football governing body, the Russian Football Union, would be investigated for the events that took place inside the Stade Vélodrome. Furthermore, both England and Russia were warned that they could be thrown out of the tournament if either fan groups were involved in further violence during the tournament.
UEFA decided on Tuesday that Russia would be fined €150,000 ($169,000, £118,00), and that the country would be disqualified from the tournament for any further crowd trouble within the stadium.
This would be very bad news for Russia indeed, as the country is getting ready to host the 2018 World Cup in two years time. In fact the Confederations Cup, an eight-team tournament that includes six continental champions, the host and the World Champion used by FIFA as a test run for the World Cup, takes place in Russia next summer.
Russia has struggled for years with right-wing xenophobic fans, and this ugly face of Russia's fan groups is vividly on display at the tournament in France. Although some of those "fans" have now stated that they will try to restrain themselves so as not to jeopardize the national team, the damage to Russia's reputation is already done.
So how did we get here? Russia's hooliganism movement has its origins in the 1980s in the dying days of the Soviet Union. At the time, British firms, or hooligan groups, were dominant, and Soviet fans began to emulate the British hooligan scene. British rowdiness was then supplemented with elements of the Italian ultra scene, which began to emerge in the 1990s. Both the British firms and the Italian ultras usually have their origins in right-wing politics—although there are exceptions—something that was copied in the Soviet Union.
Fan organizations in Eastern Europe, and the post-Soviet space added their own elements to the mix. In Ukraine and Russia many hooligans are, for example, "straight edge" and abstain from alcohol and smoking, and furthermore they work out regularly to steel their bodies for fighting. They also train together, and practise tactics to be used when traveling to other cities to fight hooligans from other clubs. It would therefore not be wrong to call Russian ultra groups professional hooligans.
In October I attended a tournament for tolerance in Moscow organized by left-wing and apolitical ultras who aim to clean Russia's stadiums of xenophobic tendencies. There I was told that today Russia's ultra, or hooligan, scene is 99% right-wing, racist and homophobic. The right-wing hooligans in fact believe that they defend traditional Russian values and the motherland, both at home and abroad.
Some of these right-wing ultras have now travelled to France to fight for the motherland, and their highly organized nature meant that a relatively small group of around 150 hooligans could more or less play cat and mouse with the French authorities.
The local soccer club, Olympique Marseille, also has a very active ultras group with a long history of violence. This group saw the presence of English supporters as a threat to their turf. Adding to this situation was the bizarre honour code that guides soccer hooligans, wherein Russian hooligans wanted to prove that they are the most fearsome ultras in the world. Playing the match on a Saturday night only added to this powder keg.
Further violence was reported in Lille following Russia's 2-1 loss, as English, Welsh, Slovakian and Russian fans were all involved in fighting, which left 16 people hospitalized and 36 arrested.
With the constant threat of terrorism, it appears that the French authorities didn't pay enough attention to the hooligan problem. Furthermore, the French police have been criticized for being both too harsh, and too soft in their actions against hooligans in Marseille, and now Lille.
France 1998, where especially English and German fans caused trouble, showed that it is difficult to stop the spiral of violence in an on-going tournament, which means that we will no doubt only see more fighting between ultra groups.
Manuel Veth is an expert in the history and politics of Soviet and post-Soviet football, as well as editor of Eastern European football analysis site Futbolgrad.